In today's investing age, there are several that stand out as formidable competitors. However, these two are the epitome of the old vs the new. Robinhood, founded in 2013 and regarded as one of the most popular stock trading apps for new investors, is focused on the new age of investing such as no fees and a clean and simple user interface.
Charles Schwab, a true and tested financial firm that was founded in 1971, is seen as a traditional brokerage firm but one that has made several adaptations in recent years to match the trend of millennial investing.
Perhaps you have tried Robinhood and have decided that your investing preference is more geared to the details and less on the streamlined transactions. If this is true, then you are probably looking to transfer your assets out of Robinhood and into Charles Schwab. But how is this done?
Keep reading to find out!
For a more detailed experience of the two investing platforms, consider reading the following:
Do This Before You Transfer
Before you initiate any transfer of assets from Robinhood, it is important that you have settled all prior transactions and that you have resolved any account restrictions or negative balances. If you fail to complete this step first, your transfer will undoubtedly be delayed.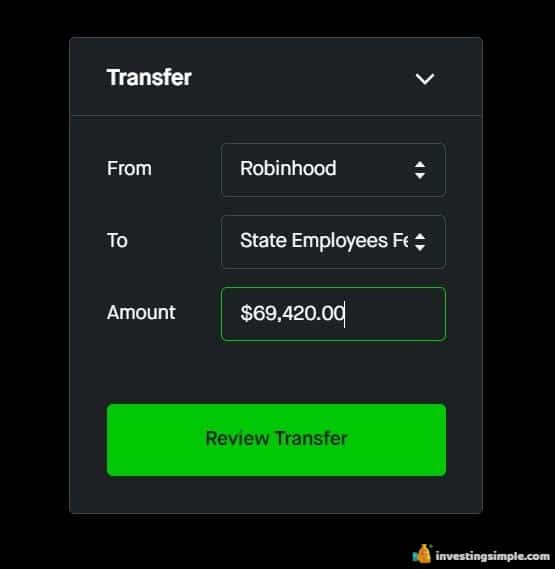 Step 1: Initiate Transfer
Robinhood makes it very clear that in order to initiate a transfer, you will need to contact the receiving firm. In this case, Charles Schwab.
Upon creating an account with Charles Schwab, simply select 'Investment Account Transfer" when asked how you plan to fund your account. Once approved, you will then provide Schwab with the account information of your current investment firm.
Robinhood makes note that every transfer from Robinhood should be an ACATS (Automated Customer Account Transfer Service) transfer. Any other type of transfer is not supported.
Step 2: Retrieve Account Information
You will need to provide Charles Schwab with your Robinhood account number. To find this, simply follow these instructions:
Click on the 'Account' icon on the bottom right-hand side of the app
Click the three solid lines at the top right-hand side of the app
Click 'Investing'
View your account number at the top of the screen
In the case that you need to provide a DTC number, Robinhood's reference number is 6769.

Step 3: Determine If Full or Partial Transfer
With Robinhood and Schwab, you can choose to do either a full or a partial transfer. Each one has pros and cons associated.
If you initiate a full transfer with Robinhood, your account will be subsequently restricted from any more activity. You will not be able to buy or sell or transfer any funds into or out of the app. These restrictions are in place in order to avoid any delay that might result from various actions.
Once a full transfer is complete, Robinhood will close your account.
A partial transfer will only affect the securities that you have requested to transfer.  If you have requested to transfer your shares of Apple, for instance, you will not be able to purchase more shares, or sell your existing shares.
Transfer Facts
Note that transferring your securities to Charles Schwab from Robinhood will not create a taxable event. This holds true unless you decide to sell a security and transfer the funds. In this instance you may be subject to capital gains taxes.
Robinhood charges a flat $75 fee for either a full or a partial transfer.
Since Robinhood Crypto is a separate entity from Robinhood Financial, you must liquidate your crypto assets before initiating a full transfer. Failure to do so will cause a delay in the transfer process.
How To Transfer From Robinhood To Charles Schwab: Final Thoughts
Making the decision to transfer from Robinhood to Schwab is a big decision. It comes with a hefty price tag of $75 and if you choose a full transfer, could come with a resulting account closure. Before you make this decision, be sure to do adequate research into the pros and cons of each investing platform by reading the articles cited above.
If you initiate a transfer and then decide to cancel, you will need to contact Schwab to stop the transfer of assets. Our hope is that you have found this information helpful in making your decision. If you still have questions, Robinhood customer support is there to help along the way!
Best Free Stock Promotions