You've done it. You have landed a job in your field at a salary of $50,000.
But you may quickly be asking yourself a pivotal question; is $50,000 a good amount of annual income?
The answer, of course, is not that simple. It has a lot of variables.
Right off the bat, the median American worker brings home an estimated $54,132 a year.
So, $50,000 is a below-average starting salary, but not far off from the norm. Here are some other important considerations.
Limited Time: Robinhood 1% Transfer Bonus
If you transfer an existing brokerage account to Robinhood through January 31st 2024, you can get an Unlimited 1% Transfer Bonus.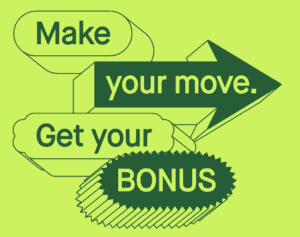 For example, if you transferred a brokerage account worth $50,000 - that would be a bonus of $500.
In addition, Robinhood offers a free stock for new users as well as a 1% IRA match for retirement accounts.
Best Free Stock Promotions
1. Taxes
Taxes are going to take a big chunk out of your take-home pay. After taxes, you will probably take home $32,000.
However, this depends on what state you live in. For example, New York has very high state taxes while Florida has no state income tax.
2. Location
Your geographic location is significant when you look at your salary.
Across the U.S. costs of living vary enormously!
Check out this breakdown:
Most Expensive
Hawaii

California

Massachusetts

New York

Alaska
Least Expensive
Mississippi

Arkansas

Oklahoma

Michigan

Tennessee
I'm sure this goes without saying, but a $50,000 salary will get you more in rural Mississippi than it will in NYC.
That is why it is important to consider what the base salary is in your geographical area.
3. Cost Of Living
Let's say you're living somewhere in between the most and least expensive states. What will you be spending for basic necessities?
This includes costs such as:
Rent/Mortgage Cost - Do you rent/own something cheap or expensive?
Food/Groceries - Do you eat out at restaurants a lot or at home? Where do you buy groceries?
Entertainment - What is your form of entertainment and how much does it cost?
Vehicle Cost - Do you have an auto payment? How much is insurance?
Your personal spending level will have a huge impact on how far your salary gets you.
The Verdict
So, let's revisit the original question; is $50,000 a good salary to earn? The answer lies with you.
If you live within your means, keep your spending for "needs" rather than "wants," and follow a strict budget, you will have control over your money and have a good lifestyle.
In general, you should look at this salary as a starting point. Hopefully, you have a job that has some upward mobility allowing you to earn more down the road.
Don't forget to grab your free stock worth up to $200 from Robinhood today!