Launched in 2018, AcreTrader is an online farmland investment company. AcreTrader gives easy access to people and institutions to invest in land and partner with leading farmers across the country.
The company has set up a quick and efficient way for investors to buy shares of farmland in a matter of minutes online.
AcreTrader harnesses the power of crowdfunding, in which a large number of investors pitch in smaller amounts of money for a particular project.
Back in the day, only the wealthy people with deep pockets could afford to invest in real estate. Crowdfunding has had an enormous impact on this antiquated system, opening doors for new investors to get in the game.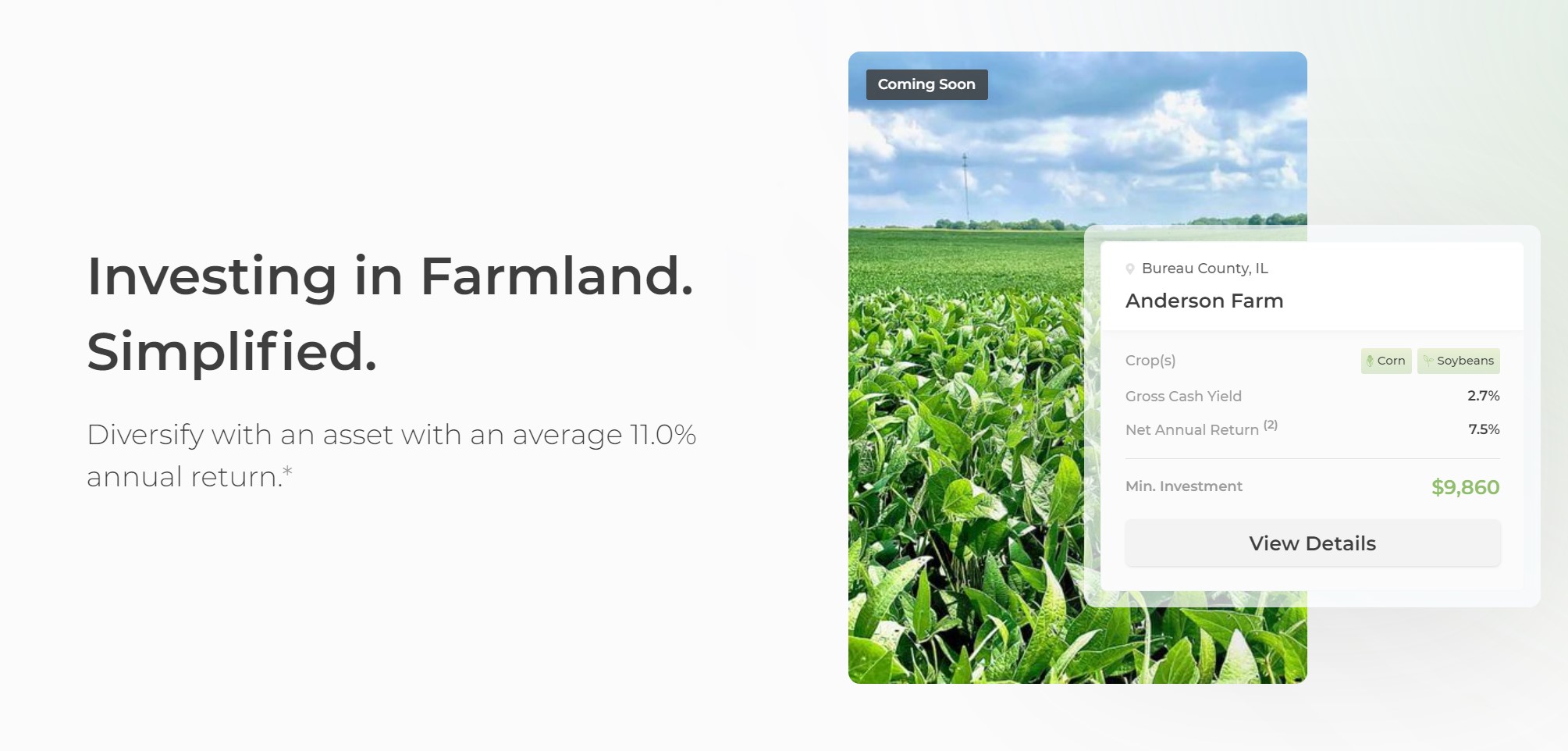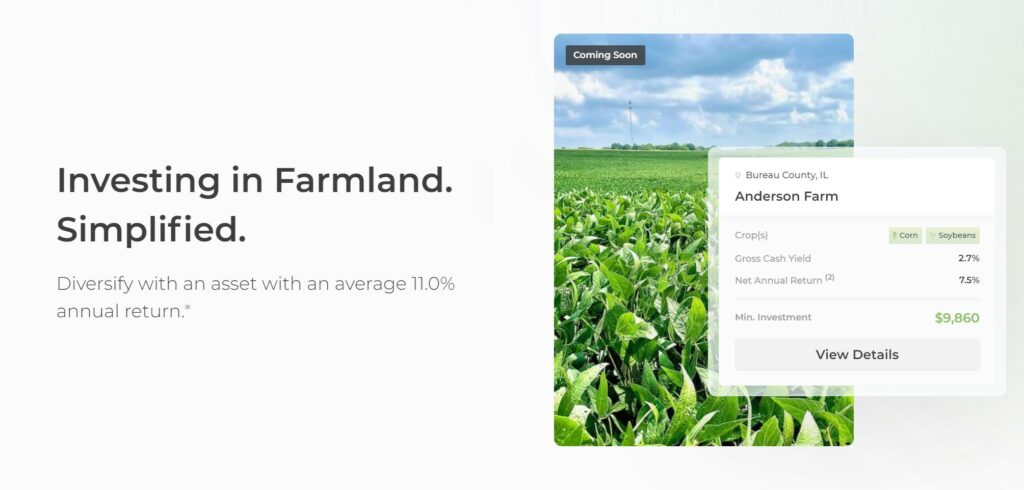 Why Invest In Farmland?
Farmland is one of the oldest investment classes in existence, producing significant wealth for investors for generations. It is known to be an attractive long-term investment.
With the explosive population growth and shrinking farmland acreage across the country, the laws of supply and demand make farming critical. Farmland has consistently topped other asset classes over time. It has historically provided high returns to longer-term investors.
In a single year, the value of gold or the stock market can go down more than 40% or 50%, while by comparison, farmland returns have been positive every year since 1990, which was the first year of the index.
How high could your return on investment be? For example, $10,000 invested in farmland in 1990 would be worth more than $199,700 today.
Investors will see their money grow through rental payments from farmers and also from the increased value of the property over time.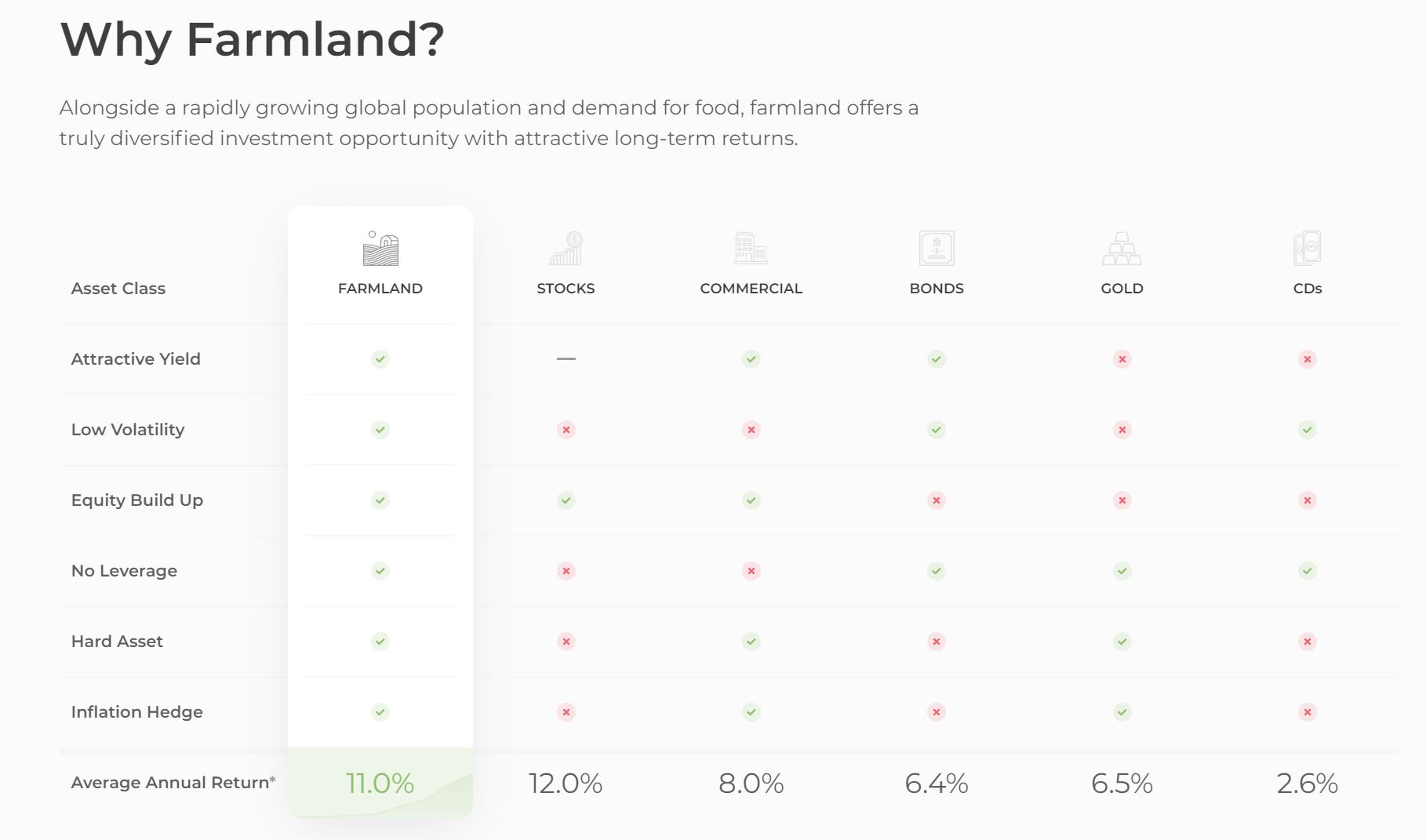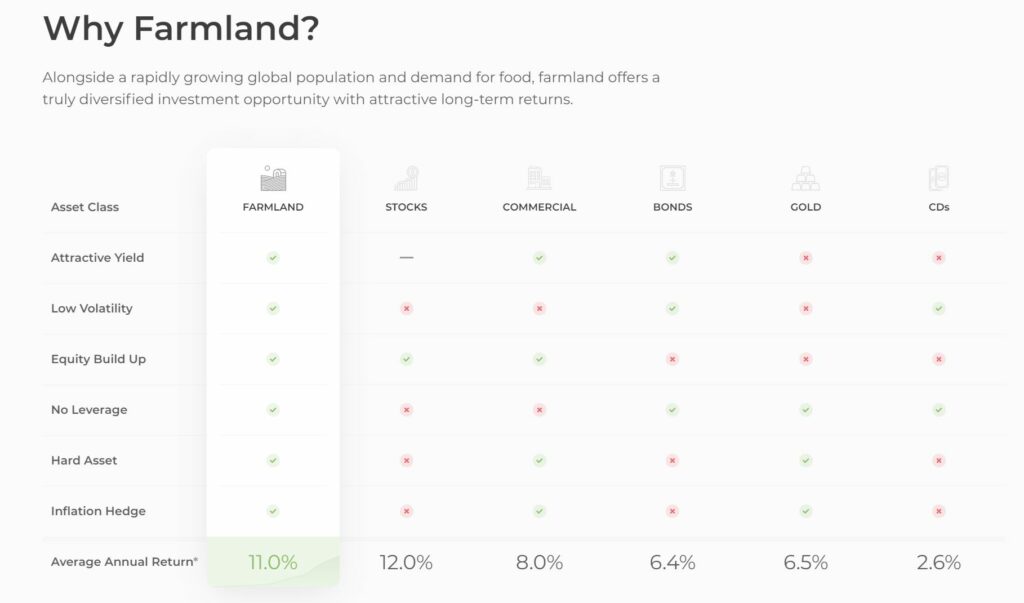 AcreTrader Projects
AcreTrader has a thorough underwriting process that eliminates more than 99% of the parcels that they evaluate. They typically list new farms every 1-2 weeks.
Recently closed deals include an almond ranch in CA; an organic farm in NE; and a cotton farm in MO. Projected net annual returns are as high as 8.7%.
AcreTrader gives its investors low management fees and an easy-to-use online investing portal.
The developers of the investing platform come from farming backgrounds, so they look for ways to make sure farmers also benefit. Through flexible rent options, AcreTrader has set attractive financing models for the agriculture industry as a whole. This also helps entrepreneurial farmers accelerate their operations.
AcreTrader Is Raising Capital
In March of this year, AcreTrader launched a funding round to raise capital for expansion. The total amount of funds raised by AcreTrader was an astonishing $18 million.
The funds will be used to improve overall access, liquidity, and transparency to farmland transactions across the U.S. This will be accomplished through improved online tools, data science, marketing, and expansion of AcreTrader's team of agriculture, finance, and technology experts.
AcreTrader offers a solid opportunity for passive investing.
What Is Passive Investing?
Unless you're actually a farmer, chances are good you know very little about running a successful farm.
Once you invest through AcreTrader, you can sit back and watch for solid returns. You won't be making any decisions on what type of equipment to buy, how many people to employ, or packaging and distribution.
AcreTrader enables investors to create passive income streams and assists farmers in accessing and developing farmland across thousands of acres.
Is My Money and Financial Information Safe?
Your money in escrow is handled by the North Capital Private Securities Corp. that is a member of FINRA and SIPC.
The Securities Investment Protection Corp (SIPC) oversees the liquidation of member firms that close when the firm is bankrupt or in financial trouble, and customer assets are missing.
SIPC's focus is returning customer cash and securities left in the hands of bankrupt or otherwise financially troubled brokerage firms.
The SIPC insures the value of your investment portfolio, as well as any cash you have in reserve. This insurance covers up to $500,000 in your portfolio. It also insures $250,000 of cash.
The Corporation is required to refund the investor's money and securities as fast as possible. This means your losses won't be tied up in court for years.
The Financial Industry Regulatory Authority (FINRA), works to ensure the integrity of the country's financial system, all at no cost to taxpayers. FINRA regulates the trading of equities, corporate bonds, securities futures, and options.
Working under the supervision of the Securities and Exchange Commission, FINRA:
Writes and enforces rules governing the ethical activities of all registered broker-dealer firms and registered brokers in the U.S.
Examines firms for compliance with those rules
Fosters market transparency
Educates investors
As for your personal financial details, AcreTrader uses 256-bit encryption, the highest level of encryption commercially available to make sure each financial transaction is secure with the maximum level of protection.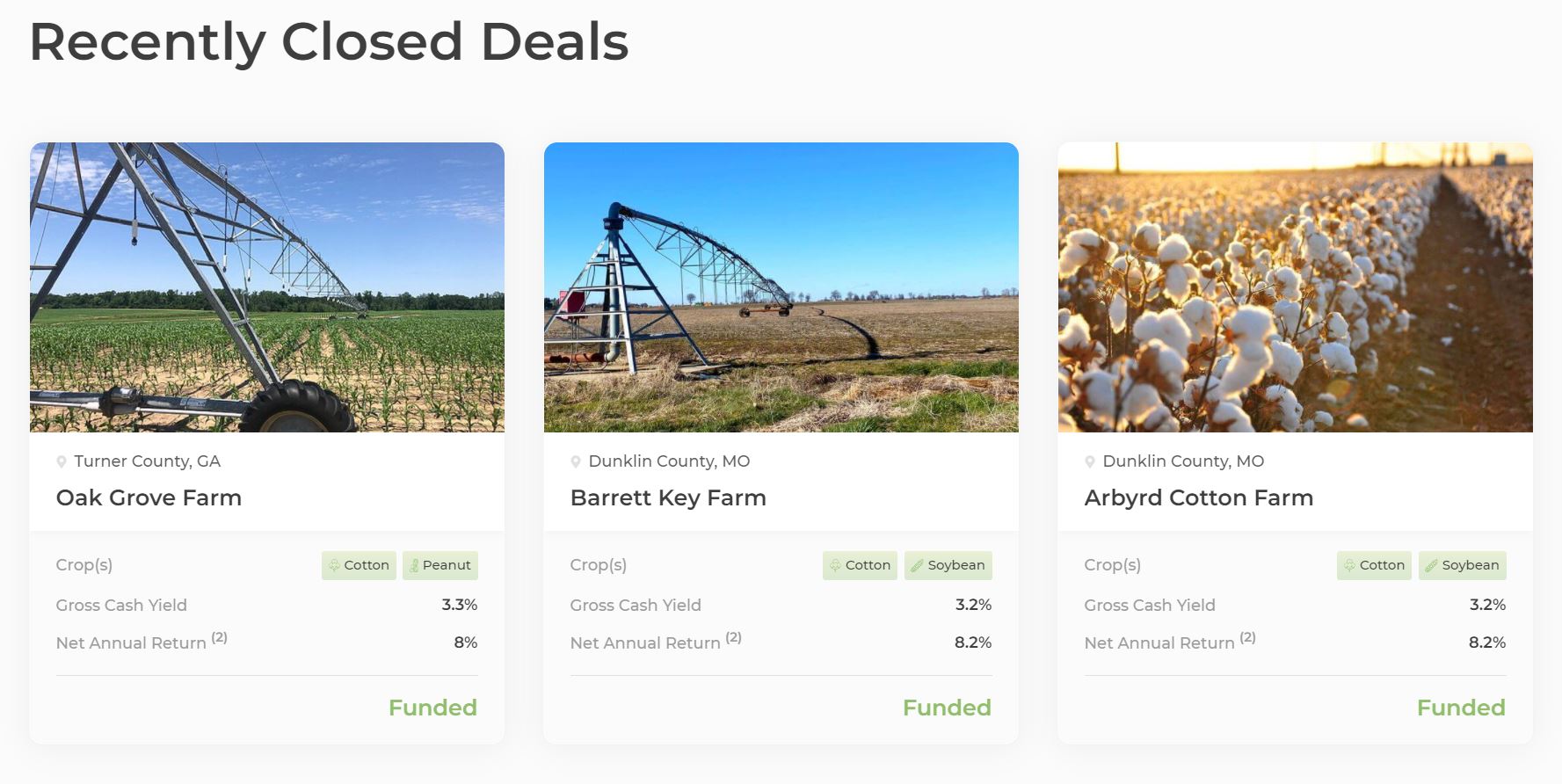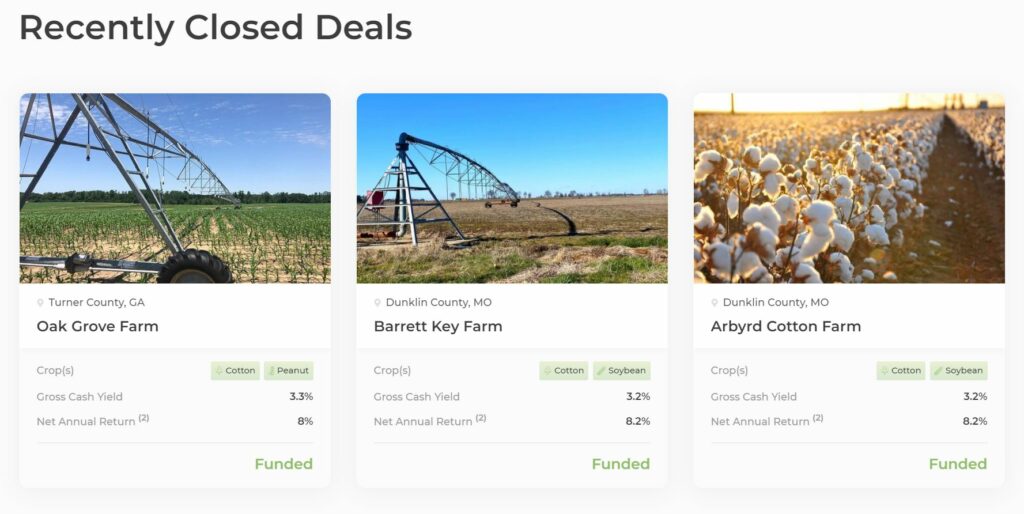 Is AcreTrader A Safe Investment?
Investing your money, whether in stocks, real estate or in tangible goods offered by online platforms, carries inherent risk.
Every investor has their own tolerance for risk. Some don't like to "rock the boat." They prefer a less risky approach that, although it gives them a lower chance of losing cash, also may limit their potential for profit. Other investors go all in and enjoy the thrill of making trades that could carry higher returns on investment.
It's up to you to establish a risk level that's comfortable and won't keep you up sleepless at night!
Although fairly new, AcreTrader has proven results with projected net annual returns for investors as high as 8.7%. They are transparent about their financial info, giving potential investors ways to study their historical returns right on the website.
Conclusion
Farmland has shown significant returns for investors for decades, surpassing all other asset classes.
AcreTrader has an excellent track record. They continuously raise capital from big ticket companies that have put $18 million into the pot.
All investing activities carry risk, and it's important to do your homework before making any decisions.
However, investing in farmland has been shown to be profitable over the long-term. There are other farmland investing platforms out there you can study and compare to AcreTrader.
It's vital to make investing decisions after thorough research rather than jumping into something based on hunches. Take a close look at AcreTrader and other similar platforms, study their returns, and determine your risk tolerance ahead of time.
Best Free Stock Promotions