M1 Finance is a sophisticated online brokerage app offering members ways to invest, borrow and spend.
The broker lets you trade financial assets including common stocks, preferred stocks, and exchange-traded funds. It provides margin lending, and cash management services including checking accounts and debit cards. If you are a beginning investor, you may not be looking for all these bells and whistles.
Margin lending, for example, is trading with borrowed funds. This poses an enormous risk, because you are putting up not only your own cash on hand, but also the borrowed money. Margin trading may not be a good option for newcomers to investing.
M1 gives users a framework for building their portfolio, however you will determine how to proceed. M1 is basically designed for self-directed investors.
Zero Investing Advice
If you're looking for investing guidance, you will not find it at M1. The  platform does not provide any sort of investment recommendations nor do they provide investment, tax, or legal advice. As a self-directed brokerage, M1 does not monitor your investments against your investor profile. New investors may be looking for some input about how to make wise trading moves, which M1 does not provide.
M1's Pie Based Dashboard
M1 has created a unique structure to organize your portfolio called Pies. A Pie is a group of securities; Pies can be used to organize your portfolio and your investment strategy.
In the Pie's interactive dashboard, you can choose from over 6,000 stocks and funds to build your own custom investment plan. Or select from more than 80 pre-built Expert Pies designed to meet different financial goals or investment objectives.
What's more, you also have the opportunity to make several Pies, each with its own theme or strategy, and then combine them together in your main portfolio Pie. This could potentially be confusing to traders new to investing.
You can place manual buy or sell orders on the portfolio, individual pies, or individual slices. These are a lot of options that could be overwhelming unless you're a seasoned investor.
However, after you create your Pie-based portfolio, you can choose to utilize M1's proprietary trading system to automate all of your trading activity. You'll never have to input or execute any trades manually, which is a plus for new investors.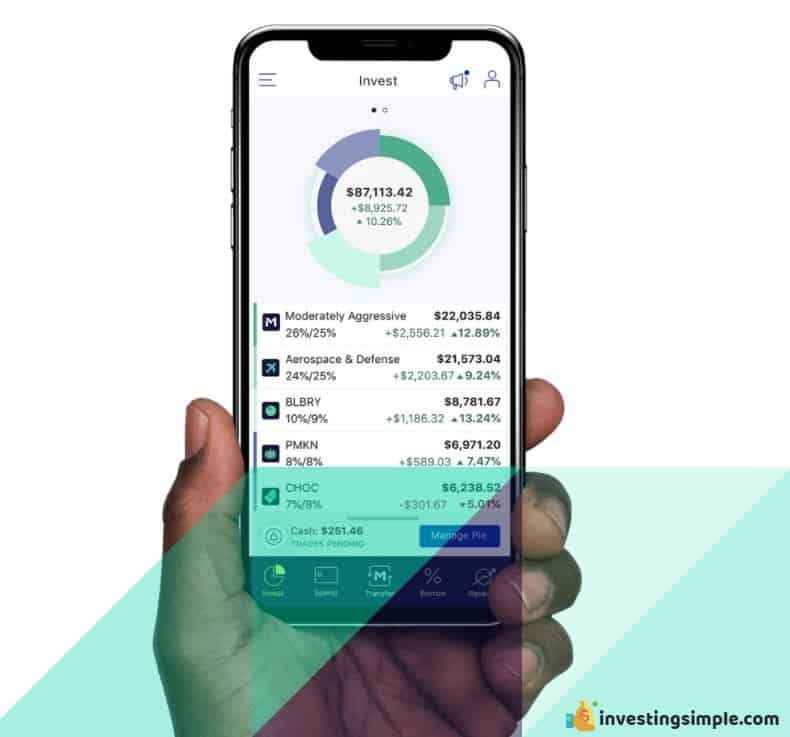 M1 Brokerage Accounts
A minimum account balance of $100 is necessary to get started on M1 with an individual or joint brokerage account. Once the $100 account minimum has been reached, deposits can be any amount above $10.
Individual Brokerage Accounts - An account used to buy and sell stocks, bonds, exchange traded funds, and other types of investments.
Joint Brokerage Accounts - An account used to establish equal ownership. Joint accounts are typically common for couples, parents and their children (over 18 years old), and adults caring for aging parents.
 M1 Basic
Low cost: Zero transaction or commission fees. No charge for setting up an account, but you will need a minimum of $100 to start trading.
View your portfolio: M1 uses an investment template to show the breakdown of your investment portfolio clearly in the form of pie charts.
Create your own unique portfolio or choose from 80 pre-built options
Base interest rate for line of credit is 3.5%
One trading window per day
M1 Plus
This premium level carries a $125 annual fee, and offers the following:
1% APY checking account: Earn 25x the national average APY for a checking account. That means you'll earn the same in 2 weeks as you would in an entire year with a traditional bank
1% cash back: Earn 1% cash back on qualifying debit card purchases
2% loans through M1 Borrow: Get a 1.5% reduction on the base rate of M1 Borrow, which is a line of credit
An added afternoon trade window; Invest in the morning or the afternoon, or both when you have more than $25,000 in your investment portfolio
Smart Transfers: Set up a system of automated transfers and optimize your money across your spending, your investing, and your borrowing at M1
Auto-Invest
When this function is on and your cash balance exceeds $25, M1 will invest the funds automatically into the portfolio using the dynamic rebalancing method. You have the option to turn auto-invest off and make manual orders if you would prefer. This may not be a wise move for investors that are just starting out.
Individual Retirement Accounts
M1 offers both Traditional and Roth IRAs. Retirement accounts require an initial investment of $500.
Trust Accounts
M1 also offers trust accounts, which are financial accounts that are managed by someone on behalf of someone else. Parents (trustees) may set trust funds for their children (beneficiaries) which may pay out money at set intervals or for specific expenses. However, most of the money remains in the fund until the children reach a certain age.
The Robinhood Investing App
Robinhood is another online, commission-free investing platform, but this one was built with newcomers in mind.
Since its release in 2013, Robinhood has been known as the app that pioneered commission-free trading. Robinhood opens doors for beginning investors looking to get their feet into the game without losing money before they even jump in.
It is meant to be one of the simplest trading platforms out there. As a result, intermediate to advanced traders often find this platform to be lacking when it comes to research tools, order types and technical indicators. The app only supports basic order types, and there are very limited research tools and data available for members.
Still, if you are looking for a straightforward platform to trade commission free, it is an excellent option.
Robinhood Features
Robinhood allows users to trade stocks, ETFs, options and cryptocurrency completely free. There are no strings attached or hidden fees of any kind.
Robinhood Minimum & Fees
Don't have the cash to open a sizeable account? No worries. Robinhood doesn't have a purchase minimum, which means people can get started investing right away. Of course, in order to invest, you'll need enough to purchase the investment you have your eye on. But you can start out small, then gain momentum as you go along and become more confident and acquire more know-how.
Want to invest on a schedule? You can set up automatic deposits out of your bank account weekly, biweekly, monthly or quarterly.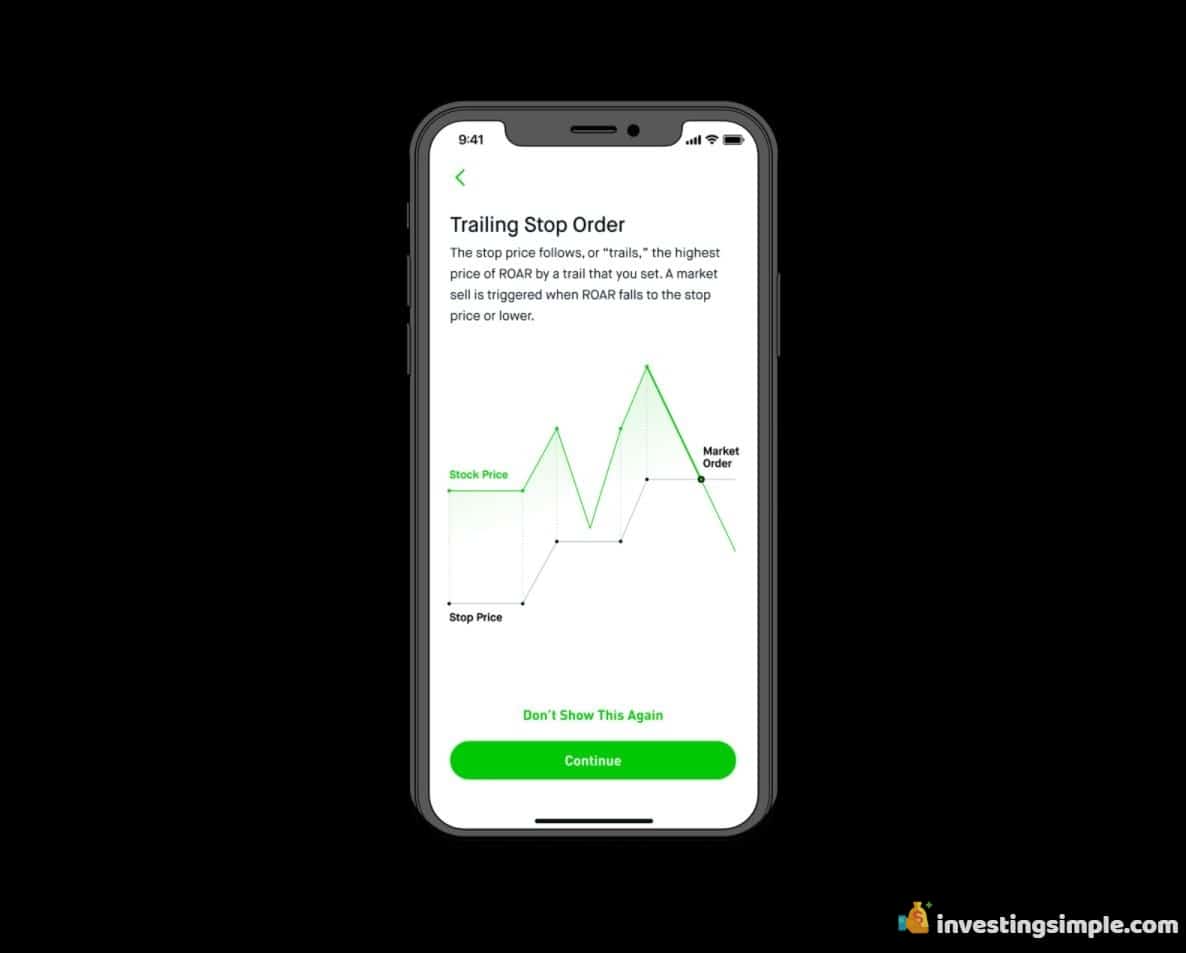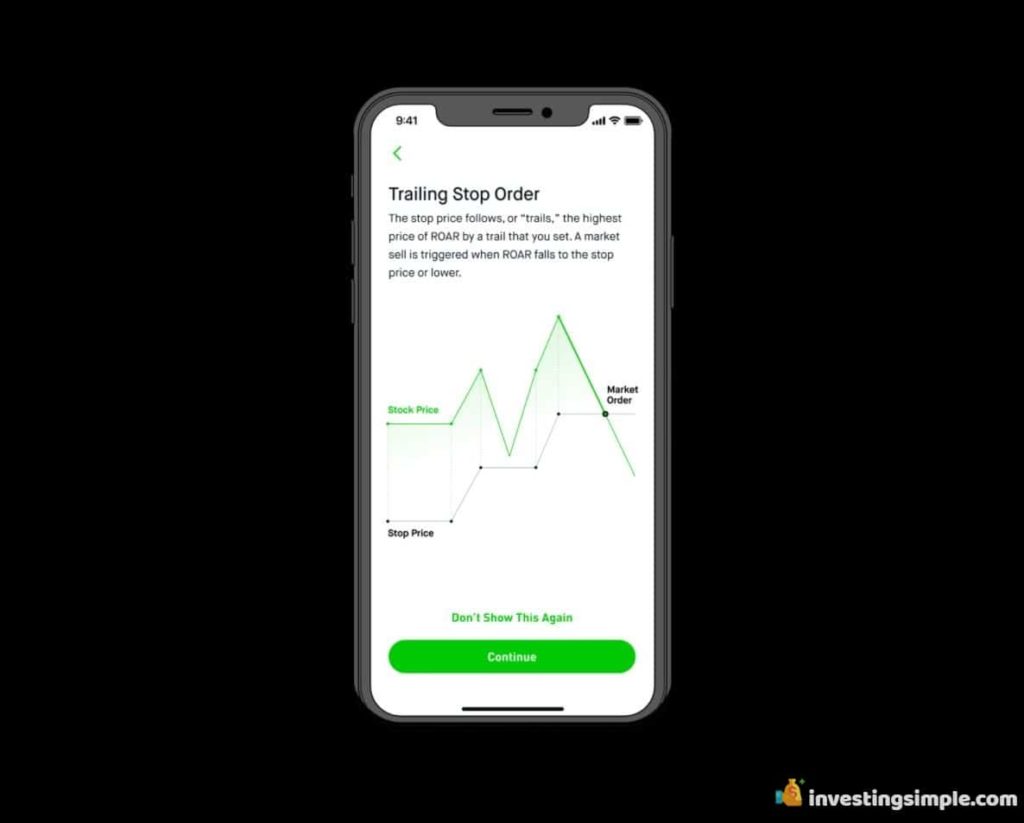 Do Your Homework
Despite the fact that Robinhood was built for new investors, this does not mean you should start trading right off the bat.
The most successful Robinhood users do the research and are clear in where they want their money invested.
Robinhood has an extensive learning center covering all the basics of investing.
Here are some of the topics:
Investing with options
Investing with stocks
Cryptocurrencies
Margin investing
Common concerns about investing
Free Stock For New Accounts
Sign up now, and Robinhood will add 1 share of free stock to your account. Your free stock will be chosen randomly by Robinhood. How much could it be worth? The value of the free stock is a range between $3 and $225.
You can hold onto the stock or sell it after 2 trading days.
Of course, Robinhood only allows one account to be opened per person in order to keep their free stock promotion under control.
But wait, there's more! You can earn another free stock from Robinhood when you refer friends to the platform. This can be done through a referral link that you can send to friends. When your friend signs up, both of you will be given a free stock also valued between $3 and $225.
However, there's a limit to how much stock you can acquire. By referring friends, you can earn up to an additional $500 in free stock.
Conclusion
In the crowded field of commission free online investing apps, it can be confusing to figure out which one is best for you.
If you're just starting out as an investor, M1 Finance may not be the best option for you. M1 is a solid choice for an investing app, but was not designed with beginners in mind. Building Pies with slices of stocks, and having the ability to create several different Pies, can be confusing. There is no trading advice or education. While the M1 Basic account is fairly straightforward, M1 Plus offers more perks that may not be something new traders are seeking.
Robinhood, on the other hand, was designed for newcomers to investing. There is a substantial educational component that covers all the basics that you can familiarize yourself with even before you start trading. There are no minimums to get started, and you can set up regular automatic deposits. You can also take advantage of a free stock offer and get a second free stock for referring friends.
There will always be a learning curve when venturing into a new investing app, but some are clearly more suited to people with less experience. You can start out slowly, build your knowledge base, grow in confidence, and determine your own risk tolerance. These are all the steps needed to form a solid foundation for successful investing.
Best Free Stock Promotions