Most businesses out there cost $3,000 to start, according to the SBA.
But I'm gonna be showing you a step by step blueprint for a bootstrapped business that costs nothing.
Bootstrapping means starting a business with whatever resources you have available to you right now.
Now before I tell you the business plan, let me explain why it's poised to do well right now.
As a result of the current economy we're in, a lot of people are downsizing and simplifying their lives. This includes businesses too that could be consolidating their offerings.
And all of that produces Junk. But the beauty of this business is that a lot of what people call Junk isn't actually worthless.
Keep on reading, or watch my video on this topic below.
Don't forget to grab your free stock worth up to $200 from Robinhood today!
About the Author
Ryan Scribner is the author of From Side Hustle To Main Hustle To Millionaire - a practical guidebook on launching your own side hustle. He is recognized as a Top 100 Money Expert by GoBankingRates.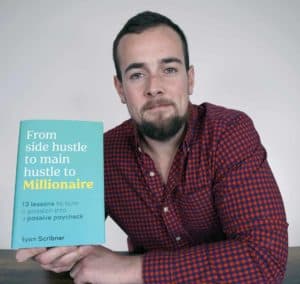 Ryan runs a successful YouTube channel focused on money and investing, which he started in 2016. He also owns a portfolio of digital business, all earning passive recurring revenues.
Now, Ryan teaches others how to create additional income streams.
Junk Collection Business
Junk Collectors get paid for hauling away stuff that people don't want, on average $225 per load. This can be anything from furniture to yard debris or construction material.
However, that Junk is then broken into at least 3 categories:
The first Category is items with value that can be resold. This could be anything from antiques to couches. A lot of people don't see the value in selling something for $50 to $100 and simply want it gone.
The next Category is items with scrap value. This is mostly going to come from construction debris hauls. One of the most popular items with scrap value is old Romex. Scrappers will set this aside and then many will even strip the wire to get more money for the copper. But you'll also get cast iron and old copper pipes that have value too.
Finally, there's the actual junk. Maybe it's broken 2x4's or a 30 year old couch, there will be items that have no value to anyone. This is where scrappers will identify what can be recycled, and then dispose of the rest at the dump.
So that's how the Junk Removal business works. The beauty here is that you have multiple income streams built in.
Now, I'm gonna show you how you can bootstrap this business with multiple different options.
Starting A Junk Removal Business
A lot of people think you need your own truck to do junk removal. While it is going to be essential at some point, you can get away with not having one for now.
What you could do is simply advertise a Junk Removal service in your area, and then based on the jobs you get do one of three things.
1. DIY
The first option would be to fold the seats down in your car and haul the junk.
If it's a small job, you can use your trunk and then stash the debris at your property until you have a truck load for the dump.
However, if you get a bigger job, you could either sub it out to another local junk removal company, or simply rent a truck for the day.
2. Subcontracting
If you go the route of subcontracting the work, you can do this in a really simple manner. All you have to do is talk with local junk removers in your area.
Tell them that you're leveraging social media and other marketing efforts to get leads. Then, you can either earn a commission off of what they charge, or pay them directly after collecting from your customer.
We're gonna talk about marketing in a bit, but let's now cover renting a truck as an option for the junk removal.
3. Renting A Truck
One of the best options you have is through Home Depot, as they offer multiple truck rentals. Depending on how long you need it, you could get a great deal.
They offer multiple types of trucks starting at $19 for the first 75 minutes.
But if you're gonna do a truck rental, your best bet is to line up multiple jobs for that day and knock them all out.
If you rented an F-250 flatbed from Home Depot for a day, the base rate is $129.
Let's say you then lined up 4 jobs in your area, at the average of $225 each.
Without factoring any scrap or resale value, you'd be looking at $900 in revenue.
Now you will have one or maybe two trips to the landfill, but the average cost for that is $50 if you do it yourself.
So even if you spent $100 on the dump fees, $129 on the rental and $50 on gas, you'd still be looking at $621 in profit for a day - not counting any scrap or resale.
Reinvesting
The key to this business is starting small and reinvesting over time.
That right there could get you into the truck that helps you move the business forward, increasing your profit margins.
There are two more important factors to consider, which are Marketing and Insurance.
Marketing
In order to have steady leads coming in, you're gonna want to reinvent some of your profits into marketing.
However, this could be as little as $50 or $100 a month on local targeted ads. Facebook is a great option for this, as you can reach people right in your area.
But another great option is paying for ads on Nextdoor, a neighborhood services platform. You can set a daily budget as low as a few dollars and put ads for your Junk Hauling right where people are looking for recommendations.
If $100 in marketing spend got you just 4 customers and you made $600 in profit like the example before, that's a 6x return on your ad spend.
You should also take advantage of grassroots marketing with signs. I've seen handwritten signs in my hometown offering junk removal, so it doesn't have to be anything flashy.
Insurance
Lastly, let's cover the insurance side of the business.
You do have to check into local permit or license requirements as well, but that varies based on where you live.
You can get a policy specifically for this business from multiple carriers. For example, Next Insurance offers instant quotes for Debris Removal Insurance.
This can be as little as $40 to $50 a month depending on your coverage.
Final Thoughts
At the end of the day, there are numerous businesses out there that you can bootstrap.
There's no reason why starting a business has to cost $3,000.
While the Junk Removal business is one of the best $0 businesses, there's many others out there.
For the 1% who are ready to take their side hustle journey a bit more seriously, I wrote a book about side hustles.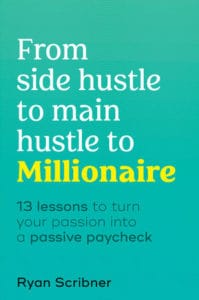 It covers all phases of the side hustle journey, and you get access to a members only discord where you can ask me questions along the way.
And you can grab a copy in person at most Barnes and Noble stores across the United states, or it's right on Amazon.
So grab a copy today and let's get started on your side hustle journey together!