AMC is one of the largest and most prominent cinema exhibitors in the United States and globally.
Here's a rundown of the largest shareholders in AMC as of 6/29/2023.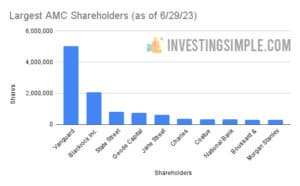 NOTE: Due to the reverse split and APE Conversion, updated figures on top AMC shareholders are unavailable at this time.
Best Free Stock Promotions
1. The Vanguard Group
Ownership: N/A%
Shares Held: 5,039,081
2. BlackRock Fund Advisors
Ownership: N/A%
Shares Held: 2,056,628
3. State Street Corporation
Ownership: N/A%
Shares Held: 797,950
4. Geode Capital Management, LLC
Ownership: N/A%
Shares Held: 737,223
5. Jane Street Group, LLC
Ownership: N/A%
Shares Held: 607,700
6. Charles Schwab Investment Management
Ownership: N/A%
Shares Held: 351,261
7. Coatue Management LLC
Ownership: N/A%
Shares Held: 329,776
8. National Bank Of Canada
Ownership: N/A%
Shares Held: 322,501
9. Boussard & Gavaudan Investment Management LLP
Ownership: N/A%
Shares Held: 302,736
10. Morgan Stanley
Ownership: N/A%
Shares Held: 288,649
Click here to check the current Share Price of AMC Entertainment Holdings (AMC) on Robinhood!
What Is AMC?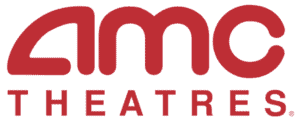 AMC Entertainment Holdings, Inc. (often referred to simply as AMC) is a major American movie theater chain.
Key points about AMC Entertainment include:
Cinema Operations: AMC owns and operates movie theaters across the United States and around the world. They offer a variety of movie-watching experiences, including standard theaters, IMAX screens, Dolby Cinema, and more.
History: AMC has a long history dating back to 1920 when it was founded as the Durwood Theatre Corporation. It has undergone various mergers and acquisitions over the years, eventually becoming AMC Entertainment.
Acquisitions and Expansion: AMC has acquired several other theater chains, expanding its reach. One notable acquisition was Carmike Cinemas in 2016, which further solidified its position as one of the largest theater chains in the U.S.
Challenges and Changes: The movie exhibition industry faced various challenges in recent years, including competition from streaming services and the impact of the COVID-19 pandemic. During the pandemic, AMC and other theater chains temporarily closed many of their locations to comply with public health measures.
Financial Struggles and Recovery: Due to the pandemic's impact on movie attendance, AMC faced financial difficulties in 2020 and early 2021. However, it attracted significant attention from retail investors in early 2021 through online forums like Reddit's WallStreetBets. This led to a notable increase in AMC's stock price, which garnered media attention.
Diversification: To adapt to changing market dynamics, AMC explored various strategies, including expanding its involvement in content distribution and exploring partnerships with movie studios.
Conclusion
These top AMC shareholders represent some of the largest asset managers and institutional investors globally.