Berkshire Hathaway, a multinational conglomerate holding company led by Warren Buffet, has a diverse portfolio of investments in various industries such as insurance, finance, energy, transportation, and manufacturing.
These are Berkshire Hathaways 10 Largest Shareholders of BRKB as of 9/13/2023.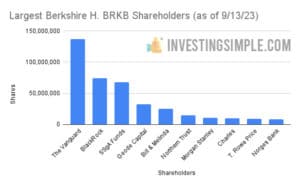 Best Free Stock Promotion
1. The Vanguard Group Inc.
Ownership: 10.59%
Shares Held: 137,210,293
2. BlackRock Fund Advisors
Ownership: 5.70%
Shares Held: 73,891,423
3. SSGA Funds Management Inc.
Ownership: 5.25%
Shares Held: 68,034,710
4. Geode Capital Management LLC
Ownership: 2.49%
Shares Held: 32,279,445
5. Bill & Melinda Gates Foundation Trust
Ownership: 1.94%
Shares Held: 25,142,853
6. Northern Trust Investments Inc.
Ownership: 1.14%
Shares Held: 14,740,281
7. Morgan Stanley Smith Barney LLC
Ownership: 0.84%
Shares Held: 10,819,478
8. Charles Schwab Investment Management
Ownership: 0.75%
Shares Held: 9,655,640
9. T. Rowe Price Associates Inc.
Ownership: 0.66%
Shares Held: 8,553,265
10. Norges Bank Investment Management
Ownership: 0.66%
Shares Held: 8,503,502
What Is Berkshire Hathaway?

Berkshire Hathaway is a multinational conglomerate holding company based in the United States. It is one of the largest and most well-known conglomerates in the world, and it's known for its diverse range of subsidiaries and investments in various industries.
The company was founded in 1839 and is headquartered in Omaha, Nebraska. However, it didn't adopt the name Berkshire Hathaway until 1955 when it was taken over by Warren Buffett and his partners.
The primary driving force behind Berkshire Hathaway is Warren Buffett, who is considered one of the most successful investors in history. Under his leadership, Berkshire Hathaway has grown significantly and become a major player in the business world.
Berkshire Hathaway's business interests include:
Insurance: Berkshire Hathaway owns a group of insurance companies, including GEICO, Berkshire Hathaway Reinsurance Group, and others. Insurance has historically been a significant source of the company's revenue and capital.
Investments: The company holds a vast portfolio of investments in publicly traded companies. Warren Buffett and his team have a reputation for making long-term investments in well-established companies, and some of their major holdings include shares in companies like Apple, Coca-Cola, American Express, and many others.
Operating Businesses: Berkshire Hathaway owns and operates a wide range of businesses in industries such as manufacturing, energy, utilities, retail, and transportation. Some notable subsidiaries include BNSF Railway, Duracell, Clayton Homes, and Dairy Queen.
Real Estate: The company has investments in real estate, including residential and commercial properties.
Financial Services: In addition to insurance, Berkshire Hathaway has interests in financial services, including banking and financial products.
Consumer Brands: The company owns and operates various consumer brands and companies.
Warren Buffett, known as the "Oracle of Omaha," is known for his value investing philosophy and long-term approach to investing. Berkshire Hathaway's annual shareholder meetings, held in Omaha, are highly anticipated events and often feature Warren Buffett sharing his insights on investing and business.
Berkshire Hathaway's success and Warren Buffett's reputation have made it a unique and influential conglomerate in the global business landscape. The company's performance is closely watched by investors and analysts as a barometer of the broader economy and investment trends.
Click here to check the current Share Price of Berkshire Hathaway Inc (BRK.B) on Robinhood!
Conclusion
These top shareholders in Berkshire Hathaway have a significant influence on the company's future direction and success.