Catalyst Pharmaceuticals is a biopharmaceutical company focused on the development and commercialization of innovative therapies for rare neurological disorders.
This is a list of the 10 largest Catalyst Pharmaceuticals shareholders as of 9/14/2023.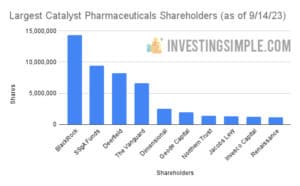 Best Free Stock Promotions
1. BlackRock Fund Advisors
Ownership: 13.44%
Shares Held: 14,310,459
2. SSGA Funds Management Inc
Ownership: 8.88%
Shares Held: 9,453,077
3. Deerfield Management Co LP
Ownership: 7.69%
Shares Held: 8,192,000
4. The Vanguard Group Inc
Ownership: 6.21%
Shares Held: 6,611,102
5. Dimensional Fund Advisors LP
Ownership: 2.32%
Shares Held: 2,472,410
6. Geode Capital Management LLC
Ownership: 1.81%
Shares Held: 1,926,415
7. Northern Trust Investments Inc
Ownership: 1.29%
Shares Held: 1,368,690
8. Jacobs Levy Equity Management
Ownership: 1.24%
Shares Held: 1,321,281
9. Invesco Capital Management LLC
Ownership: 1.14%
Shares Held: 1,210,264
10. Renaissance Technologies LLC
Ownership: 1.08%
Shares Held: 1,154,900
Click Here to see the current price of Catalyst Pharmaceuticals (CPRX) on Robinhood Here!
What Is Catalyst Pharmaceuticals?

Catalyst Pharmaceuticals, Inc. is a biopharmaceutical company that focuses on the development and commercialization of therapies for rare neuromuscular and neurological diseases.
Catalyst Pharmaceuticals is primarily known for its drug Firdapse (amifampridine phosphate), which is used for the treatment of Lambert-Eaton Myasthenic Syndrome (LEMS), a rare autoimmune disorder that affects the neuromuscular junction.
Firdapse was approved by the U.S. Food and Drug Administration (FDA) in 2018 as the first and only approved treatment for LEMS.
It works by increasing the release of acetylcholine, a neurotransmitter that plays a crucial role in muscle contraction.
Conclusion
These top shareholders in Catalyst Pharmaceuticals are a mix of institutional investors, investment management firms, and asset managers.
Together, they own a significant portion of the company and have a significant influence on its operations and strategic decisions.