Coca Cola is one of the most recognizable and influential beverage companies in the world, with a history spanning over a century.
Founded in 1886 by pharmacist Dr. John S. Pemberton, Coca Cola has become a global icon, known for its signature carbonated soft drink and a wide range of refreshing beverages.
Here is a list of the top 10 Coca Cola shareholders as of 9/9/23.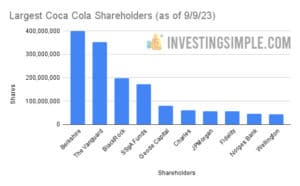 Best Free Stock Promotions
1. Berkshire Hathaway
Ownership: 9.25%
Shares Held: 400,000,000
2. The Vanguard Group
Ownership: 8.16%
Shares Held: 353,057,985
3. BlackRock Fund Advisors
Ownership: 4.58%
Shares Held: 197,925,088
4. SSgA Funds Management
Ownership: 3.96%
Shares Held: 171,246,926
5. Geode Capital Management
Ownership: 1.83%
Shares Held: 79,165,884
6. Charles Schwab Investment Management
Ownership: 1.40%
Shares Held: 60,674,352
7. JPMorgan Investment Management
Ownership: 1.31%
Shares Held: 56,612,639
8. Fidelity Management & Research Company
Ownership: 1.29%
Shares Held: 55,895,157
9. Norges Bank Investment Management
Ownership: 1.07%
Shares Held: 46,176,945
10. Wellington Management Co LLP
Ownership: 0.99%
Shares Held: 42,954,362
Click here to check the current Share Price of Coca Cola (KO) on Robinhood!
What Is Coca Cola?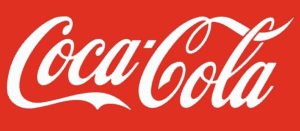 The Coca-Cola Company, commonly referred to as Coca-Cola, is a multinational beverage corporation known for producing one of the world's most popular soft drinks, Coca-Cola. Founded in 1886 by John S. Pemberton and initially marketed as a medicinal beverage, Coca-Cola has since become an iconic global brand.
Coca-Cola's primary product is its flagship carbonated soft drink, Coca-Cola, which is a sweetened, carbonated beverage with a distinctive cola flavor.
However, the company also offers a wide range of other beverages, including:
Diet Coke and Coca-Cola Zero Sugar: Low-calorie and zero-calorie variations of the original Coca-Cola.
Sprite: A lemon-lime flavored carbonated beverage.
Fanta: A fruit-flavored carbonated soft drink available in various flavors.
Dasani: Bottled water produced by Coca-Cola.
Minute Maid: A brand of fruit juices and fruit-flavored drinks.
Powerade: A sports drink designed to replenish electrolytes during physical activity.
SmartWater: A premium bottled water brand.
Honest Tea: A brand of organic, bottled tea and other non-carbonated beverages.
Coca-Cola operates globally and has a presence in nearly every country. The company's products are widely distributed and can be found in restaurants, convenience stores, vending machines, and grocery stores worldwide.
Coca-Cola is also known for its iconic branding, including the distinctive red and white logo and its memorable advertising campaigns. The brand has played a significant role in popular culture and has sponsored numerous sporting events and entertainment ventures.
In addition to its core beverage business, Coca-Cola has expanded its portfolio to include other beverage categories and has made efforts to introduce healthier options and reduce the sugar content of its drinks in response to changing consumer preferences and health concerns.
Conclusion
These top shareholders in Coca Cola are a mix of institutional investors, investment management firms, and asset managers.
Together, they own a significant portion of the company and have a significant influence on its operations and strategic decisions.