Coinbase is a prominent cryptocurrency exchange and digital asset platform that has played a significant role in shaping the landscape of cryptocurrencies and their mainstream adoption.
Founded in 2012 by Brian Armstrong and Fred Ehrsam, Coinbase has grown to become one of the largest and most trusted cryptocurrency exchanges in the world.
Here is a list of the top 10 Coinbase shareholders as of 9/14/2023.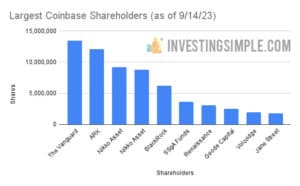 Best Free Stock Promotion
1. The Vanguard Group, Inc
Ownership: 7.21%
Shares Held: 13,474,119
2. ARK Investment Management LLC
Ownership: 6.49%
Shares Held: 12,121,881
3. Nikko Asset Management Co., Ltd
Ownership: 4.91%
Shares Held: 9,166,044
4. Nikko Asset Management Americas
Ownership: 4.70%
Shares Held: 8,782,227
5. BlackRock Fund Advisors
Ownership: 3.31%
Shares Held: 6,185,874
6. SSGA Funds Management, Inc
Ownership: 1.95%
Shares Held: 3,634,815
7. Renaissance Technologies LLC
Ownership: 1.64%
Shares Held: 3,057,000
8. Geode Capital Management LLC
Ownership: 1.34%
Shares Held: 2,510,007
9. Voloridge Investment Management
Ownership: 1.02%
Shares Held: 1,912,038
10. Jane Street Capital LLC
Ownership: 0.94%
Shares Held: 1,747,939
Click here to check the current Share Price of Coinbase (COIN) on Robinhood!
What Is Coinbase?

Coinbase is a cryptocurrency exchange and platform that allows users to buy, sell, and store various cryptocurrencies. It was founded in 2012 by Brian Armstrong and Fred Ehrsam and has since become one of the most well-known and widely used cryptocurrency exchanges in the world.
Coinbase provides a user-friendly interface that makes it accessible to both beginners and experienced cryptocurrency traders.
Here are some key features and services offered by Coinbase:
Cryptocurrency Trading: Coinbase allows users to trade a variety of cryptocurrencies, including Bitcoin (BTC), Ethereum (ETH), Litecoin (LTC), and many others. Users can place market orders, limit orders, and other types of trades.
Wallet Services: Coinbase provides digital wallets for users to securely store their cryptocurrencies. These wallets can be used to send and receive digital assets.
Fiat-to-Crypto and Crypto-to-Crypto Transactions: Users can purchase cryptocurrencies with traditional fiat currencies (such as USD, EUR, or GBP) on Coinbase. Additionally, they can trade one cryptocurrency for another using the platform.
Coinbase Pro: Coinbase offers a more advanced trading platform called Coinbase Pro (formerly known as GDAX). It provides additional trading features and lower fees for users who require more advanced trading tools.
Security: Coinbase places a strong emphasis on security and employs various measures to protect user funds and personal information. These include two-factor authentication (2FA), cold storage of funds, and insurance coverage for digital assets stored on the platform.
Educational Resources: Coinbase offers educational resources and articles to help users understand cryptocurrencies and blockchain technology.
Coinbase Card: Coinbase has introduced a debit card that allows users to spend their cryptocurrency holdings at any merchant that accepts Visa.
Custody Services: Coinbase also offers custody services aimed at institutional investors and large cryptocurrency holders who need secure storage solutions.
It's important to note that cryptocurrency investments are subject to market volatility and risk, and users should exercise caution and conduct their own research before trading or investing in cryptocurrencies on platforms like Coinbase.
Conclusion
These top shareholders in Coinbase are a mix of institutional investors, investment management firms, and asset managers.
Together, they own a significant portion of the company and have a significant influence on its operations and strategic decisions.