Delta Air Lines is a renowned and prominent name in the global aviation industry, known for its commitment to excellence, exceptional customer service, and extensive network of destinations.
With a rich history spanning several decades, Delta has established itself as one of the leading airlines in the world, catering to millions of passengers each year.
Here is a list of the top 10 Delta Air Lines shareholders as of 9/12/2023.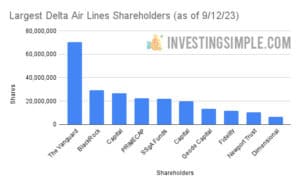 Best Free Stock Promotion
1. The Vanguard Group
Ownership: 10.98%
Shares Held: 70,643,159
2. BlackRock Fund Advisors
Ownership: 4.57%
Shares Held: 29,386,776
3. Capital Research & Management Co
Ownership: 4.13%
Shares Held: 26,563,427
4. PRIMECAP Management Co
Ownership: 3.47%
Shares Held: 22,343,868
5. SSgA Funds Management
Ownership: 3.44%
Shares Held: 22,150,815
6. Capital Research & Management Co
Ownership: 3.06%
Shares Held: 19,665,620
7. Geode Capital Management LLC
Ownership: 2.10%
Shares Held: 13,493,033
8. Fidelity Management & Research Co
Ownership: 1.81%
Shares Held: 11,656,796
9. Newport Trust Co
Ownership: 1.62%
Shares Held: 10,425,433
10. Dimensional Fund Advisors LP
Ownership: 1.03%
Shares Held: 6,660,845
Click here to check the current Share Price of Delta Air Line (DAL) on Robinhood!
What Is Delta Air Lines?

Delta Air Lines, often referred to simply as Delta, is a major American airline and one of the largest in the world. It is headquartered in Atlanta, Georgia, and operates an extensive domestic and international network of flights.
Here are some key points about Delta Air Lines:
History: Delta was founded in 1924 as Huff Daland Dusters, a crop-dusting operation. It later became Delta Air Service in 1928 and adopted the name Delta Air Lines in 1945.
Fleet and Routes: Delta operates a large and diverse fleet of aircraft, including various models from Airbus and Boeing. The airline serves destinations throughout the United States and around the world, making it one of the leading carriers for both domestic and international travel.
Hubs: Delta has several major hubs in the United States, including Hartsfield-Jackson Atlanta International Airport (ATL) in Atlanta, Detroit Metropolitan Wayne County Airport (DTW) in Detroit, and Minneapolis-Saint Paul International Airport (MSP) in Minneapolis, among others.
Alliances: Delta is a member of the SkyTeam alliance, which includes other major airlines like Air France, KLM, and Korean Air. This alliance allows passengers to connect seamlessly to a wide range of destinations around the world.
Frequent Flyer Program: Delta has a loyalty program called Delta SkyMiles, which offers rewards and benefits to frequent travelers.
In-Flight Services: Delta offers a range of in-flight services, including various cabin classes, in-flight entertainment, Wi-Fi, and complimentary snacks and beverages on many flights.
Corporate and Cargo Services: In addition to passenger services, Delta also offers cargo transportation and corporate travel services.
Environmental Initiatives: Delta has made efforts to reduce its environmental impact by investing in more fuel-efficient aircraft, implementing sustainable practices, and offsetting carbon emissions.
Merger History: Delta has undergone several mergers and acquisitions in its history, including the merger with Northwest Airlines in 2008, which significantly expanded its route network.
Delta Air Lines is known for its commitment to customer service and has a strong presence in the aviation industry both in the United States and internationally.
It competes with other major U.S. carriers like American Airlines and United Airlines and plays a vital role in the global airline industry.
Conclusion
These top shareholders in Delta Air Line are a mix of institutional investors, investment management firms, and asset managers.
Together, they own a significant portion of the company and have a significant influence on its operations and strategic decisions.