Ford Motor Company, commonly known as Ford, is a renowned American multinational automaker that has left an indelible mark on the automotive industry for over a century.
Here is a list of the 10 largest Ford shareholders as of 9/12/2023.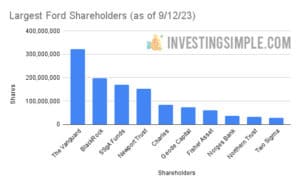 Best Free Stock Promotion
1. The Vanguard Group
Ownership: 8.20%
Shares Held: 322,080,570
2. BlackRock Fund Advisors
Ownership: 5.04%
Shares Held: 198,121,907
3. SSgA Funds Management
Ownership: 4.30%
Shares Held: 168,856,962
4. Newport Trust Co
Ownership: 3.87%
Shares Held: 152,155,847
5. Charles Schwab Investment Management
Ownership: 2.16%
Shares Held: 84,734,138
6. Geode Capital Management LLC
Ownership: 1.84%
Shares Held: 72,311,048
7. Fisher Asset Management LLC
Ownership: 1.55%
Shares Held: 60,733,261
8. Norges Bank Investment Management
Ownership: 0.92%
Shares Held: 36,047,929
9. Northern Trust Investments
Ownership: 0.82%
Shares Held: 32,397,568
10. Two Sigma Advisers LP
Ownership: 0.74%
Shares Held: 28,908,000
Click here to check the current Share Price of Ford (F) on Robinhood!
What Is Ford?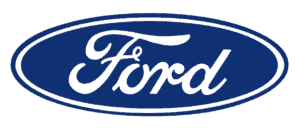 Ford, officially known as Ford Motor Company, is one of the world's oldest and most well-known automobile manufacturers.
It was founded by Henry Ford on June 16, 1903, and is headquartered in Dearborn, Michigan, USA. Ford is one of the pioneering companies in the automotive industry and has played a significant role in the development and popularization of the automobile.
Key points about Ford:
Automobile Manufacturing: Ford is primarily known for its production of automobiles. The company has manufactured a wide range of vehicles, from compact cars to trucks, SUVs, and commercial vehicles.
Mass Production Innovation: Henry Ford is credited with revolutionizing manufacturing through the introduction of the assembly line in 1913. This innovation dramatically increased production efficiency and allowed Ford to produce affordable cars for the mass market, notably the Ford Model T.
Iconic Models: Ford has produced several iconic models throughout its history, including the Model T, the Ford Mustang, the Ford F-Series pickup trucks, and many others. These vehicles have left a lasting impact on the automotive industry.
Global Presence: Ford operates in numerous countries and has a global presence. It manufactures and sells vehicles in various markets around the world.
Electric and Sustainable Initiatives: Like many other automakers, Ford has been investing in electric and hybrid vehicle technology to address environmental concerns and meet changing consumer preferences. They have introduced electric vehicles such as the Ford Mustang Mach-E.
Innovation and Technology: Ford has been at the forefront of automotive innovation, including safety features, connectivity, and autonomous driving technology.
Legacy: The company has a rich history and a significant legacy in the automotive world. It has survived economic challenges, industry changes, and evolving consumer demands over the decades.
Ford remains one of the "Big Three" American automakers, alongside General Motors and Stellantis (formerly Fiat Chrysler Automobiles), and it continues to be a major player in the global automotive industry.
The Ford brand is synonymous with American automotive history and has a strong presence in markets around the world.
Conclusion
These top shareholders in Ford are a mix of institutional investors, investment management firms, and asset managers.
Together, they own a significant portion of the company and have a significant influence on its operations and strategic decisions.