Meta Platforms is primarily known for its social networking platform, Facebook, which is one of the largest and most influential social media platforms in the world.
However, the company has expanded its portfolio over the years and now owns and operates several other popular services and products, including Instagram, WhatsApp, Messenger, and Oculus VR.
Here are the top ten shareholders in Meta as of 9/9/2023.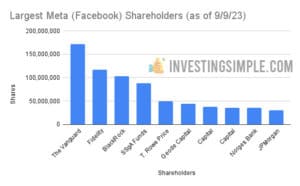 Best Free Stock Promotions
1. The Vanguard Group, Inc
Ownership: 7.75%
Shares Held: 172,296,477
2. Fidelity Management & Research Co
Ownership: 5.28%
Shares Held: 117,423,556
3. BlackRock Fund Advisors
Ownership: 4.63%
Shares Held: 102,895,263
4. SSgA Funds Management, Inc
Ownership: 3.98%
Shares Held: 88,542,953
5. T. Rowe Price Associates, Inc
Ownership: 2.22%
Shares Held: 49,298,860
6. Geode Capital Management LLC
Ownership: 1.98%
Shares Held: 44,053,475
7. Capital Research & Management Co (World Investors)
Ownership: 1.67%
Shares Held: 37,143,760
8. Capital Research & Management Co (International Investors)
Ownership: 1.61%
Shares Held: 35,831,959
9. Norges Bank Investment Management
Ownership: 1.58%
Shares Held: 35,093,468
10. JPMorgan Investment Management
Ownership: 1.34%
Shares Held: 29,782,772
Click here to check the current Share Price of Meta Platforms (META) on Robinhood!
What Is Facebook/Meta?

Facebook was one of the largest and most well-known social media platforms in the world.
However, it's worth noting that Facebook underwent a significant rebranding in October 2021, and the company's name was changed to "Meta Platforms, Inc." or simply "Meta."
Here are key details about Facebook (Meta Platforms, Inc.):
Founding: Facebook was founded on February 4, 2004, by Mark Zuckerberg and his college roommates, Andrew McCollum, Eduardo Saverin, Chris Hughes, and Dustin Moskovitz. It initially started as a social networking platform exclusively for Harvard University students before expanding to other colleges and eventually to the general public.
Platform: Facebook is a social networking platform that allows users to create profiles, connect with friends and family, share photos and videos, and engage in various forms of online communication and interaction. Users can also join groups, like pages, and follow public figures and organizations.
Acquisitions: Over the years, Facebook (Meta) acquired several other popular social media and tech companies, including Instagram (2012), WhatsApp (2014), and Oculus VR (2014), among others.
Business Model: Facebook primarily generates revenue through advertising. It offers businesses and advertisers the ability to target specific demographics and interests, making it an attractive platform for digital marketing.
Privacy and Controversies: Facebook has faced various controversies related to user privacy, data security, and its role in spreading misinformation. These issues have led to increased scrutiny and regulatory actions in some countries.
Meta and the Metaverse: In October 2021, Mark Zuckerberg announced a significant rebranding of the company to "Meta" to reflect its focus on building the metaverse—a virtual, interconnected space for work, play, and social interaction. The company is investing heavily in augmented reality (AR) and virtual reality (VR) technologies to create this metaverse.
Conclusion
In conclusion, these institutional investors have a significant stake in Meta, which underscores the confidence they have in the company's future prospects.
As the company continues to innovate and grow, it will be interesting to see how these top shareholders respond and what their future investment strategies will be.