NIO Inc., founded in 2014, is a Chinese electric vehicle (EV) manufacturer that has emerged as a significant player in the global automotive industry.
Here is a list of the top 10 NIO shareholders as of 9/14/2023.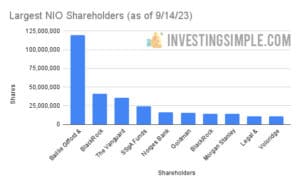 Best Free Stock Promotions
1. Baillie Gifford & Co
Ownership: 7.61%
Shares Held: 119,456,115
2. BlackRock Fund Advisors
Ownership: 2.59%
Shares Held: 40,735,849
3. The Vanguard Group Inc
Ownership: 2.28%
Shares Held: 35,812,532
4. SSGA Funds Management Inc
Ownership: 1.55%
Shares Held: 24,270,567
5. Norges Bank Investment Management
Ownership: 1.01%
Shares Held: 15,932,667
6. Goldman Sachs & Co LLC
Ownership: 1.00%
Shares Held: 15,621,306
7. BlackRock Advisors UK Ltd
Ownership: 0.92%
Shares Held: 14,399,133
8. Morgan Stanley & Co LLC
Ownership: 0.88%
Shares Held: 13,852,817
9. Legal & General Investment Management
Ownership: 0.70%
Shares Held: 11,005,295
10. Voloridge Investment Management
Ownership: 0.67%
Shares Held: 10,514,279
Click here to check the current Share Price of NIO Inc. (NIO) on Robinhood!
What Is NIO?

NIO Inc. (formerly known as NextEV Inc.) is a Chinese electric vehicle (EV) manufacturer headquartered in Shanghai, China. NIO specializes in designing and producing high-performance electric vehicles, including electric SUVs and electric crossovers.
The company was founded in November 2014 by entrepreneur William Li and has quickly gained prominence in the electric vehicle industry.
NIO's vehicles are known for their innovative technology, impressive range, and performance capabilities. The company initially gained attention with its electric SUV, the NIO ES8, which was introduced in 2018. The ES8 was followed by the smaller electric SUV, the NIO ES6.
One of the notable features of NIO's vehicles is the NIO Power Battery Swapping system, which allows drivers to replace their EV batteries quickly at battery swapping stations, providing a convenient alternative to traditional charging methods.
NIO has also been involved in autonomous driving research and development and has introduced advanced driver assistance systems (ADAS) in its vehicles, although the level of autonomy may vary between different models.
Conclusion
These top NIO shareholders are a mix of institutional investors, investment management firms, and asset managers.
Together, they own a significant portion of the company and have a significant influence on its operations and strategic decisions.