Nokia, a name that resonates with technology enthusiasts around the world, is a pioneering Finnish telecommunications company with a rich history and a remarkable journey.
Here is a list of the top 10 Nokia shareholders as of 9/13/2023.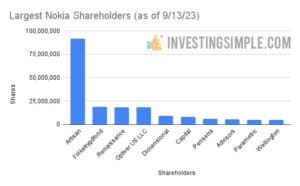 Best Free Stock Promotion
1. Artisan Partners LP
Ownership: 1.63%
Shares Held: 91,773,294
2. Folketrygdfondet
Ownership: 0.34%
Shares Held: 18,973,642
3. Renaissance Technologies LLC
Ownership: 0.33%
Shares Held: 18,531,480
4. Optiver US LLC
Ownership: 0.32%
Shares Held: 18,052,143
5. Dimensional Fund Advisors LP
Ownership: 0.16%
Shares Held: 9,245,197
6. Capital Research Management Co
Ownership: 0.15%
Shares Held: 8,351,462
7. Penserra Capital Management LLC
Ownership: 0.11%
Shares Held: 5,919,063
8. Advisors Capital Management LLC
Ownership: 0.10%
Shares Held: 5,652,543
9. Parametric Portfolio Associates
Ownership: 0.09%
Shares Held: 4,971,542
10. Wellington Management Co LLP
Ownership: 0.08%
Shares Held: 4,663,441
Click here to check the current Share Price of Nokia (NOK) on Robinhood!
What Is Nokia?

Nokia is a Finnish multinational telecommunications and consumer electronics company.
It has a long and storied history, originally founded in 1865 as a paper pulp mill and later transitioning into various industries before becoming a prominent player in the telecommunications industry.
Nokia's most significant contributions and fame come from its involvement in the development and manufacturing of mobile phones and telecommunications infrastructure equipment.
For many years, Nokia was one of the world's leading mobile phone manufacturers, known for its durable and innovative devices. The Nokia brand became synonymous with mobile phones during the late 1990s and early 2000s.
However, the company faced challenges in the smartphone era, particularly due to the rise of Apple's iPhone and Android-based smartphones. Nokia struggled to adapt to the changing market dynamics and eventually sold its mobile phone division to Microsoft in 2014. As a result, the Nokia brand disappeared from smartphones for a time.
Since then, Nokia has undergone various transformations and restructuring efforts. It has refocused on telecommunications infrastructure and technology solutions, providing network equipment and services to telecommunications operators worldwide.
Nokia is a key player in the development and deployment of 5G technology, which is the next generation of wireless communication.
Conclusion
These top shareholders in Nokia are a mix of institutional investors, investment management firms, and asset managers.
Together, they own a significant portion of the company and have a significant influence on its operations and strategic decisions.