Palantir Technologies, commonly known as Palantir, is a prominent American software company that specializes in data analysis and intelligence solutions.
Founded in 2003 by a group of former PayPal employees, including renowned entrepreneur Peter Thiel, Palantir has grown to become a significant player in the field of big data analytics.
Here is a list of the top 10 shareholders of Palantir as of 9/13/2023.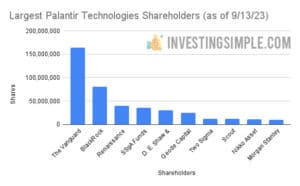 Best Free Stock Promotion
1. The Vanguard Group Inc
Ownership: 8.17%
Shares Held: 164,520,308
2. BlackRock Fund Advisors
Ownership: 4.00%
Shares Held: 80,628,650
3. Renaissance Technologies LLC
Ownership: 1.98%
Shares Held: 39,799,157
4. SSGA Funds Management Inc
Ownership: 1.78%
Shares Held: 35,816,153
5. D. E. Shaw & Co. LP
Ownership: 1.47%
Shares Held: 29,648,714
6. Geode Capital Management LLC
Ownership: 1.24%
Shares Held: 24,863,964
7. Two Sigma Investments LP
Ownership: 0.61%
Shares Held: 12,348,671
8. Scout Investments Inc
Ownership: 0.60%
Shares Held: 12,115,130
9. Nikko Asset Management Co. Ltd
Ownership: 0.52%
Shares Held: 10,414,435
10. Morgan Stanley Co. LLC
Ownership: 0.47%
Shares Held: 9,499,272
Click here to check the current Share Price of Palantir (PLTR) on Robinhood!
What Is Palantir?

Palantir Technologies is an American software and data analytics company founded in 2003 by a group of former employees of PayPal, including Peter Thiel, who is also known for co-founding PayPal.
The company's name, "Palantir," is a reference to a magical seeing stone from J.R.R. Tolkien's fictional Middle-earth, which could be used to see distant places and events.
Palantir specializes in developing data integration and analysis software for a wide range of applications, with a particular focus on government and commercial clients. Their flagship product is called "Palantir Gotham" (formerly known as "Palantir Government"), which is used by various government agencies, including intelligence, law enforcement, and defense organizations.
Another product, "Palantir Foundry," is designed for use in commercial settings and helps organizations analyze and make sense of their data.
Palantir's software is known for its data fusion and analysis capabilities, which allow users to connect and analyze vast amounts of data from different sources. It has been used for tasks such as counterterrorism, fraud detection, disaster response, and various business intelligence applications.
The company's software is particularly well-known for its ability to handle complex and large-scale data analysis tasks.
Palantir has been a controversial company, with concerns raised about its involvement with government surveillance programs and the potential for misuse of its technology for surveillance and data mining.
However, it has also played a significant role in aiding various organizations in making data-driven decisions and solving complex problems.
Conclusion
These top shareholders in Palantir are a mix of institutional investors, investment management firms, and asset managers.
Together, they own a significant portion of the company and have a significant influence on its operations and strategic decisions.