Pfizer is a renowned global pharmaceutical company that has made significant contributions to the field of healthcare and has been at the forefront of medical advancements for over a century.
Here is a list of the top 10 Pfizer shareholders as of 9/14/2023.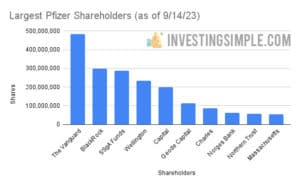 Best Free Stock Promotion
1. The Vanguard Group Inc
Ownership: 8.57%
Shares Held: 484,014,036
2. BlackRock Fund Advisors
Ownership: 5.29%
Shares Held: 298,607,279
3. SSGA Funds Management Inc
Ownership: 5.09%
Shares Held: 287,201,692
4. Wellington Management Co LLP
Ownership: 4.13%
Shares Held: 233,110,040
5. Capital Research Management Co
Ownership: 3.53%
Shares Held: 199,012,806
6. Geode Capital Management LLC
Ownership: 2.00%
Shares Held: 112,872,506
7. Charles Schwab Investment Management
Ownership: 1.53%
Shares Held: 86,378,754
8. Norges Bank Investment Management
Ownership: 1.09%
Shares Held: 61,484,622
9. Northern Trust Investments Inc
Ownership: 1.00%
Shares Held: 56,551,752
10. Massachusetts Financial Services
Ownership: 0.98%
Shares Held: 55,022,068
Click here to check the current Share Price of Pfizer (PFE) on Robinhood!
What Is Pfizer?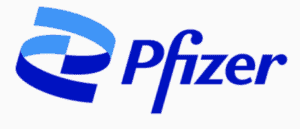 Pfizer is a multinational pharmaceutical and biotechnology company based in the United States.
It is one of the world's largest pharmaceutical companies and is known for its research, development, and production of a wide range of pharmaceutical products, including prescription medications, vaccines, and healthcare products.
One of Pfizer's most notable achievements is its development, in partnership with BioNTech, of one of the first COVID-19 vaccines to receive emergency use authorization in multiple countries.
This vaccine, known as the Pfizer-BioNTech COVID-19 vaccine, played a significant role in the global effort to combat the COVID-19 pandemic.
Pfizer has a long history dating back to its founding in 1849 and has been involved in the development of many important medications and vaccines over the years.
The company operates in various therapeutic areas, including cardiology, oncology, immunology, and more, and it continues to be a major player in the pharmaceutical industry.
Conclusion
These top Pfizer shareholders are a mix of institutional investors, investment management firms, and asset managers.
Together, they own a significant portion of the company and have a significant influence on its operations and strategic decisions.