Plug Power is a leading provider of hydrogen fuel cell systems and solutions, revolutionizing the way power is generated and stored.
Founded in 1997 and headquartered in Latham, New York, Plug Power has emerged as a prominent player in the clean energy industry.
Here is a list of the top 10 Plug Power shareholders as 9/14/2023.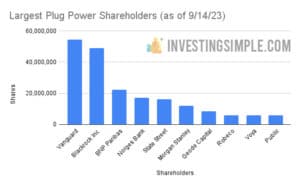 Best Free Stock Promotion
1. Vanguard Group Inc
Ownership: 9.03%
Shares Held: 54,362,685
2. BlackRock Inc
Ownership: 8.12%
Shares Held: 48,879,373
3. BNP Paribas Asset Management Holding SA
Ownership: 3.68%
Shares Held: 22,177,114
4. Norges Bank Investment Management
Ownership: 2.84%
Shares Held: 17,071,628
5. State Street Corporation
Ownership: 2.68%
Shares Held: 16,121,043
6. Morgan Stanley
Ownership: 1.98%
Shares Held: 11,906,432
7. Geode Capital Management LLC
Ownership: 1.37%
Shares Held: 8,260,321
8. Robeco Schweiz AG
Ownership: 0.99%
Shares Held: 5,966,500
9. Voya Investment Management LLC
Ownership: 0.95%
Shares Held: 5,717,795
10. Public Investment Fund
Ownership: 0.94%
Shares Held: 5,670,917
Click here to check the current Share Price of Plug Power (PLUG) on Robinhood!
What Is Plug Power?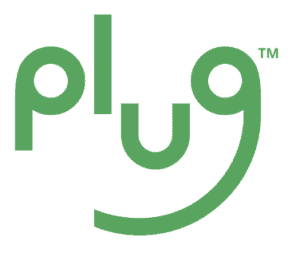 Plug Power is an American company that specializes in hydrogen fuel cell systems and hydrogen fueling solutions.
The company is known for developing and manufacturing fuel cells and hydrogen infrastructure for a variety of applications, including material handling equipment like forklifts and pallet jacks, as well as stationary power systems for backup power and electric vehicle charging.
Plug Power's fuel cell technology uses hydrogen as a clean and efficient energy source to power electric vehicles and other equipment. This technology has gained attention and popularity in industries where reducing emissions and increasing energy efficiency are priorities.
Hydrogen fuel cells produce electricity through a chemical reaction between hydrogen and oxygen, with the only byproduct being water vapor, making them an environmentally friendly alternative to traditional internal combustion engines or battery-powered systems.
Plug Power has partnered with various companies in industries such as logistics, e-commerce, and manufacturing to help them transition to hydrogen fuel cell-powered solutions for their material handling operations.
The company has also been involved in projects related to the development of hydrogen infrastructure and hydrogen production methods to support a broader adoption of hydrogen as a clean energy source.
Conclusion
These top shareholders in Plug Power are a mix of institutional investors, investment management firms, and asset managers.
Together, they own a significant portion of the company and have a significant influence on its operations and strategic decisions.