Rivian is an innovative American automotive company that has been making waves in the electric vehicle (EV) industry.
Founded in 2009 by CEO Robert "R.J." Scaringe, Rivian has quickly emerged as a prominent player in the market, capturing attention and investment from major companies such as Amazon and Ford.
Here is a list of the 10 largest Rivian shareholders as of 9/13/2023.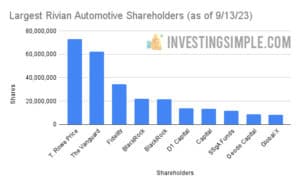 Best Free Stock Promotion
1. T. Rowe Price Associates Inc
Ownership: 7.83%
Shares Held: 72,960,775
2. The Vanguard Group Inc
Ownership: 6.68%
Shares Held: 62,259,894
3. Fidelity Management Research Co
Ownership: 3.70%
Shares Held: 34,462,185
4. BlackRock Investment Management
Ownership: 2.37%
Shares Held: 22,091,016
5. BlackRock Fund Advisors
Ownership: 2.32%
Shares Held: 21,581,109
6. D1 Capital Partners LP
Ownership: 1.49%
Shares Held: 13,908,880
7. Capital Research Management Co
Ownership: 1.43%
Shares Held: 13,334,127
8. SSGA Funds Management Inc
Ownership: 1.26%
Shares Held: 11,704,572
9. Geode Capital Management LLC
Ownership: 0.90%
Shares Held: 8,410,891
10. Global X Management Co LLC
Ownership: 0.90%
Shares Held: 8,352,268
Click here to check the current Share Price of Rivian (RIVN) on Robinhood!
What Is Rivian?

Rivian is an American electric vehicle (EV) manufacturer.
Founded in 2009 by Robert "R.J." Scaringe, Rivian is headquartered in Plymouth, Michigan. The company gained significant attention for its ambitious plans to develop and produce electric trucks and SUVs with a focus on adventure and off-road capabilities.
Rivian's flagship products include the R1T, an all-electric pickup truck, and the R1S, an all-electric SUV. Both vehicles were designed to compete with traditional gasoline-powered trucks and SUVs while offering the benefits of electric propulsion, such as reduced emissions and impressive torque.
Key points about Rivian include:
Electric Adventure Vehicles: Rivian positioned itself as a manufacturer of electric adventure vehicles, targeting consumers interested in outdoor activities and off-road adventures.
Investment and Funding: The company garnered significant attention and financial backing from various investors, including Amazon and Ford. These investments have helped fund Rivian's development and production efforts.
Production Facilities: Rivian established production facilities in Normal, Illinois, where it retrofitted a former Mitsubishi manufacturing plant. This facility is where the R1T and R1S are produced.
Innovative Features: Rivian vehicles were known for their innovative features, including impressive range on a single charge, advanced driver-assistance systems, and unique storage solutions.
Market Expansion: The company aimed to compete in the rapidly growing electric vehicle market, particularly targeting North America and, eventually, global markets.
Sustainability: Rivian emphasized sustainability in its manufacturing processes and products, highlighting its commitment to reducing the environmental impact of transportation.
Conclusion
These top shareholders in Rivian are a mix of institutional investors, investment management firms, and asset managers.
Together, they own a significant portion of the company and have a significant influence on its operations and strategic decisions.