Snapchat is a popular multimedia messaging app that has revolutionized the way people communicate and share moments with friends and followers.
Launched in 2011, Snapchat quickly gained traction, particularly among younger demographics, for its unique and ephemeral approach to messaging and storytelling.
Here is a list of the top 10 shareholders in Snap as of 9/14/2023.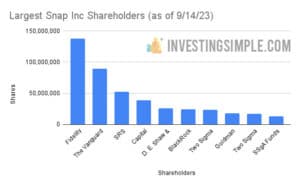 Best Free Stock Promotions
1. Fidelity Management Research Co
Ownership: 10.05%
Shares Held: 137,548,522
2. The Vanguard Group Inc
Ownership: 6.53%
Shares Held: 89,402,305
3. SRS Investment Management LLC
Ownership: 3.85%
Shares Held: 52,662,317
4. Capital Research Management Co
Ownership: 2.82%
Shares Held: 38,541,836
5. D. E. Shaw & Co LP
Ownership: 1.91%
Shares Held: 26,116,475
6. BlackRock Fund Advisors
Ownership: 1.74%
Shares Held: 23,847,231
7. Two Sigma Advisers LP
Ownership: 1.71%
Shares Held: 23,403,577
8. Goldman Sachs Asset Management LP
Ownership: 1.32%
Shares Held: 18,057,851
9. Two Sigma Investments LP
Ownership: 1.22%
Shares Held: 16,660,856
10. SSGA Funds Management Inc
Ownership: 0.96%
Shares Held: 13,116,610
Click here to check the current Share Price of Snapchat (SNAP) on Robinhood!
What Is Snap?

Snap Inc. is a technology company that is best known for its social media platform Snapchat.
Snapchat is a multimedia messaging app that allows users to send photos and videos, which are often referred to as "snaps," to their friends and followers.
What sets Snapchat apart from other social media platforms is its focus on ephemeral content, meaning that the messages and stories shared on the platform typically disappear after they are viewed, although users have the option to save them.
Snap Inc. was founded in 2011 by Evan Spiegel, Bobby Murphy, and Reggie Brown, and it has since grown into a major player in the social media and technology industries.
In addition to Snapchat, Snap Inc. has developed and introduced various other products and features, including Spectacles (smart glasses that can record video), Discover (a content platform for publishers and creators), and augmented reality (AR) experiences through features like Lenses and Filters.
Conclusion
These top Snapchat shareholders are a mix of institutional investors, investment management firms, and asset managers.