In the rapidly evolving cannabis industry, Tilray Brands has emerged as a trailblazer, spearheading innovation and pushing the boundaries of what's possible.
With a commitment to quality, sustainability, and consumer satisfaction, Tilray Brands has established itself as a leading player in the global cannabis market.
Here is a list of the top shareholders of Tilray Brands as of 9/14/2023.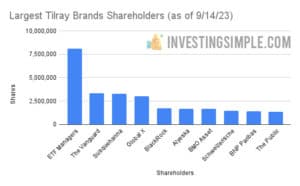 Best Free Stock Promotions
1. ETF Managers Group LLC
Ownership: 1.15%
Shares Held: 8,117,180
2. The Vanguard Group, Inc
Ownership: 0.47%
Shares Held: 3,329,217
3. Susquehanna Financial Group LLLP
Ownership: 0.46%
Shares Held: 3,264,799
4. Global X Management Co LLC
Ownership: 0.43%
Shares Held: 2,990,353
5. BlackRock Fund Advisors
Ownership: 0.24%
Shares Held: 1,698,680
6. Alyeska Investment Group LP
Ownership: 0.24%
Shares Held: 1,664,960
7. BMO Asset Management Inc
Ownership: 0.24%
Shares Held: 1,649,719
8. Schweizerische Nationalbank
Ownership: 0.20%
Shares Held: 1,431,938
9. BNP Paribas Arbitrage SNC
Ownership: 0.20%
Shares Held: 1,404,177
10. The Public Sector Pension Investment
Ownership: 0.19%
Shares Held: 1,363,743
Click here to check the current Share Price of Tilray Brands (TLRY) on Robinhood!
What Is Tilray Brands?

Tilray Brands is a Canadian pharmaceutical and cannabis company.
It is one of the prominent players in the global cannabis industry. However, the landscape of the cannabis industry is rapidly evolving, and companies within it frequently undergo changes, mergers, or rebranding.
Tilray is known for producing and distributing medical and recreational cannabis products, including dried flower, oils, capsules, and various other forms of cannabis-based products.
They are involved in both the medical and recreational cannabis markets in Canada and have expanded their presence internationally.
Conclusion
These top shareholders in Tilray Brands are a mix of institutional investors, investment management firms, and asset managers.
Together, they own a significant portion of the company and have a significant influence on its operations and strategic decisions.