Walmart is a multinational retail corporation that has established itself as one of the world's largest and most influential companies.
Here is a list of the 10 largest shareholders of Walmart as of 9/14/2023.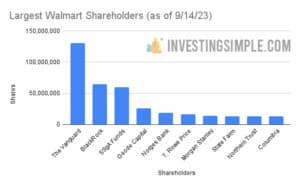 Best Free Stock Promotion
1. The Vanguard Group Inc
Ownership: 4.86%
Shares Held: 130,948,599
2. BlackRock Fund Advisors
Ownership: 2.40%
Shares Held: 64,581,784
3. SSGA Funds Management Inc
Ownership: 2.23%
Shares Held: 60,072,444
4. Geode Capital Management LLC
Ownership: 0.95%
Shares Held: 25,499,791
5. Norges Bank Investment Management
Ownership: 0.68%
Shares Held: 18,328,064
6. T. Rowe Price Associates Inc
Ownership: 0.59%
Shares Held: 15,813,328
7. Morgan Stanley Smith Barney LLC
Ownership: 0.50%
Shares Held: 13,481,133
8. State Farm Investment Management
Ownership: 0.49%
Shares Held: 13,083,050
9. Northern Trust Investments Inc
Ownership: 0.49%
Shares Held: 13,096,474
10. Columbia Management Investment
Ownership: 0.47%
Shares Held: 12,767,149
Click here to see the current share price of Walmart (WMT) on Robinhood!
What Is Walmart?

Walmart is a multinational retail corporation and one of the world's largest and most well-known retail chains.
Founded by Sam Walton in 1962 in Rogers, Arkansas, USA, Walmart has grown to become a global retail giant.
The company operates a wide range of retail formats, including:
Walmart Supercenters: These are large retail stores that combine a traditional department store with a grocery store. They offer a wide variety of products, including groceries, clothing, electronics, household goods, and more.
Walmart Discount Stores: These are smaller stores that primarily focus on general merchandise, including clothing, electronics, toys, and home goods.
Walmart Neighborhood Markets: Smaller grocery stores that primarily offer fresh produce, groceries, and household essentials.
Sam's Club: A membership-based warehouse club owned by Walmart, offering bulk products, electronics, and various services to members.
Walmart is known for its low prices, extensive product selection, and a strong presence in many countries around the world. It has a significant influence on the retail industry and supply chain due to its scale and market reach.
In addition to its core retail operations, Walmart has expanded into e-commerce with the growth of Walmart.com, offering online shopping, digital services, and grocery delivery.
The company also operates in various other business segments, including real estate, financial services, and sustainability initiatives.
Walmart is headquartered in Bentonville, Arkansas.
Conclusion
These top shareholders in Walmart are a mix of institutional investors, investment management firms, and asset managers.
Together, they own a significant portion of the company and have a significant influence on its operations and strategic decisions.