Lazy people turn into millionaires every single day.
And that's often a result of more efficient problem solving.
These days, grind and hustle culture is overrated. It leads to anxiety, burnout and mostly a feeling of disconnect from the real world.
So embrace the lazy, live your best life, and start building one of these passive income streams on the side.
Keep reading to learn about the passive income side hustle ideas, or watch my YouTube video on this topic below.
Don't forget to grab your free stock worth up to $200 from Robinhood today!
About the Author
Ryan Scribner is the author of From Side Hustle To Main Hustle To Millionaire - a practical guidebook on launching your own side hustle. He is recognized as a Top 100 Money Expert by GoBankingRates.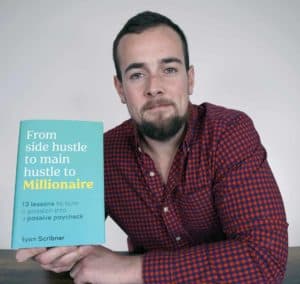 Ryan runs a successful YouTube channel focused on money and investing, which he started in 2016. He also owns a portfolio of digital business, all earning passive recurring revenues.
Now, Ryan teaches others how to create additional income streams.
5. AI Email Marketing Agency
ChatGPT came out in November, and a lot of people have moved on from it. However, you shouldn't, because I'm about to show you how to start a money printing operation using it - and the best part is, nobody is doing this yet.
Right now, companies that lean into the AI trend are getting a certain "cool factor" attributed to them.
What you're gonna be doing here is launching an email marketing agency that leverages ChatGPT to send marketing emails at a fraction of the cost of your competition - while giving your clients that same "cool factor."
And since they are using real people - you can massively undercut them.
Based on research conducted by FLOWIUM, the average cost per email from an email marketing agency is $250 to $700. Once again, that's per email.
How To Price The Business
Now that you understand just how easy this is, here's how I would personally price the business with three options.
Tier 1 would be a simple flat rate of $125 per email. You're undercutting the low-end of the average by 50%.
Tier 2 would be a $400 monthly package that would include 4 monthly emails. So they're basically saving $100, or 60% compared to the average.
And finally, Tier 3 would be $1,000 a month. And this would include 8 emails and 2 blog articles monthly - all generated by artificial intelligence and reviewed by an editor.
You can get your clients started with a free ConvertKit plan, as they don't charge anything for the first 300 subscribers. Or, there are some email marketing platforms that offer an agency license.
The beauty of this business model is you can have a 100% profit margin, aside from your business write offs of course. If you edit and schedule the emails yourself using ConvertKit, there's literally no cost.
If you decide to hire someone for the editing and scheduling, a profit margin of 80 to 85% is possible.
And the best way to get clients is to offer the first email completely free. You should also build your own email list, leveraging AI of course in order to indirectly market your services with each email sent out.
This is similar to the psychology behind the Apple commercials being recorded with an iPhone.
Earnings Potential
Let's say you contact 10 people weekly for a free email, 2 say yes and 1 person signs up for your service.
Over the course of a single year, you'd have 52 clients paying you every single month.
If the average package was Tier 2 - that's a total of $20,800 in Monthly Recurring Revenue.
For those keeping track at home, that's $693 a day. But how much would you make hourly?
Well at 52 clients, you'd be sending 52 emails weekly.
So if you batch them into 10 or 11 daily, and each one takes 10 minutes, you'd be looking at about 2 hours of work, 5 days a week.
So for 10 hours of work, that's $5,200 in revenue - or an average of $520 per hour - more than the average hourly cost for an attorney.
And once again, if you don't wanna work at all, hire 1-2 independent contractors to manage everything, and collect about $16,000 to $17,000 in monthly profit.
4. Entertainment Coordinator + CRM
This next passive income side hustle involves tapping into the entertainment cities across the United States.
Start out by going to Google Trends and search for an entertainment venue such as "night club." I'd recommend looking at 12 months of data.
Then, you're gonna scroll down and change it to Metro.
This will give you a list of the areas where most people are searching for this.
So based on the data, these regions have a lot of interest in night clubs:
Las Vegas
Miami Beach
Atlantic City
Myrtle Beach
Orlando
Entertainment Coordinators - or promoters - earn a commission by getting guests into various entertainment venues such as clubs.
Commissions vary based on the size of the venue, but it's usually a dollar amount per person or a percentage of the bar tab.
For example, on a $1,500 bar tab, that could be a 10% commission of $150. But earning one-time commissions for getting clients into clubs is far from a passive income source.
So let me show you how to add an additional component that gives you recurring revenue potential.
Customer Relationship Management
CRM, which stands for customer relationship management, is software used for managing your company's relationship with customers, ventors etc.
Large scale clubs like LIV in Miami probably have this set up already. But you're gonna be targeting the small to midsize entertainment venues that don't have a CRM.
So you'll be bringing customers through the door, but also teaching them how to track all of their customers. And in that process, you are going to negotiate a recurring percentage commission earned on the clients you bring in - for life.
Instead of a one-time 10% commission on that bar tab, what if that client spends $10,000 a year there and you could earn 2.5% each time they go in?
So pick a City based on Google Trends, and here's how to get started with this side hustle.
Option 1: Remote Entertainment Coordinator
Since most people don't live in these entertainment cities, here's how to offer this remotely.
The first thing you'll need to do is familiarize yourself with CRM. For this type of business, I'd look into Zoho CRM. This platform offers affiliate referral tracking and even a partner portal where you could log on and track your leads and commissions.
Then, you're gonna reach out to small to mid-size venues in your target market and ask them if they are using CRM. If they aren't, offer to hop on a free call with them to tell them about it.
Once you have your first client onboard, the next step is to start getting customers through the door - virtually. And the best way to accomplish this is with Local SEO.
So if your target market was Myrtle Beach, you'd be writing articles for a site you create yourself like this:
Best Restaurants Myrtle Beach, SC
Best Hotels Myrtle Beach, SC
Best Pizza Myrtle Beach, SC
Best Golf Courses Myrtle Beach, SC
Best Night Clubs Myrtle Beach, SC
And you should definitely leverage ChatGPT for these articles.
Option 2: Local Entertainment Coordinator
Now if you happen to live in an entertainment city, you can do all of this locally and meet with potential clients in person. You can also take advantage of grassroots marketing strategies.
One of my friends actually does this in Las Vegas.
His business is Excess VIP, and he also leverages Instagram for getting clients - so you should do the same.
3. Recurring Income Affiliate
This next side hustle involves creating an online resource that generates leads for an affiliate program that pays a recurring monthly commission.
Here's a list of recommended affiliate programs that offer recurring commissions:
Virtual Private Networks
B2B SaaS Tools
Web Hosts
E-commerce Tools
SEO Tools
Cloud Storage
Most affiliate programs out there pay you a one-time commission. And while this can provide you with passive income, it's not consistent.
The goal here is to create a learning resource that teaches your reader or viewer "how to fish" as they say. And then, as more people find your learning tool and make use of it, your roster of recurring monthly commissions grows.
In terms of the learning aids, here's a few recommendations to consider, but a combination of all over time is best:
Blog
YouTube Channel
Vertical Video
Free Course/Training
2. Digital Real Estate
I've personally been involved with this asset since 2018, and it's not YouTube. Digital Real Estate consists of blogs, apps, any collection of content that derives income.
Here's just a few of the different ways you can make money with these digital assets:
Display/Banner Ads
Affiliate
Sponsors
Sell A Product
Digital Product
Membership Site
Personally, I own a portfolio of 5 blogs that I started from the ground up.
InvestingSimple.com
But I'll be the first to tell you that this is a rather time consuming process. I earn thousands each month from many of these sites, but early on you earn almost nothing.
And that's because it takes anywhere between 6 to 12 months for Google to start indexing your site and sending you traffic.
So with that in mind, here's 3 different strategies to consider.
Strategy 1: Build From Scratch
The advantage here is it costs next to nothing. Your one year operating cost will be about $50 for a domain and hosting.
Strategy 2: Buy $1k Or Under Site
If you want to take 6 months off the process, buying a decent starter site for under $1,000 is your best option. These are often sites that are already ranking in Google, often with outdated content.
Someone likely started the site years ago, lost interest and listed it for sale.
Strategy 3: Buy $10k+ Site
But what if you have $10,000 or so to invest. At this point, you can buy a fully operational money making website - not just a starter site.
A friend of mine followed this strategy by purchasing the site PizzaOvenRadar.com, and it's now a cash flowing digital asset in his portfolio.
1. Buy And Reposition Royalties
Another creative way to deploy capital and create a passive income stream is through royalties. These are ongoing payments made to the owner of the royalty, typically a percentage of profits generated.
I actually sold a 10% royalty in my YouTube channel to a company called REX Opportunity Corp last year.
This company creates and then invests in royalties of YouTube channels. So they get 10% of the future ad revenue generated, and I got a lump sum payout.
But this last idea goes above and beyond simply buying a royalty for passive income. What you'll be doing is actually repositioning the asset to increase the earnings potential.
Earnings Potential
The best way to understand this is to look at an example.
RoyaltyExchange is the most popular marketplace out there for buying and selling these royalties.
The publishing royalties for "Save Dat Money" by Lil Dicky sold for 9.2 ETH, or $23,000 in US dollar equivalent.
The last 12 months of royalties earned are $2,634.
Right off the bat, this would be a Cash on Cash return of 11.3% which isn't terrible by any means. But let's say you planned on getting a Fintech company to license the "Save Dat Money" jingle for a marketing campaign.
Well if they were interested in paying $36,000 for a 3 year license, all of the sudden your asset is generating $14,634 in royalties per year.
Now there may be some fees of sorts involved, but this is the basic concept of repositioning a royalty. From here, you could keep it and collect the passive income generated. Or, you could list it for sale at a higher price based on the same valuation of higher earnings.
At the same earnings multiple, your royalty would theoretically be worth $128,944. So maybe list it for a lofty price and earn passive income while you wait.
Final Thoughts
Keep in mind that this idea of buying and improving businesses is not just limited to blogs, or even digital businesses. You could do this with any business out there that isn't maximizing earnings potential.
Maybe it's a car wash that didn't adjust prices for inflation. Or a laundromat that doesn't accept credit cards. Buy, optimize, flip. Or, buy, optimize, hold.
For the 1% who are ready to take their side hustle journey a bit more seriously, I wrote a book about side hustles.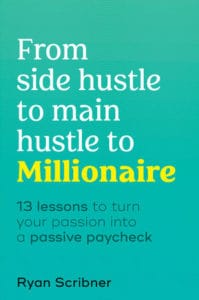 It covers all phases of the side hustle journey, and you get access to a members only discord where you can ask me questions along the way.
And you can grab a copy in person at most Barnes and Noble stores across the United states, or it's right on Amazon.
So grab a copy today and let's get started on your side hustle journey together!