So, how's your online investing app working for you? Would you give it a five-star review, or is it lacking something you need to bulk up your portfolio? This could be things like updated research, technical indicators, after-hours trading or linked checking accounts.
In the growing field on investing apps out there today, there's plenty of competition for your account. As a result, there is a lot of competition for attracting new investors. This is why M1 Finance offers their transfer promotion where you can get a big bonus.
There are some exciting incentives right now if you are thinking about switching to another platform.
They are also running a promotion where you can get a free $30 bonus when you deposit $1,000!
Here's the details.
M1 Finance Free $30 When Deposit $1,000
M1 Finance is also offering a free $30 stock slice when you deposit $1,000 or more.
If you are a high roller and have $50,000 or more to deposit and invest on M1 Finance, you will receive a free $500 bonus!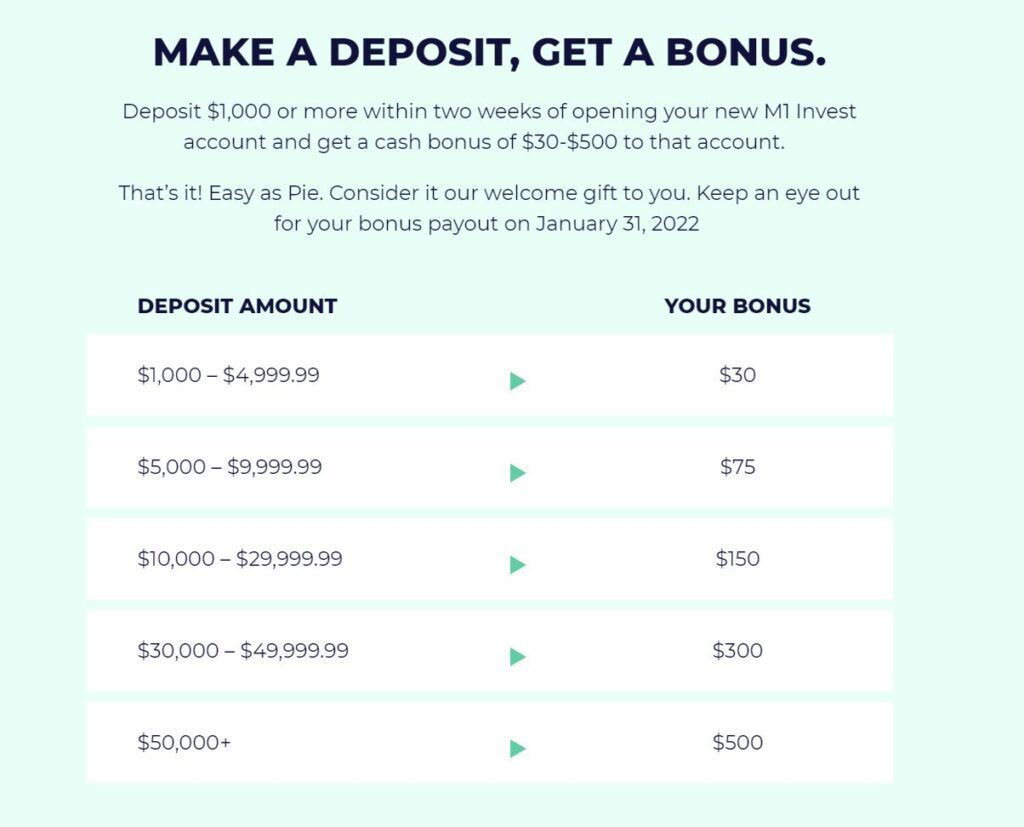 Best Free Stock Promotions
More Promotional Details
This offer applies to direct account transfers initiated in the first 60 days after you signed up with M1 and completed the upload. Payments for the promotion will be paid 90 days after the 60 day period is up.
The offer is valid for direct broker transfers received through the Automated Customer Account Transfer Service (ACATS) only. It is not valid with ACH deposits, wire transfers or direct 401k rollovers.
Keep in mind, tax ramifications from this transfer bonus are your responsibility. All promotional funds received during the calendar year will be provided to the IRS as income on your tax forms.
M1 Finance has not listed an expiration date for the transfer bonus, but it's probably safe to say it could expire without prior notice. In fact, here is the actual verbiage off their site: "M1 reserves the right to restrict or revoke this offer at any time."
About M1 Finance
One of the strengths of M1 Finance is that you can choose from more than 6,000 stocks and funds to create your own custom portfolio. You can build portfolios containing low-cost ETFs or individual stocks, or both.
Or, maybe you are brand new to investing and aren't sure how to start. M1 gives you the option to select from nearly 30+ pre-made accounts, designed by experts on a mission to maximize your returns and meet all of your financial goals and investment objectives.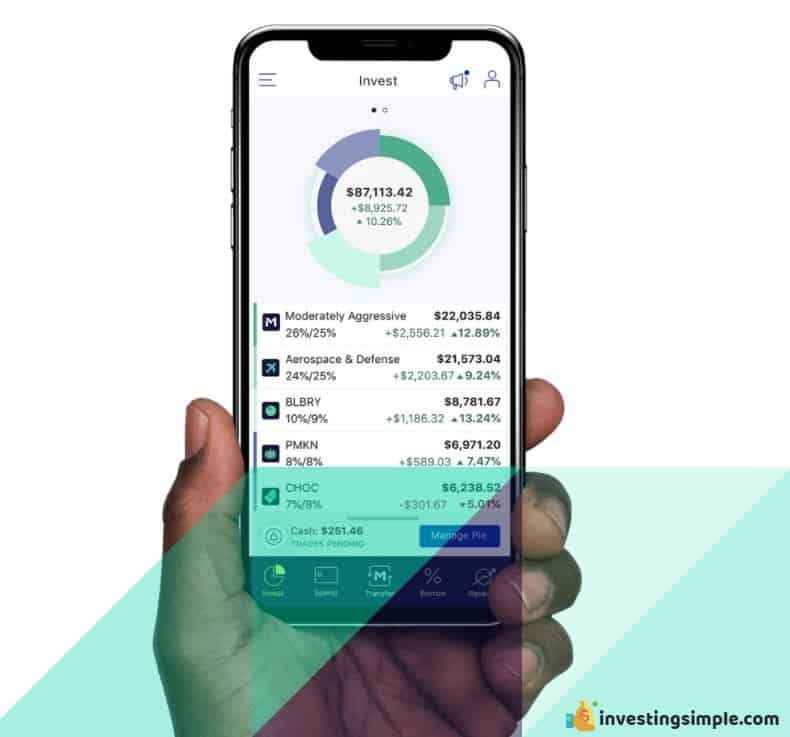 Auto-Invest
After you create your portfolio, M1 utilizes its proprietary trading system to automate all of your trading activity. This means that you will never have to input or execute any trades manually, if you don't want to.
Auto-invest is the most frequently used option by M1 users. With auto-invest on, any time your cash balance meets or exceeds $25, M1 will automatically invest your cash balance into your portfolio. To select this option within the app, turn auto-invest on and set your minimum cash balance to $0.
Fractional Investing
Once you open your account with M1, take advantage of  earning money through buying fractional shares. These are portions of whole stocks that may come with too high a price tag for you to handle all at once.
Many investing platforms do not offer fractional shares, so it's a smart move to take advantage of this feature. You can put every penny to work when you invest with fractional shares. This helps diversify your portfolio easily and avoid idle cash sitting around waiting without being invested.
M1 Spend Checking Account
M1 Spend is a free checking account within the app. The M1 checking account carries a 1% APY, which is 25 times the national average APY for a checking account. That means you will earn the same in 2 weeks as you would in an entire year with a commercial bank.
Just knowing you are earning this high rate of interest may motivate you to keep a higher balance in your checking account.


Conclusion: M1 Finance Promotion
M1 Finance has many solid features that will likely earn good reviews from you, and the Transfer Promotion Program is a great boost to get you started.
Keep in mind, both may expire at any point so you may want to act soon!