Planning for the future often feels like walking with your eyes closed. It is impossible to predict all changes in the market and any disruptions in your own personal life.
With this in mind, investors often value liquid investments. The ability to withdraw your money for emergencies or other needs quickly can be crucial.
But did you know that with M1 Finance you don't have to sell your investments and liquidate your positions? M1 Finance offers members a feature that allows them to receive a loan quickly and without a special application.
In this article, we will review what M1 Finance is and how to take advantage of margin on the platform.
What is M1 Finance?
M1 Finance is a complete investment platform that offers members the ability to buy and sell various stocks and ETFs, receive access to expert-built portfolios, participate in dividend reinvestment, and enjoy automatic rebalancing.
M1 Finance is often thought of as a brokerage/robo advisor hybrid. While investors can take advantage of the automation offered by M1, they can also build their own portfolios and take a more active approach if desired. This flexibility is a great feature that has been key in M1's growth since launch in 2016.
In addition to the features described above, account holders also have access to a feature called M1 Borrow. This is a unique benefit that provides investors an opportunity to receive a secured loan using their portfolio as collateral.
Learn more about M1 with our full M1 Finance Review.
How Does Margin Work on M1 Finance?
Margin with M1 Finance is offered to investors through a feature called M1 Borrow. Unlike other brokerages that offer margin opportunities, M1 Borrow provides investors a flexible line of credit with extremely competitive rates that can also be used outside of their individual account.
Investors can certainly use the funds received to purchase another investment, but they can also make other purchases such as funding a business idea, paying down student loans, or even booking a flight!
Before diving into M1 Borrow, we wanted to quickly cover a few key points about margin trading.


What is Margin?
Margin is money borrowed from a brokerage that is typically used to purchase an investment. A brokerage will loan money to an investor with specified rates. The investor then takes that money and uses it as they see fit. The rest of this investor's portfolio serves as the collateral for the loan. Each brokerage sets their own terms for the loans they offer.
Margin offers investors an opportunity to leverage funds to be able to increase their purchasing power beyond what they normally could spend.
Using margin does pose a few added risks that investors should be aware of. Like any loan, using margin has specific terms regarding repayment. If margin is used for a particular investment that does not perform, then the investor will still be responsible for repaying the loan.
Using margin can augment both gains and losses.
How Does M1 Borrow Work?
All M1 Finance members with an account balance of at least $5,000 are automatically enrolled in M1 Borrow. There is no extra application or additional enrollment necessary.
A loan from M1 Borrow features incredibly low rates and can be paid back on your own terms and in your own time.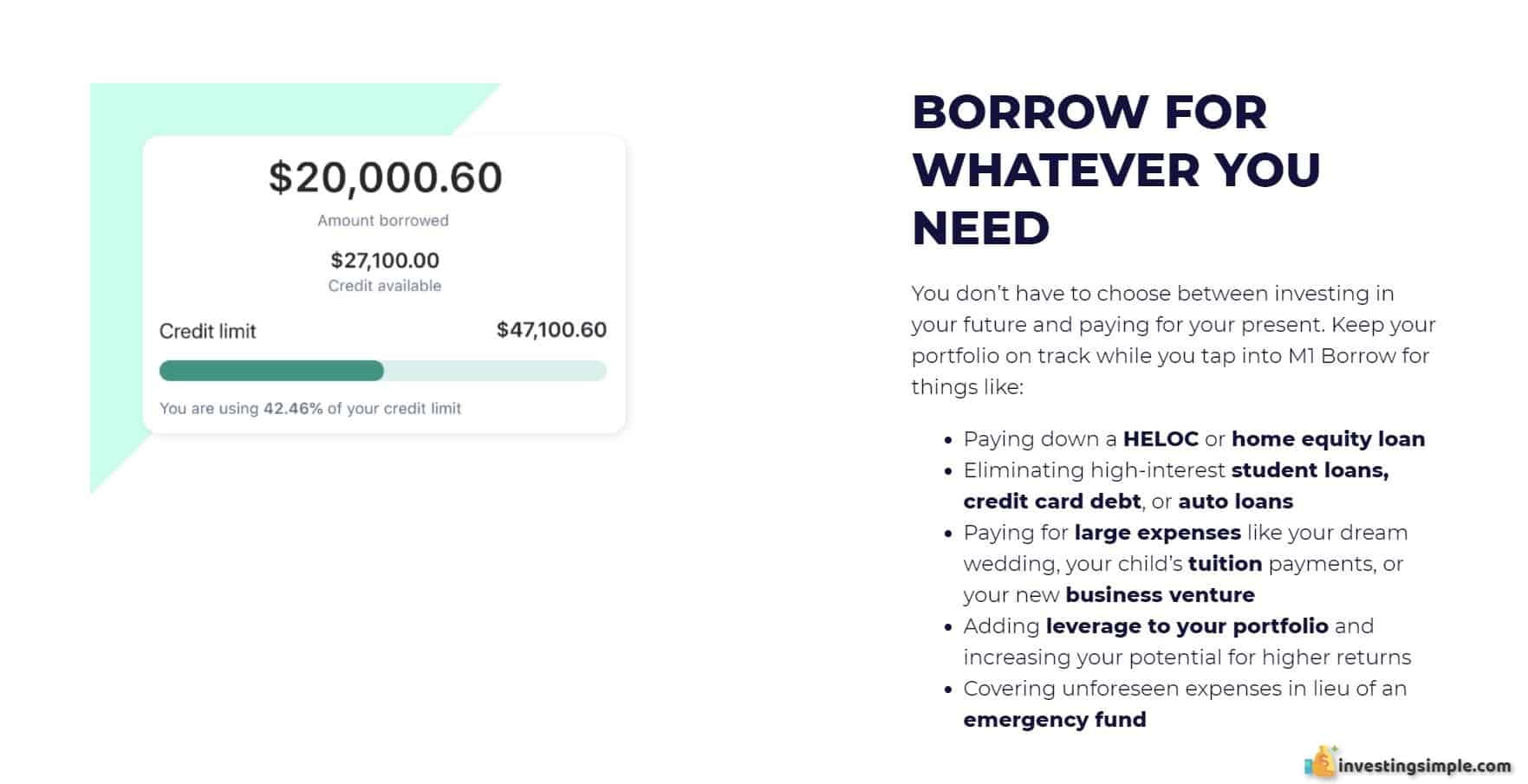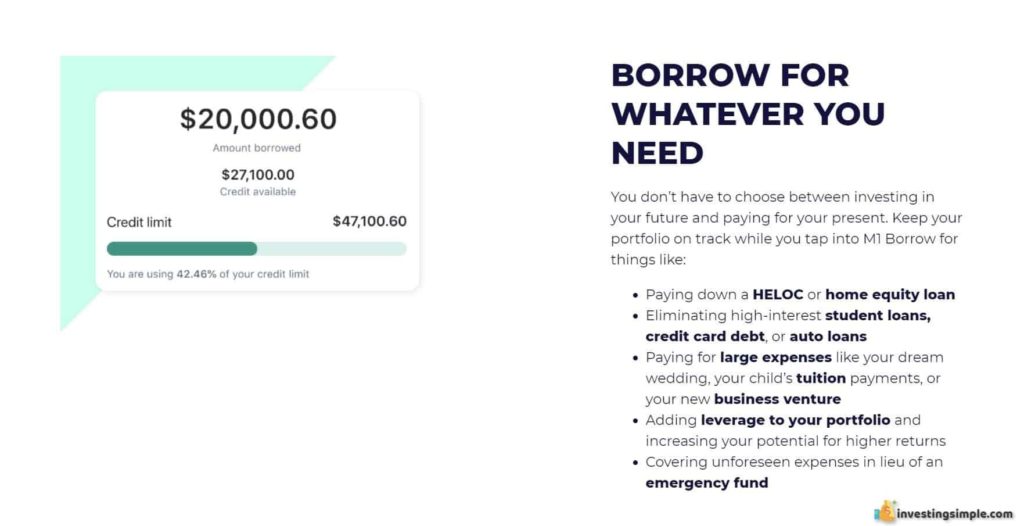 What are the Terms for Participation with M1 Borrow?
Account Minimum: $5,000 (account minimum used to be $10,000)
Maximum loan value: 35% of the account's value
Interest Rate: 3.5% (or 2% with M1 Plus, which is an annual membership that costs $125 each year.)
Repayment Term: None (No repayment schedule)
Management Fees: None
*Disclosure: Borrow is an additional risk, including the risk of losing more than invested. Available for margin accounts with $5,000 equity or more. Not available for retirement or custodial accounts. Rates may vary.
How to Receive a Loan with M1 Borrow
Receiving a loan with M1 Borrow is actually a fairly simple process that can be done by following the steps below:
 Navigate to the Borrow tab and click "Borrow"    

Fill out the form with the required information including the amount you wish to receive and where you want to send it   

Review the information supplied and click "Confirm"  

Transfers typically take a few business days. You can view pending/previous transfers under the "Transfers" tab
M1 Borrow Loan Example
Account holders can receive a loan up to 35% of the value of their portfolio. If the equity percent falls below 30%, a maintenance call will occur. Let's look at a full example.
Suppose you have an account balance of $5,000. With this balance, you will automatically be enrolled in M1 Borrow and will be able to borrow up to 35% of the portfolio value, or in this case $1,750. With this loan of $1,750, your total account balance will now increase to $6,750 ($5,000 + $1,750). The equity percent in this scenario is 74% ($5,000 divided by $6,750).
The investor can take the funds received and either use them in the account to purchase an investment or withdraw them for a use outside the platform.
If the equity percent falls to 30% or less, a maintenance call will occur. You will have 2-5 days to either deposit additional funds into the account or sell off a portion of your holdings to bring the equity percent back to healthy levels. If you do not make a change, M1 may sell some of your holdings to address the concerning equity percent.
Repaying the loan is done on the investor's schedule. M1 imposes no schedule for repayment of the principal. The investor will be required to pay interest on the loan monthly, but they can repay the principal when they choose.
Paying off the loan can be done in the app or desktop version through automated payments or through a one-time lump sum payment.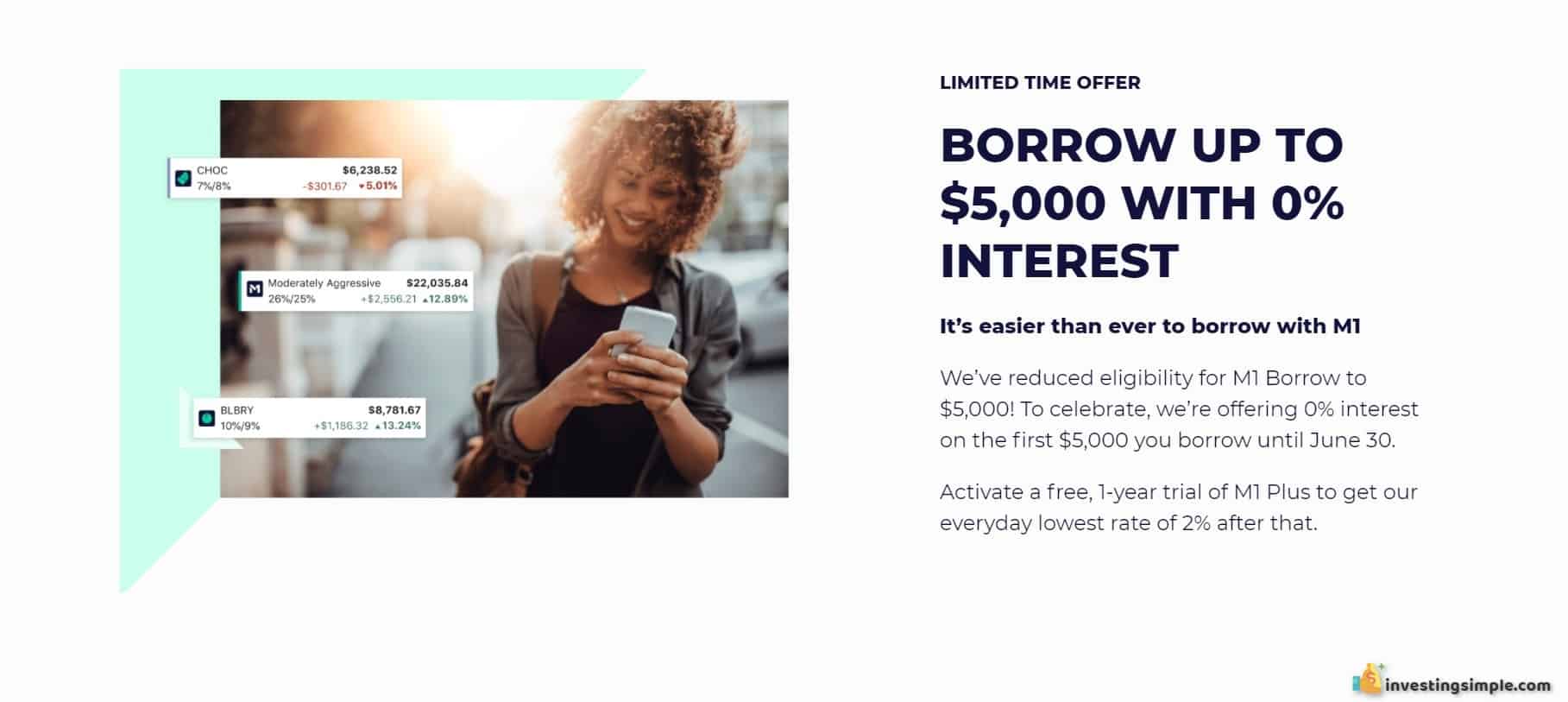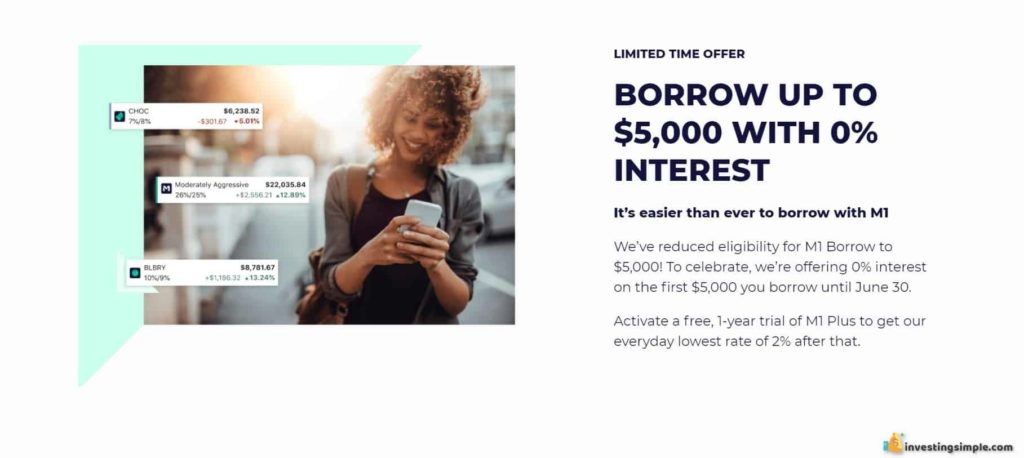 Limited Time M1 Borrow Promotion
Right now, M1 Finance is actually running a promotion in May and June of 2021 for M1 Borrow. Members are able to borrow up to $5,000 with 0% interest in May and June. Starting July 1, members will have to pay the normal interest rates. This offers users a great opportunity to receive a loan and potentially pay it back before ever accruing any interest.
Loans over $5,000 will be subject to the normal interest rates for any amount over $5,000. For example, a loan of $9,000 will have zero interest on the first $5,000 in May and June while the remaining $4,000 will start accruing interest immediately.
M1 Finance Margin: Final Thoughts
M1 Finance has a number of incredible features that make it a top platform for investing. One of those features is M1 Borrow.
Selling an investment for a short term need is often not very desirable. With M1 Borrow, account holders can actually receive a loan using their portfolio as collateral. The extremely competitive rates and flexible repayment terms make margin with M1 Finance a great option.
Like any loan, there are certain risks that apply when using margin. If the investment or purchase that is made using margin dollars does not perform as expected, the loan will still have to be repaid in full plus any interest accrued during the time frame.
Another great feature of M1 Finance is their customer support. You can reach M1 Finance's customer support line at 312-600-2883. This line is available during regular trading hours. For those that are interested in learning more about M1 Borrow, you can do so easily by calling in and getting your questions answered.
Best Free Stock Promotions