M1 Finance Roth IRA
Investing Simple is affiliated with M1 Finance. This relationship does not influence our opinion of this platform.
I know what you must be thinking… as the old saying goes "if it sounds too good to be true, it probably is." Many people are skeptical of the Roth IRA being offered by the new investing platform known as M1 Finance. Having studied and written about M1 Finance extensively, I can confirm with absolute certainty that it is not too good to be true. In my opinion, M1 Finance Roth IRA is the best retirement account available today for a number of reasons I will share with you in this review. Not only is it a good Roth IRA, it is an excellent one!
What Is M1 Finance?
If you haven't heard of them before, you should probably jump over to our M1 Finance review to learn more about them.
M1 Finance was launched in 2016 and is an online robo advisor and brokerage hybrid for everyday people who want to invest in stocks or exchange traded funds (ETFs). M1 Finance combines features of a traditional brokerage account with a modern robo advisor. First, you select your investments and your allocations. Then, you automate the entire portfolio! M1 Finance has become the go to app for the modern day passive investor.
Through M1 Borrow, you can get a low interest loan borrowing against the securities in your M1 Invest account. Now, with the addition of M1 Spend, you can have a checking account with them allowing you to earn cash back while having your money ready on the sidelines to invest. Say goodbye to the three day transfer when moving funds to your brokerage account! With M1 Spend, you can funnel money into M1 Invest that same day.
M1 Finance focuses on low cost passive investing with additional features such as automatic rebalancing of your portfolio and tax minimization strategies. The only fees you pay are the fees associated with any ETFs you invest in. M1 Finance is a completely free investing platform!
Fee Free Roth IRA
That's right, you read that correctly. M1 Finance offers completely fee free Roth IRAs with a minimum balance of just $500. While others might eventually follow suit, M1 Finance is currently the only brokerage account out there offering completely free retirement accounts.
M1 Finance does not charge any commission on trades placed on the platform and there are no fees to invest with them. Instead, they make money in a number of different ways…
First, through interest payments on M1 Borrow
Second, interest earned when lending securities to short sellers
Third, earning interest on uninvested cash
Fourth, the annual fee on the M1 Plus debit card
Fifth, payment for directing order flow
All of these methods are 100% legitimate ways for this free brokerage to make money. This is exactly how other platforms like Robinhood and Webull are making money too. Instead of making money by charging a commission for trades and charging asset management fees, they decided to be creative and make money in other areas. Another reason why they are able to offer free accounts is because they keep costs extremely low. All communications are handled electronically and there are no brick and mortar M1 Finance locations. They operate with a lean and mean business model.
How To Open A Roth IRA
As mentioned earlier, the only requirement M1 Finance has is that you have a minimum balance of $500. Beyond that, the IRS has some limitations regarding who can and can't fund a Roth IRA. For the 2019 tax year, you can fund a Roth IRA if you make less than $137,000 as a single filer or $203,000 if you are married filing jointly.
If you fall under these requirements, you are good to go! The steps are…
1. Open an account.
Start by opening an M1 Finance account here. When you sign up, you will be guided through a process to build your portfolio or pie. You may choose to create a custom pie from a variety of ETFs and stocks offered on the M1 Finance platform. You can also choose from a variety of expert pies that are designed by M1 Finance for a more passive approach. Your pie may contain 1 stock/ETF or up to 100.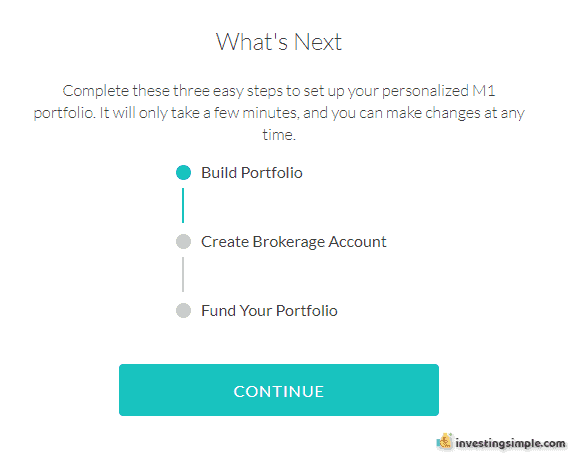 2. Select "Retirement Account" when choosing.
Once your account is open, you will be guided to create your brokerage account. This is where you will put in your personal information and decide which type of investment account you are going to open up (individual brokerage account, retirement account, etc.). You may open up multiple types of accounts if you'd like. In this case, you will be selecting Retirement to open a Roth IRA. M1 Finance also offers Traditional IRA's and SEP IRA's.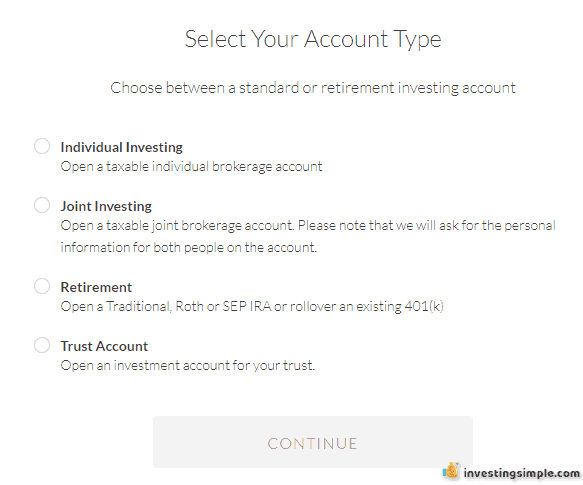 3. Link your bank account to fund the account.
After you have set up your M1 Finance account, you will be able to link a bank account and begin funding your account. M1 Finance requires a minimum deposit of $100 ($500 for retirement accounts) to begin investing. Typically, it takes about three business days to link your bank account and fund your account.
4. Maximize your Roth IRA contribution (optional).
If you want to take full advantage of the Roth IRA account you just opened (why wouldn't you?) the next step is to maximize your contribution to this account. If you are eligible for a Roth IRA in the first place, you can contribute up to $6,000 in 2019 or $7,000 if you are 50 or older. You can fund this Roth IRA anytime from January 1st to April 15th of the following year, giving you a 15 month window.
5. Rollover an old 401k from a previous employer (optional).
Another option M1 Finance gives you for funding this account is a 401k rollover. They have a dedicated rollover concierge team that will help you through the entire process, step by step. If you have an old 401k from a previous employer, or you are looking to move your current 401k over to M1 Finance, you can accomplish this with a rollover. Not all 401k's are created equally, so if you have an account that is high in fees, it might be advantageous to move that over to a fee free option like M1 Finance.
M1 Finance Investments
Before you fund your M1 Finance account, you have to decide what to invest in. You have a couple of options in front of you for your new Roth IRA. First of all, you can go the self directed route and invest in individual stocks or ETFs. Or, you could let M1 Finance do the leg work and invest in an expert pie which includes TDF's. Let's break each of these options down…
Stocks/ETFs
If you go the self directed route, you can build an M1 Finance pie from scratch. This can include any stocks or ETFs you choose, as long as they trade on the NASDAQ or NYSE (most do). Gone are the days of boring retirement accounts. If you want to, you can invest in exciting growth stocks like Amazon and Netflix within your Roth IRA!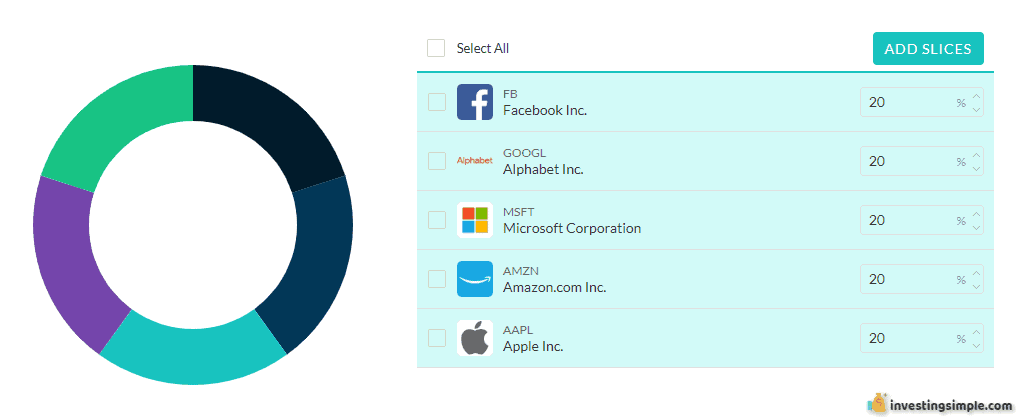 Expert Pies
M1 Finance offers expert pies crafted by, you guessed it, industry leading financial experts. Unlike other investing platforms out there, M1 Finance does not charge any kind of asset management fee for investing in these prebuilt portfolios. This includes portfolios ranging from basic stock and bond allocations to hedge fund followers based on the same portfolios of the greats like Warren Buffett!
TDFs (Target Date Funds)
This is technically one of the expert pies they offer, but it is so important I needed to break it out into a different section. M1 Finance offers something called a TDF or target date fund. This is a fund that changes the asset allocation as you get closer to retirement. To put it simply, you tell M1 Finance what your desired retirement year is (for example, 2055) and they do everything else for you. As you get closer to retirement, the portfolio becomes more conservative.
M1 Finance Roth IRA: The Verdict
To put it simply, M1 Finance has once again changed the game forever. While others may follow suit with time, they are still the only brokerage account out there offering free retirement accounts. Maximizing contributions to a Roth IRA is one of the smartest decisions you can make at any age. Investing in a Roth IRA through M1 Finance ensures that your money stays where it belongs, invested! You are not paying unnecessary fees cutting into your returns. The M1 Finance Roth IRA is just as good as any Roth IRA being offered elsewhere. In fact, for a number of reasons mentioned in this review, I think it is far superior.