When it comes to investing in the stock market, there are countless investing apps to choose from.
In the past, you used to have to trade through an online discount brokerage using a complicated online trading platform.
Now, there are numerous investing apps out there that allow you to trade for low fees or no fees in some cases. There has never been an easier time to begin investing.
Today we are comparing the spare change round up app called Acorns to the robo investing hybrid brokerage app called M1 Finance.
M1 Finance and Acorns are both investing platforms designed for the modern-day investor. They are both using advanced technology that allows the investing process to be automated.
However, unlike M1 Finance, where users choose a specific amount of money to invest, Acorns involves the software automatically investing spare change. Every time a user makes a purchase, Acorns automatically rounds up the purchase to the nearest dollar and invests the spare change.
Here are the similarities and differences between M1 Finance vs Acorns. 
Summary: Acorns vs M1 Finance
M1 Finance is 100% free while Acorns charges $1 to $3 per month
Both Acorns and M1 Finance offer a debit card and checking account, however Acorns offers a cash back program with hundreds of retail partners
Acorns is a spare change round-up investing app making it a great fit for lazy or forgetful investors
M1 Finance is far more sophisticated, offering advanced features like smart rebalancing and fractional shares
M1 Finance offers dozens of different portfolios while Acorns offers just 5 portfolios
With M1 Finance, you can build your portfolios from scratch with whatever stocks or ETFs you want
Acorns only offers portfolios, no individual stocks
M1 Finance offers both portfolios as well as stocks and ETFs
Both Acorns and M1 offer retirement accounts
The minimum to open a M1 account is $100 while Acorns is $5
| Feature | M1 Finance | Acorns |
| --- | --- | --- |
| Minimum Investment | $100 ($500 Retirement) | $5 |
| Fees | None | $1/Mo To $3/Mo Subscription |
| Commissions | None | None |
| Investments | Stocks, ETFs, Prebuilt Portfolios | ETFs (5 Portfolios Only) |
| Individual Stock Trading | Yes | No |
| Dividend Reinvestment | Yes | Yes |
| Fractional Shares | Yes | Yes |
| Retirement Accounts | Yes | Yes |
| Checking Account | Yes | Yes |
| Round Up Investing | No | Yes |
| Trust Accounts | Yes | No |
| Best For | Fee Sensitive Investors, Dividend Investors, Individual Stocks | Forgetful/Lazy Investors, Bad Savers |
What Is M1 Finance?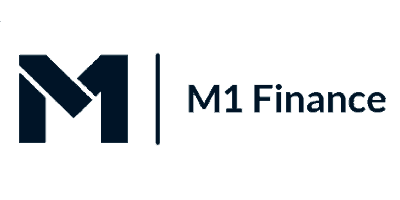 M1 Finance offers both a hands-on and hands-off investing approach.
The hands-off approach utilizes expert built portfolios, which can invest your money without you having to do research, analysis and decision making yourself. This is great for the passive investor who does not want to actively pick and choose stocks and ETFs. 
These are in the form of expert pies. M1 has dozens of these that are completely free to invest in. 
For those looking for a more hands-on approach, you can build a custom portfolio from scratch with whatever stocks or ETFs you want to include. Each stock or ETF makes up a slice of your pie, and you can hold up to 100 stocks/ETFs in each M1 Finance pie or portfolio.
M1 Finance Fees
One of the best things about M1 Finance is that it is entirely free to use.
This makes it highly attractive to a wide range of investors, especially those who do not like paying fees to have their money managed, and those who are just getting started with investing.
M1 Finance is designed to be extremely easy to use, and it makes investing easier than it has ever been before. It is no surprise that the user base for M1 is snowballing.
The company currently has over $1 billion in assets under management, and this number is rising steadily.
The minimum to open an account with M1 is $100, or $500 for a retirement account.
M1 Finance Features
This brokerage offers an array of different features that both passive and active investors love.
Portfolio Level DRIP
Through the auto-invest feature (which you can turn off at any time) M1 Finance reinvests your dividends. 
This is a smart decision overall, as this allows you to earn compound interest.
When you earn dividends within your portfolio, that money goes towards your cash balance. Once your cash balance exceeds $10, that money is automatically invested across your entire portfolio.
Fractional Shares & Smart Rebalancing
M1 makes sure that every last penny is invested and working to generate returns for you.
With M1 Finance, you can purchase as little as 1/10,000th of a share of a stock or ETF that trades on the platform through fractional shares. 
This is very handy for stocks like Amazon that trade for over $2,000 a share. On other apps, you would likely have to buy whole shares of stocks. 
Smart rebalancing is also done periodically by the robo-advisor to make sure that your portfolio is being readjusted to account for change and performance. For example, when you put more money into your M1 Finance account, it will go towards whatever you are underweight in.
If you take money out of your account, M1 will sell whatever you are overweight in. The goal here is to keep you close to your target portfolio allocations. 
20+ Expert Portfolios
M1 Finance offers expert pies which are available to any investors on the platform.
They have dozens of different ones to choose from. This list includes a variety of TDF's or target-date funds, which are ideal for retirement investors. M1 is one of the only platforms that offer portfolios with zero management fees. 
Other robo-advisors like Betterment charge fees for pre-built portfolios.
Tax Minimization
M1 Finance offers a tax minimization feature which will help you save on taxes when investing. The M1 platform prioritizes sales first by selling capital losses that offset capital gains, second by selling lots that have long term gains, and lastly by selling lots that result in short term gains.
Tax minimization strategies take a different approach when compared to full scale tax loss harvesting.
M1 Spend
For those who are interested, M1 Finance offers an FDIC-Insured checking account through their platform known as M1 Spend.
With this checking account, you can pay bills, make deposits, and spend your money with a debit card. You can even earn rewards when you spend money with your M1 checking account debit card.
When you use this M1 Spend checking account, your funds are available immediately to invest. You do not need to wait three business days for an ACH transfer. 
M1 Finance Pros
100% free investing platform
Very easy to use with an excellent user interface
Passive or active investing options available
Handy features like fractional shares and smart rebalancing
Easy access to capital with M1 Borrow
M1 Spend debit card links directly to M1 Invest
Variety of different account offerings including retirement accounts
$100 minimum to get started or $500 for retirement accounts
M1 Finance Cons
One trading window per day
Not an ideal platform for active/day traders
No full scale tax-loss harvesting
What Is Acorns?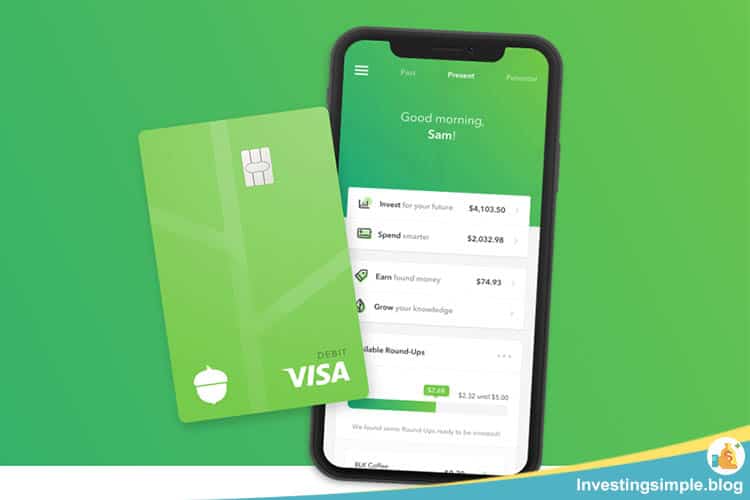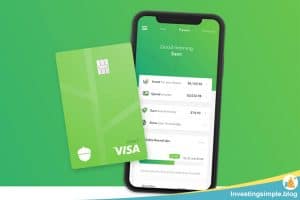 Acorns is an investing app that automatically rounds up your spending to the nearest dollar and invests the change automatically. So, for example, if you spend $5.15, Acorns will round this up to $6.00 and then invest the remaining $0.85.
Many people use Acorns because it is an extraordinarily, convenient, and sensible way to invest money. It is called Acorns because acorns start very small and grow into something huge, just like your investments do on the app.
This investing app is designed for a particular user. It is the type of investor who is forgetful or the bad savers out there. With M1 Finance and other brokerages out there, it is up to you to make weekly or monthly transfers into your brokerage account. Acorns take the guesswork out of the equation with this automated round-up approach.
This does come at a fee, which is $1 to $3 per month.
The biggest difference between M1 and Acorns is that M1 Finance is 100% free while Acorns comes with a monthly fee.
Acorns Features
That being said, Acorns is one of the most popular robo investing apps on the market today. That is largely due to the array of features they offer.
Acorns Portfolio Options
Acorns offers 5 different portfolio options, which are based on risk tolerance. You must determine your investment objective, and you can choose from 5 options...
Long term investment
Short term investment
Major purchase
Children
General
Acorns will then prompt you to choose an investment portfolio based on your investment objective.
For example, you can choose between the following Acorns portfolios
Conservative
Moderately conservative
Moderate
Moderately aggressive
Aggressive
The more aggressive the portfolio is, the higher the potential rewards but the higher the risk as well.
There are no ETFs or individual stocks on this app. You have to pick one of these portfolios. They follow a "one size fits all" approach.
Acorns Later
If you are saving and investing for retirement, Acorns Later could be a good fit for you. This is a retirement account offered by Acorns, which carries a monthly fee of $2. Through Acorns Later, they will recommend an IRA and portfolio that fits your investment objectives.
Acorns Fees
For $1 per month, you get the Acorns Core investing platform.
For $2 per month, you get the Acorns Core + Acorns Later. This allows you to invest in a retirement account.
The $3 per month plan offers Acorns Core + Acorns Later + Acorns Spend. This is a checking account that integrates directly with your investing accounts.
There is a $5 minimum for Acorns, so you can open an account and get started with a very small amount of money. This makes Acorns highly accessible to new investors who don't have a lot to begin investing with.
Acorns Pros
$5 minimum to open an account with Acorns
Great platform for lazy or forgetful investors
Spare change round-up is a painless approach to saving/investing
Acorns Later offer retirement accounts for $2/month
The Acorns Spend debit card links directly with your investing accounts
Acorns Cons
Only five portfolios available
Acorns charges $1 to $3 per month
You cannot buy individual stocks
The Verdict: Acorns vs M1 Finance
These platforms serve two very different different purposes.
M1 Finance is designed for long term investors who are following an active or passive approach. While you can set up recurring deposits, it is ultimately designed for someone who is already saving money for the purpose of investing. 
Acorns on the other hand is designed for the forgetful investor who has a hard time setting aside money to invest or remembering to transfer funds to their account.
M1 Finance caters to more serious investors who are looking for better features, zero fees and greater flexibility. Acorns is better for people who are just looking for a clever app that can help them to put their spare change to work for them.
M1 Finance offers a variety of different retirement accounts for free while Acorns charges $2 per month for a retirement account. Beyond that, M1 Finance offers dozens of different portfolio options while Acorns offers just 5.
Both of these investing platforms offer a fair amount of handholding, making them both beginner-friendly options. However, M1 Finance is putting a lot more control and flexibility in your hands.
If you are 100% set on a passive investing strategy, and you are not good at saving, Acorns may be a good option. However, if you think you will eventually explore individual stock investing or building your portfolio, M1 Finance may be a better option.