M1 Finance vs. Robinhood
Disclaimer
In 2013, the way we trade stocks changed forever. In the past, you would have to pay commissions to your broker in the neighborhood of $5 to $10 per trade. Robinhood launched a commission-free trading platform that truly disrupted this industry. Another platform, known as M1 Finance, followed suit a few years later. In this review, we will be comparing the features of M1 Finance vs Robinhood.

Summary: M1 Finance vs. Robinhood

Both offer commission-free stock trading.

Robinhood has a $0 minimum balance and M1 Finance has a $100 minimum balance.

M1 Finance offers fractional shares, allowing you to remain fully invested.

Retirement accounts are only available through M1 Finance.

Robinhood allows you to trade stocks, ETFs, options and cryptos.

Dividend investors will favor the portfolio level DRIP offered by M1 Finance.

M1 Finance offers over a dozen expert built portfolios with no asset management fees.

Trades are placed once a day on M1 Finance.

Robinhood is a more beginner friendly platform while M1 Finance offers features that are geared towards long term and dividend investors.

M1 Finance automatically rebalances your portfolio as you add or withdraw money.

| wdt_ID | Feature | M1 Finance | Robinhood |
| --- | --- | --- | --- |
| 1 | Minimum Account Balance | $100 ($500 Retirement Accounts) | $0 |
| 2 | Trading Commission | $0 | $0 |
| 3 | Investments | Stocks and ETFs on NYSE, NASDAQ and BATS | Stocks and ETFs on NYSE, NASDAQ, Options, Cryptocurrencies |
| 4 | Account Types | Taxable Account, Roth IRA, Traditional IRA, SEP IRA, Joint Trusts | Taxable Account |
| 5 | Margin | All accounts over $2,000 have automatic access to margin | Robinhood Gold tiered subscription starting at $6 per month, $2,000 minimum account balance |
| 6 | Short Selling | No | Through Options |
| 7 | Automation | Automated Deposits, Automated Rebalancing, Automated Investments | Automated Deposits |
| 8 | Dividends | Automated Reinvestment | No DRIP |
| 9 | Fractional Shares | Yes | No |
| 10 | Tax Harvesting | Tax Minimization | No |

How They Make Money?

The old way of doing business was to charge asset management fees and commissions to customers. Instead, Robinhood and M1 Finance have found different ways to make money. They do not charge commissions on trades or any type of asset management fees.

Instead, they make money by…
Offering margin accounts (and collecting margin interest)

Paid subscriptions (Robinhood Gold and M1 Plus)

Directing order flow

Interest on cash within brokerage accounts

Lending shares out to short sellers

Portfolio line of credit (M1 Borrow)
Both M1 Finance and Robinhood operate a lean business model. This means that there is no phone support, no paper statements, and no branch locations. In many ways, they are very similar to Ally bank. This is an online-only bank that passes the savings associated with this business model along to the customers.
If you are looking for a brokerage, you can call up on the phone to place trades with, or for paper statements and tax forms, these free investing apps are not for you. However, if you are up to date on technology and familiar with email statements and online support, you can reap the benefits!
Are Free Trades Legit?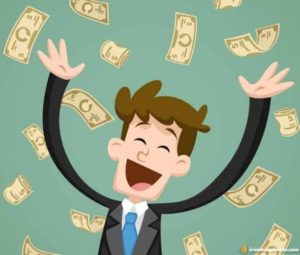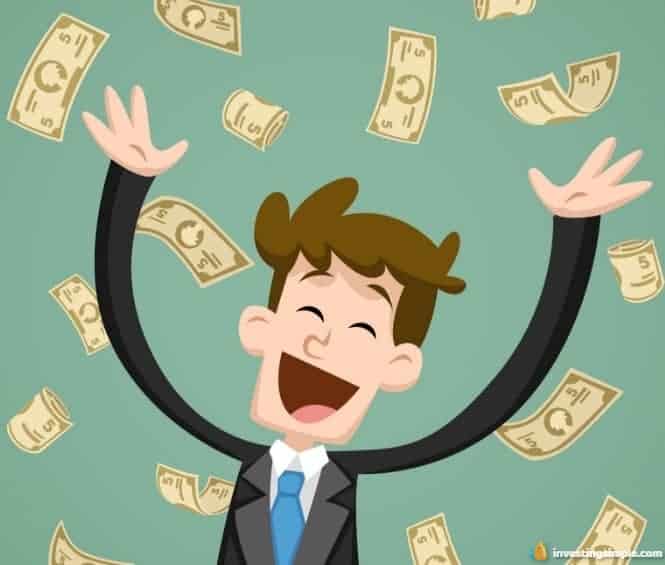 As a kid, you were probably taught that there is "no such thing as a free lunch." Naturally, this makes you skeptical when you hear about free trades being offered. The good news is, these platforms are totally legitimate! As mentioned earlier, instead of charging customers fees, M1 Finance and Robinhood operate lean businesses and make money in less conventional ways.
Both of these platforms offer investors SIPC insurance. SIPC protects against the loss of cash and securities, such as stocks and bonds, held by a customer at a financially troubled SIPC member brokerage firm. The limit of SIPC protection is $500,000, which includes a $250,000 limit for cash. SIPC does not protect against the decline in value of your securities.
M1 Finance uses Apex Clearing Corp to settle transactions while Robinhood uses their own clearing system. All of your sensitive information is encrypted before it is stored on both platforms. Both brokerages clearly state that they do not store banking credentials. Both of these platforms take many steps to keep your data secure.
Where They Fall Short
At Investing Simple, we really do love these free trading apps. They have opened the world of investing up to so many people. That being said, there are a few areas where all of these free investing platforms fall short.
The first is customer service. Phone support is costly and time consuming for brokerage accounts. Instead of offering phone support, they are only providing email support.
The second is paperless statements. Another costly aspect of this business is mailing paper statements and tax documents. Instead, these free platforms send you all documents electronically.
The third is the branch locations. These independent brokerages do not have any branch locations or offices that you can visit. All communications will be handled electronically.
There are just a few minor setbacks to using these free investing apps. If you are okay with these three things, you can reap the benefits of commission-free trading! By paying nothing for trades, you can keep more of your money invested.
What Is Robinhood?


This is the most well known free investing app out there. It is designed to be the most beginner friendly platform out there that anyone can pick up and use. That being said, it is a great platform for beginners, but it might not be for intermediate to advanced investors.
There are a few common complaints we hear about Robinhood…
The platform lacks research tools and is very basic.

Robinhood does not offer a dividend reinvestment plan.

You can only purchase whole shares on this platform.

They do not offer retirement accounts.
That being said, there are also a few areas that Robinhood receives a lot of praise for! The minimum is $0 to get started, and trades are always commission free. Beyond that, you can trade stocks, cryptos, ETFs, and options. Finally, they offer extended trading hours to all users for free. This means that you can trade from 9:00am to 6:00pm on any day that the market is open.
Robinhood Fees, Minimum & Account Types
Robinhood only offers taxable cash and margin accounts. The minimum balance is $0.
They have been teasing about a retirement account offering, but as of writing this, they still do not offer retirement accounts. We believe that this would make Robinhood a much stronger platform, so we hope they include this account type in the future.
There are no commissions paid to Robinhood when you place trades on the platform. There are regulatory trading fees that are passed along to the SEC and FINRA. These fees are paid regardless of what brokerage you use.
If you open a margin account with them, you will pay margin interest.
There are a few other fees you should be familiar with. The first is an outgoing account transfer fee. If you decide to transfer your Robinhood account to another brokerage, you will pay them a fee of $75. ACH bank transfers are always free, but domestic wire transfers are $25, and international wire transfers are $50.
You can read the entire Robinhood fee schedule here.
Robinhood Order Types
Market Order

– The order will be filled at the next best available price.

Limit Order

– The maximum you are willing to pay for a stock or the minimum you are willing to sell for.

Stop Loss Order

– Buy when the set price is reached or sell when the set price is met.

Stop Limit Order

– A specific limit order is triggered when a set price is met.
Robinhood Investments
US Exchange-Listed Stocks

– Major companies listed on the NYSE or NASDAQ.

US Exchange Listed ETFs

– NYSE or NASDAQ listed exchange-traded funds.

Options Contracts

– Available on any US exchange-listed stocks or ETFs.

Some Cryptocurrencies

– Only available in some states, includes Bitcoin and Ethereum.

ADRs For Over 250 Global Companies

– Foreign stocks that trade on US exchanges via American depositary receipts.
Robinhood Gold
This is a paid subscription offered by Robinhood that gives you access to several different features. The first is access to margin, which of course requires a margin account. The second is larger instant bank deposits. The third is professional research reports from Morningstar. For traders looking for margin, Robinhood offers easy access. It is essential to understand that margin trading is high risk, and it is not recommended for beginners.
Robinhood Summary
Overall, this is a decent pick for a complete beginner.  They offer basic research tools and order types, and they allow you to trade some different assets, including cryptocurrencies and options contracts.
Since you can't open a retirement account with Robinhood, you will be paying taxes on all of your capital gains. Retirement accounts like the Roth IRA allow you to invest tax sheltered.
You can only purchase whole shares of stocks on Robinhood. That might not be a problem when buying a stock like Chesapeake Energy that trades for around $2 a share.
It is an entirely different story when looking at stocks like Amazon, trading for over $1,500 a share. If you don't have enough for a full share, you cannot buy them on Robinhood.
Dividend reinvestment is not available on Robinhood. When you earn dividends, they are added to the cash balance held within your brokerage account.
If you want to reinvest the dividends, you have to do this manually. You can only purchase whole shares, so you will likely end up with some idle cash on the sidelines.
Intermediate to advanced traders or long term investors (particularly dividend investors) will likely find that this platform is lacking in many areas. If you don't feel this is a good fit for you, keep reading!
We believe M1 Finance has a much better offering for these types of investors.
What Is M1 Finance?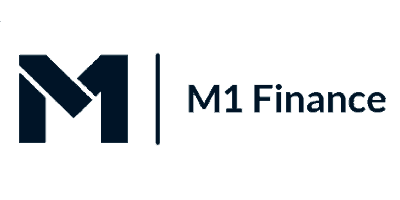 If a modern-day robo-advisor and a brokerage had a baby, that child would be M1 Finance. This investing platform brings you the best of both worlds and provides options for both passive and active investors. Passive investors can invest in one of the dozens of expert built portfolios, automating the entire process with the helpful features offered. Active investors can build their own portfolios from scratch, or even build multiple portfolios to see which one performs the best!
M1 Finance is designed for long term investing, so it is not a great platform for active traders. Our favorite app for stock trading is Webull. All investing in M1 Finance is portfolio based. Each one of these portfolios is called a pie, and each stock or ETF within the pie becomes a slice. You can hold up to 100 stocks or ETFs within each pie.
Other platforms offering robo investing like Betterment or Wealthfront charge an asset management fee. M1 Finance does not charge anything. No commissions on trades. No asset management fee. It is truly 100% free.
Now, it is important to understand that these expert pies are not tailored to any one specific person. Other robo-advisors will build you a custom portfolio based on your goals and objectives. These M1 Finance expert pies are more of a "one size fits all" approach. However, they do have dozens to choose from.
M1 Finance Fees, Minimum & Account Types
There are no fees associated with M1 Invest. They offer two other services known as M1 Borrow and M1 Spend, which do have some fees. M1 Borrow is a portfolio line of credit or a loan against your securities. The interest rate for these changes with the market. M1 Spend is a debit and checking account that integrates directly with your M1 Invest account. They have a 100% free option, but they also have M1 Plus, which has an annual fee.
The minimum to open an account with M1 Finance is $100 or $500 for a retirement account. After your initial deposit, you need to have at least $10 in cash within your account for that amount to be invested across your pies. You can also turn this feature off and manually invest more money instead.
One of the most significant advantages of using M1 Finance is the variety of accounts available. As mentioned earlier, Robinhood only offers cash and margin accounts.
M1 Finance offers…
Individual Brokerage Accounts

Joint Brokerage Accounts

Traditional IRA

Roth IRA

SEP IRA

Trust Accounts
M1 Finance also offers something called rollover concierge. This allows you to rollover an existing 401k or IRA to fund your account. They help you step by step with the entire process.
M1 Finance Investments
In total, they offer over 6,000 exchange-listed securities. This includes stocks and ETFs that trade on the NYSE, NASDAQ and BATs. They offer most of the securities that trade on these exchanges, but to guarantee order execution, they have some requirements for minimum trading volume or price. As a result, some cheaper or low volume stocks are not available on the platform.
Custom & Expert Pies
When you begin investing with M1 Finance, you have the option of creating a custom pie or investing in one of the prebuilt expert pies. You can also do both, as there is no limit to how many pies you can have!
A custom pie can hold up to 100 different stocks and ETFs. You simply make your selections and decide what percentage of your portfolio you want going into each stock. For example, if you wanted to be tech-heavy, you could do 25% Apple, 25% Google, 25% Netflix, and 25% Microsoft. Every time your cash balance is above $10, it will be invested across those four stocks. This is a more active approach to investing with M1 Finance.
For passive investors, expert pies are more up your alley. There is no guesswork about portfolio allocation. You simply let the experts do the work for you. These portfolios are built based on generally accepted investing methodologies. This also includes TDFs or target date funds. These are ideal for retirement investors. You simply select the year you plan on retiring and whether or not you want an aggressive, moderate, or conservative portfolio. M1 Finance does the rest, and the portfolio allocations change with time!
Automated Rebalancing
One of the most useful features of M1 Finance is automated rebalancing. To understand this feature, it is best to think about the flow of money in and out of your portfolio. When you add money to your M1 Finance account, it will be spread across your different stock and ETF selections based on your target allocations.
However, your allocations will change with time. You may have started with a 25%, 25%, 25%, 25% portfolio. A week later, you find out you are 27%, 31%, 22%, 20%. This is because assets do different things at different times. Some move up, others move down.
When M1 Finance invests your cash balance across your portfolio, they will automatically buy more of whatever you are underweight (low) in. By doing this, they attempt to return your portfolio to the target allocations that you set.
When you take money out of your account, they do the opposite! They will sell more of whatever you are overweight (high) in. This will ultimately return you to your target allocations, or at least close to it.
Essentially, M1 Finance is buying low and selling high on your behalf. Many investors never rebalance their portfolios, which results in allocations being out of whack. As long as you are continuing to funnel money into your portfolio, they will do their best to keep you on track. You can also manually rebalance your portfolio by clicking a button, but be cautious of this as it may result in a taxable event.
Fractional Shares
One of our favorite features of M1 Finance is the fractional shares. With most investing platforms out there, including Robinhood, you can only invest in whole shares of stock. That might not be a problem with Ford, trading at around $10 per share. It is an entirely different story with Google, trading at over $1,000 per share!
If you wanted to buy a share of Google through most other trading apps out there, you would have to pony up over $1,000 and purchase a whole share. Not everyone has that amount of money to invest!
M1 Finance offers fractional shares of all assets on their platforms. This means that you can purchase as little as 1/10,000th of a share of these stocks. This allows you to build a well-balanced portfolio without a lot of money. It also allows for easier dividend reinvestment, as you do not need to wait until you have enough to purchase a whole share.
Both Amazon and Google trade at over $1,000 a share. However, if you wanted to, you could create a portfolio of 50% Google and 50% Amazon with M1 Finance and invest just $100. You would end up with fractional shares of both of these stocks.
Portfolio Level DRIP
Dividend investors love M1 Finance thanks to the portfolio level DRIP or dividend reinvestment plan. As I am sure you know already, reinvesting your dividends allows you to earn compound interest.
Here is how dividend reinvestment works with M1 Finance. When a stock you own within one of your pies pays a dividend, that money goes into your cash balance held within your brokerage account. Once that cash balance exceeds $10, that money is invested across your portfolio based on your target allocations. If you want to invest manually, you can turn off this automated $10 threshold.
This is a little different than a traditional DRIP. The way this usually works is the dividends are invested back into the issuing stock, not across the entire portfolio. However, we have yet to find a free investing platform out there that offers a stock level DRIP. If this is a feature you are interested in, you will have to pay trading commissions and use an online discount broker.
M1 Borrow & Spend
M1 Finance has the goal of offering a well rounded financial service to customers. You can invest with M1 Invest, borrow money with M1 Borrow and make purchases with M1 Spend. One of the key advantages of using M1 Spend is the fact that your money is always available for investing! There is no three day ACH bank transfer. You simply move funds from M1 Spend to M1 Invest, and you can invest the same day.
M1 Borrow is a low-cost and straightforward way to borrow money. This could be money for a vacation, medical bill, car repair, or something else entirely. They offer you a portfolio line of credit at the lowest interest rate available on the market. You can instantly borrow up to 35% of the value of your portfolio. Since your stocks serve as collateral, interest rates are far lower than an unsecured loan.
M1 Spend is a checking account and debit card that integrates directly with your M1 Investing account. The basic tier is entirely free, with no annual fees. M1 Plus offers 1% cash back and 1.5% APY on your balance for a membership fee of just $125 per year. It is important to note that this is a debit card and not a credit card!
M1 Finance Summary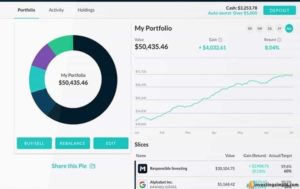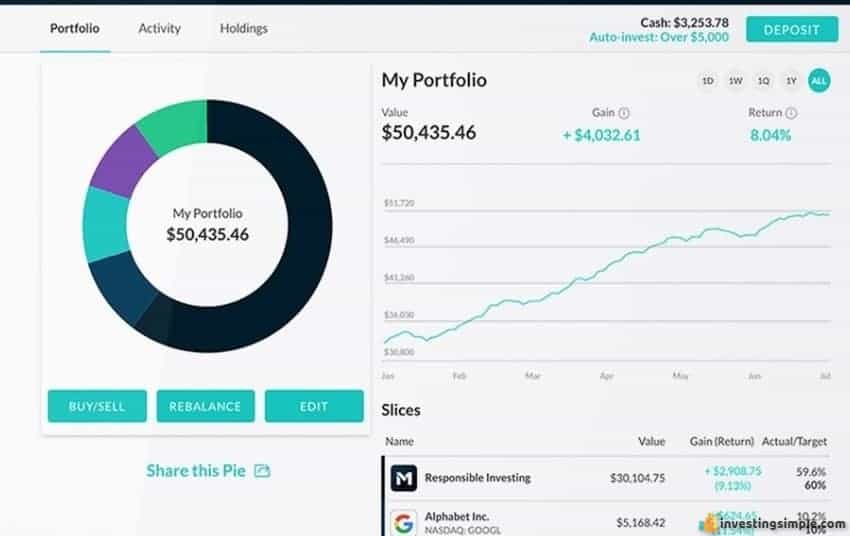 Overall, M1 Finance has created a brilliant investing platform for long term investors. Dividend investors are particularly interested in the portfolio level DRIP, which allows them to reinvest and earn compound interest.
However, it is not an ideal platform for short term traders. The portfolio-based investing model does not make sense for short term trading. Beyond that, M1 Finance only offers one trading window per day. This is the time when all trades for user accounts are placed. This trading window helps M1 Finance cut down on fees. This is not a trading platform, it is a long term investing platform.
The automatic rebalancing features and fractional shares allow you to put your portfolio on autopilot while remaining fully invested. You are also able to build a well-diversified portfolio with a much smaller amount of money.
Active investors can build their own pie from scratch. Passive or hands off investors can lean on the experts and invest in one of these curated portfolios. M1 Finance is also one of the only free investing platforms out there that offers retirement accounts!
They also offer useful features above and beyond the investing account in the form of low-cost borrowing against your account and a checking account that integrates directly with the brokerage. Overall, it has great features for the long term and dividend investors.
The Verdict: M1 Finance vs. Robinhood
Both M1 Finance and Robinhood offer commission-free stock trading. However, the overall similarities end there. Robinhood is designed for the beginner active trader while M1 Finance is designed for long term investors, particularly dividend investors.
Robinhood has a $0 account minimum while M1 Finance has a $100 account minimum or $500 for retirement accounts. Fractional shares are offered on M1 Finance, not on Robinhood. Investors looking for retirement accounts will be leaning towards M1 Finance, as Robinhood does not support retirement accounts currently.
Investors looking for exotic assets like cryptocurrencies and options will be leaning towards Robinhood, as M1 Finance does not support these assets. However, you could always just open a Robinhood account to purchase these specific assets and keep your stock and bond investments with M1 Finance.
Robinhood does not offer fractional shares or dividend reinvestment. M1 Finance offers both with a portfolio level DRIP. When dividends are earned, if the balance exceeds $10, the money is invested across your portfolio based on your set allocations. Thanks to the fractional shares, you can remain fully invested in reducing your idle cash.
M1 Finance offers guidance in the form of dozens of expert pies. They do not charge any fees to invest in these expert built portfolios. This also includes target date funds, which are great for retirement investors. Robinhood does not offer any pre-built portfolios or guidance.
Finally, M1 Finance automatically rebalances your portfolio as you add or withdraw money. With Robinhood, you will have to rebalance your portfolio on your own. At the end of the day, both are completely free meaning you could try them both and see which one you like better!