If you're in a bind and looking to make $500 fast, this is exactly for you.
I'm gonna be sharing what to do, as well as what not to do, when it comes to making quick cash.
Unfortunately, there's a lot of businesses out there that take advantage of the "financially vulnerable," so let's start there with what to watch out for.
The first thing to stay away from is Payday Loans. These are small loans made to borrowers with insanely high interest rates, and most of them are a financial trap.
I was just reading about someone on Reddit who took out a $1,500 Payday loan, and after paying it back almost a year later, it cost over $6,000. So please avoid these at all costs, if possible.
The next thing to avoid is any kind of gambling. So don't try hitting it big with whatever amount of money you currently have. This is almost certainly a recipe for disaster.
With that out of the way, let's talk about what options you do have for quick money right now.
Keep on reading, or watch my video on this topic below.
Don't forget to grab your free stock worth up to $200 from Robinhood today!
About the Author
Ryan Scribner is the author of From Side Hustle To Main Hustle To Millionaire - a practical guidebook on launching your own side hustle. He is recognized as a Top 100 Money Expert by GoBankingRates.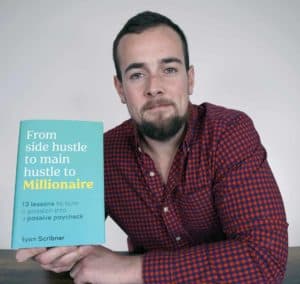 Ryan runs a successful YouTube channel focused on money and investing, which he started in 2016. He also owns a portfolio of digital business, all earning passive recurring revenues.
Now, Ryan teaches others how to create additional income streams.
1. Early Paycheck Deposit
The first strategy could possibly help you with your cash needs on a long-term basis. Depending on what bank you use, you could potentially switch to a bank that offers early deposit of your paycheck.
You see, most financial institutions deposit your check on Payday, which is usually a Friday for most people. There are, however, numerous banks that pay you a few days early.
So you can get your paycheck 2 days early with banks like Chime, Ally and more. All you have to do is search for banks that offer early paycheck deposits and make the switch.
Keep in mind, though, all they are doing is giving you early access to your money. So you will need to budget it and make sure you're not spending what may seem like extra money.
It's the same amount of money, it's just showing up earlier.
2. Sell High Value Items
If you need cash in your hand today, the best option most of us have is selling high value items. Maybe it's a gaming console, or a piece of jewelry.
Take inventory of what you are and aren't using, and determine what you're ready to part ways with.
If you're looking for ideas, popular high value items also include yard equipment, designer clothing, appliances and more.
But depending on the urgency of your situation, you may need to sell items at a price you aren't necessarily happy with. And that's because a lot of people are holding back on their spending right now.
For a fast sale to take place, you really need to price your items about 20% or more below what you could normally get for them. So have a pricing strategy in mind as you're putting items together.
Then, simply list on Facebook Marketplace and various apps and wait for the calls.
Offering free delivery is also a great incentive that can help speed up a sale.
3. Unclaimed Funds
So a lot of us have sums of money owed to us that we don't even know about. This next idea for making quick cash taps into that.
If a business or entity owes you money and they're unable to get it to you, it often goes to your state's unclaimed funds office.
If you go to unclaimed.org there's a clickable map that brings you to the website for each state's unclaimed funds department. Simply click on your state and search for your last name or business entity.
It's also important to do this in any state you've lived in before. If you find money is owed to you, there's often a verification process before a check is mailed out.
So the next option is a creative spin on the cash advance business.
Dave is a fintech company that offers users an interest-free cash advance up to $500 with no credit check or late fees.
All you have to do is open a Dave ExtraCash account and see how much you qualify for. Once you get your advance, you can spend it immediately using the Dave Spending account with a debit card.
After that, you agree to pay back the advance by a set settlement date. And they don't charge late fees if something comes up.
5. Delivery/Ridesharing Apps
The last idea is tapping into the gig economy using one of the many apps that let you deliver food, supplies or even people.
While it's unlikely to make $500 right out of the gate, it is one of the easiest options for making money quickly in a systemized fashion.
Most people report earning $25 to $50 an hour with Uber, although your costs aren't factored into that.
Food delivery apps pay a bit less, on average people report making about $16 an hour.
But there's other apps too that are worth considering, such as Rover. This app allows you to offer pet related services like dog walking, and people in your area can book your services right within the app.
Final Thoughts
At the end of the day, there are good options and then there are bad options for making quick cash.
Now that you know there are businesses out there that essentially take advantage of people who are broke, hopefully you can avoid those pitfalls yourself.
And if you're looking to create additional income streams to avoid having short term cash needs, a side hustle is your best option.
For the 1% who are ready to take their side hustle journey a bit more seriously, I wrote a book about side hustles.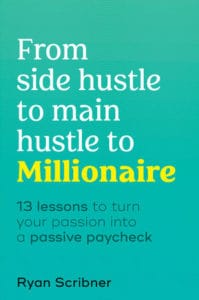 It covers all phases of the side hustle journey, and you get access to a members only discord where you can ask me questions along the way.
And you can grab a copy in person at most Barnes and Noble stores across the United states, or it's right on Amazon.
So grab a copy today and let's get started on your side hustle journey together!