Investing is most commonly done through assets like stocks and real estate. However, there are numerous other types of investments to choose from including artwork. The problem with these other investments is the lack of access.
With the proliferation of new investing platforms, investing is easier today than it has ever been. This is true for artwork as well.
Masterworks is a relatively new platform dedicated to artwork that is open to all investors. If you are interested in investing in various pieces of art, perhaps Masterworks is the platform for you.
In this article, we provide a complete Masterworks review and dive into the pros and cons of the platform.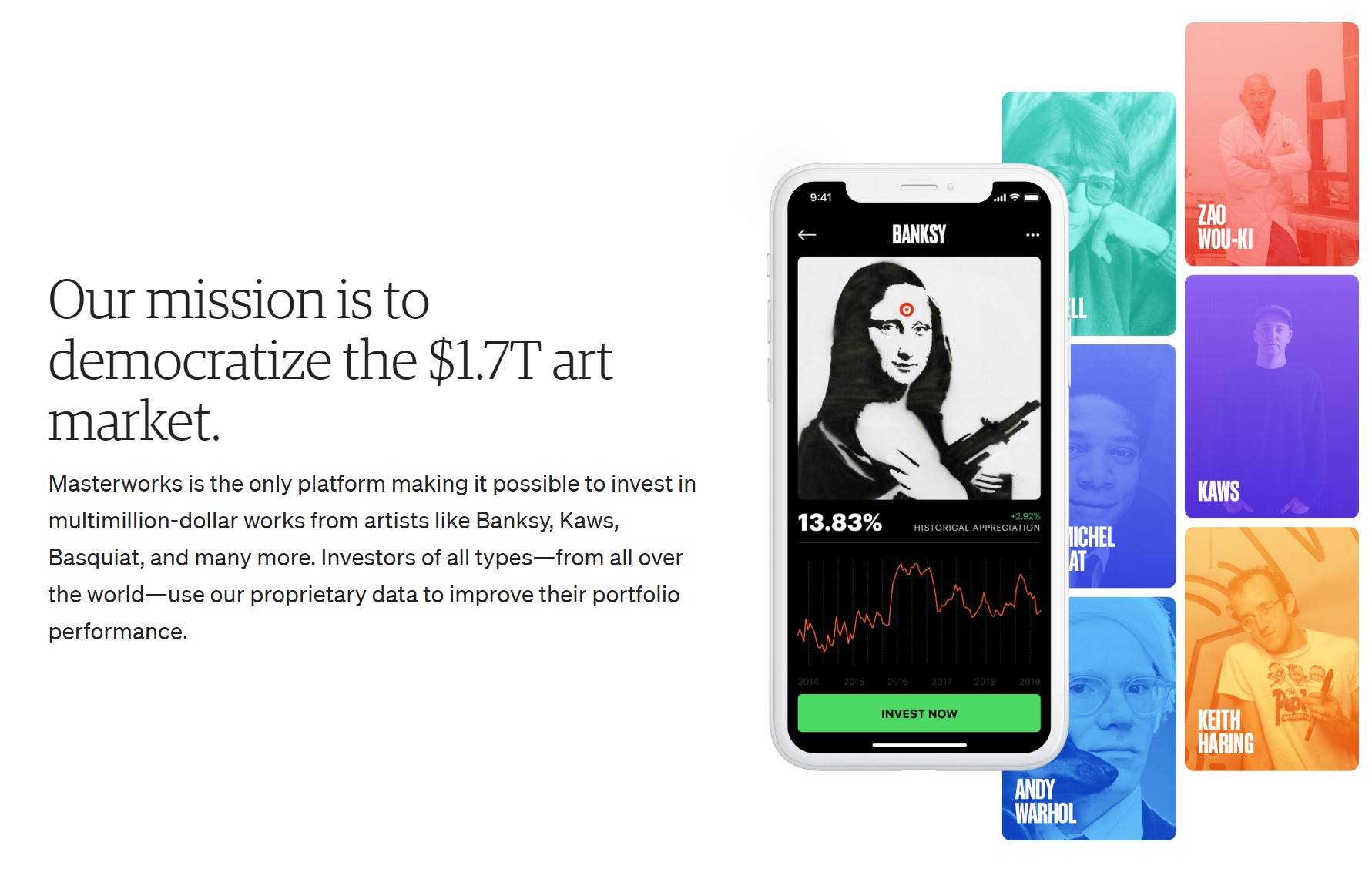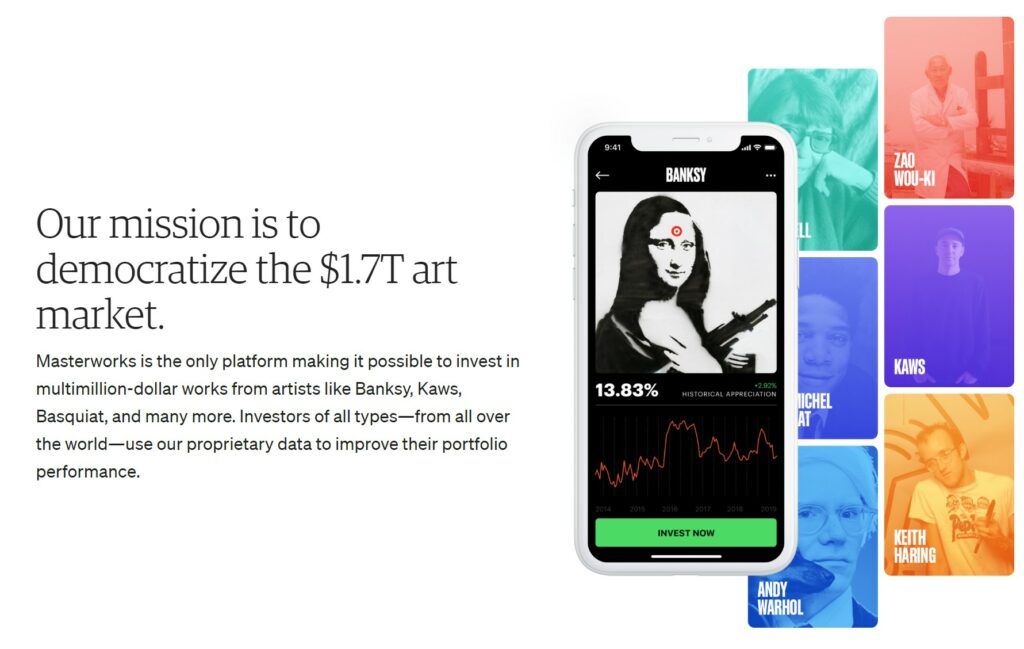 Masterworks Review: Highlights
Access to invest in artwork
Open to accredited and non-accredited investors
1.5% annual management fee
Masterworks also takes 20% of profits at time of sale
Masterworks purchases paintings and then offers investors shares
Average holding period of 3-10 years
Access to a secondary market to liquidate sooner
Platform targets 9-15% historical appreciation
Summary
Masterworks is a unique investing platforms that offers investors the opportunity to invest in artwork.
The company identifies popular pieces that have potential to appreciate and offers investors shares of that artwork. After a 3-10 year holding period, the piece is sold and profits are distributed.
Masterworks does offer investors access to a secondary market should they need to liquidate their holdings early, however, there is no guarantee that another buyer will be available.
The platform charges a management fee of 1.5% yearly and also takes 20% of the profits.
Artwork has actually outperformed the market in the last 20 years. While these results are impressive, it is important to note that there is a possibility that a piece of art may not actually appreciate. Understanding the risks involved with any investment is crucial before committing funds.
Pros
Access to artwork with low minimums
Access to secondary market for early liquidation
Simple platform - easy to understand
Multiple offerings at any given time
Cons
Hefty management fees and profit sharing
Signup process can be long and confusing
Long waitlist for new investors
What is Masterworks?
Masterworks is a new investing platform dedicated to artwork. The company was founded in 2017 and is headquartered in New York City. The company is made up of a team that has over 75+ combined years of art collecting experience and have founded companies valued at over $1 billion.
The process of investing funds in the stock market is relatively simple. Especially in recent years with the advent of numerous investing platforms such as Robinhood or Webull, investing is easier today than ever before. In fact, the same is also true for investing in real estate using platforms like Fundrise or crowdfunding platforms. Conversely, this is not the case for artwork.
In order to invest in artwork, an individual would typically have to purchase a piece outright. Today however, there is a new solution. Masterworks is a platform designed to offer anyone the opportunity to invest in artwork.
"Masterworks is the first platform for buying and selling shares representing an investment in iconic artworks. Build a diversified portfolio of iconic works of art curated by our industry-leading research team."
Since its launch, Masterworks has generated impressive results, which has in turn led to over 250,000 member signups. The company has purchased over $280 million worth of iconic artwork.
Why Invest in Art?
Artwork could provide an investor with an interesting opportunity for diversification. Since 1995, contemporary art has seen an appreciation of 14.0%, while the S&P 500 returned 9.5% in annualized returns during the same period. Additionally, artwork has a low correlation to the stock market and can continue to appreciate even during a market decline.
It is important to note however that art can be fickle. Just like it can appreciate, it can also depreciate. Investing in art requires an understanding of artists and styles that are popular. Just like other investments, it is important to understand where the momentum lies.
Art is also highly illiquid as a sale is required to generate income. Furthermore, a piece of art does not generate income or create value over time, thus the only way to make money with artwork is through appreciation and the eventual sale of the asset.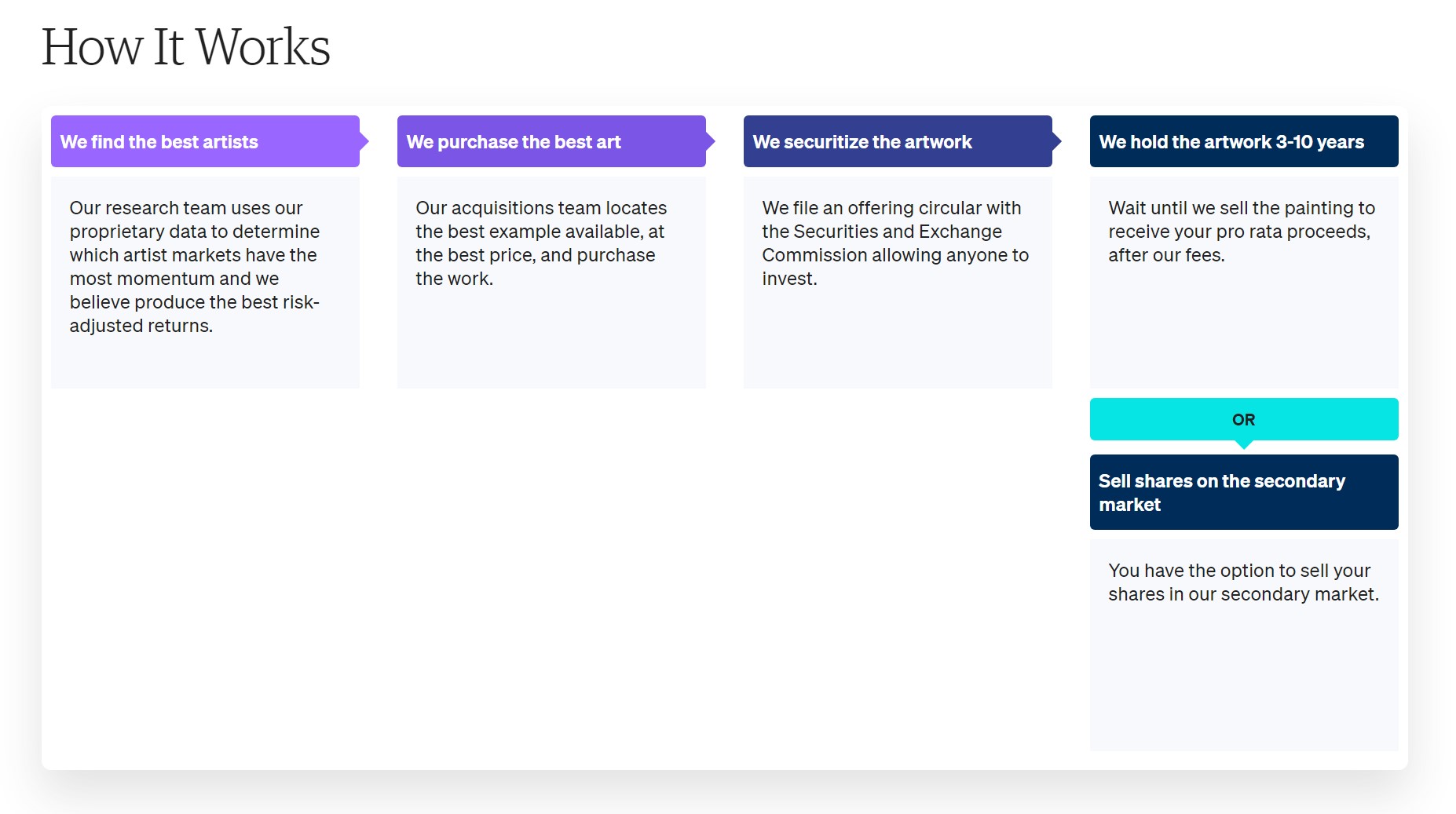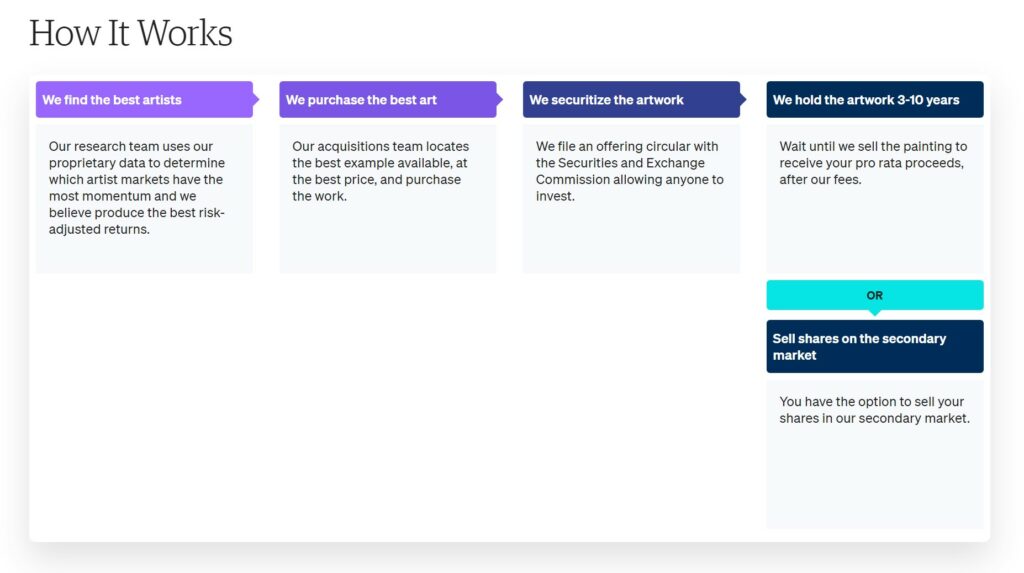 How Does it Work?
Masterworks' process is fairly straightforward and can be explained in a few steps.
Masterworks seeks out the best artists - Their research team uses proprietary data to determine which artist markets have the most momentum and potential to produce the best risk-adjusted returns.

The artwork is purchased - Their acquisitions team locates the best example available, at the best price, and purchases the work.

The platform registers the artwork - They file an offering circular with the Securities and Exchange Commission allowing anyone to invest in a given piece of art. The company issues stock that investors can then purchase.

The artwork is then held for 3-10 years - During this waiting process, the artwork has time to appreciate. At the end of the holding period, the artwork is sold and earnings are paid out after fees.
During the holding period, Masterworks ensures the artwork is professionally stored to avoid damage or any other accidents.
The holding period can be lengthy and there is no guarantee that the piece will actually appreciate. There are also no monthly, quarterly, or yearly distributions paid out to investors.
If a piece of art is sold, the issuing entity will be liquidated, and the remaining net proceeds, if there are any, will be distributed to the current holders of shares.
Secondary Market
Masterworks does offer investors access to a secondary market where their shares can be sold, though there is no guarantee that your shares will be purchased by another investor. Thus is it best to be prepared to hold the investment for the entire holding period.
Just like you can sell your share on the secondary market, there is also an option to buy shares on the secondary market. Perhaps there was a piece of art that you were unable to participate with in the past but is now available through the secondary market.
This offering to investors comes with a few benefits. To start, there are no transaction fees associated with buying and selling shares. After an offering goes live, there will be a period of 90 days where investors can choose to invest in a piece of art. After the 90 day period comes to a close, investors will be able to transact with the shares. The secondary market also features lower investment minimums than with primary offerings.
Currently the secondary market is available to US citizens only.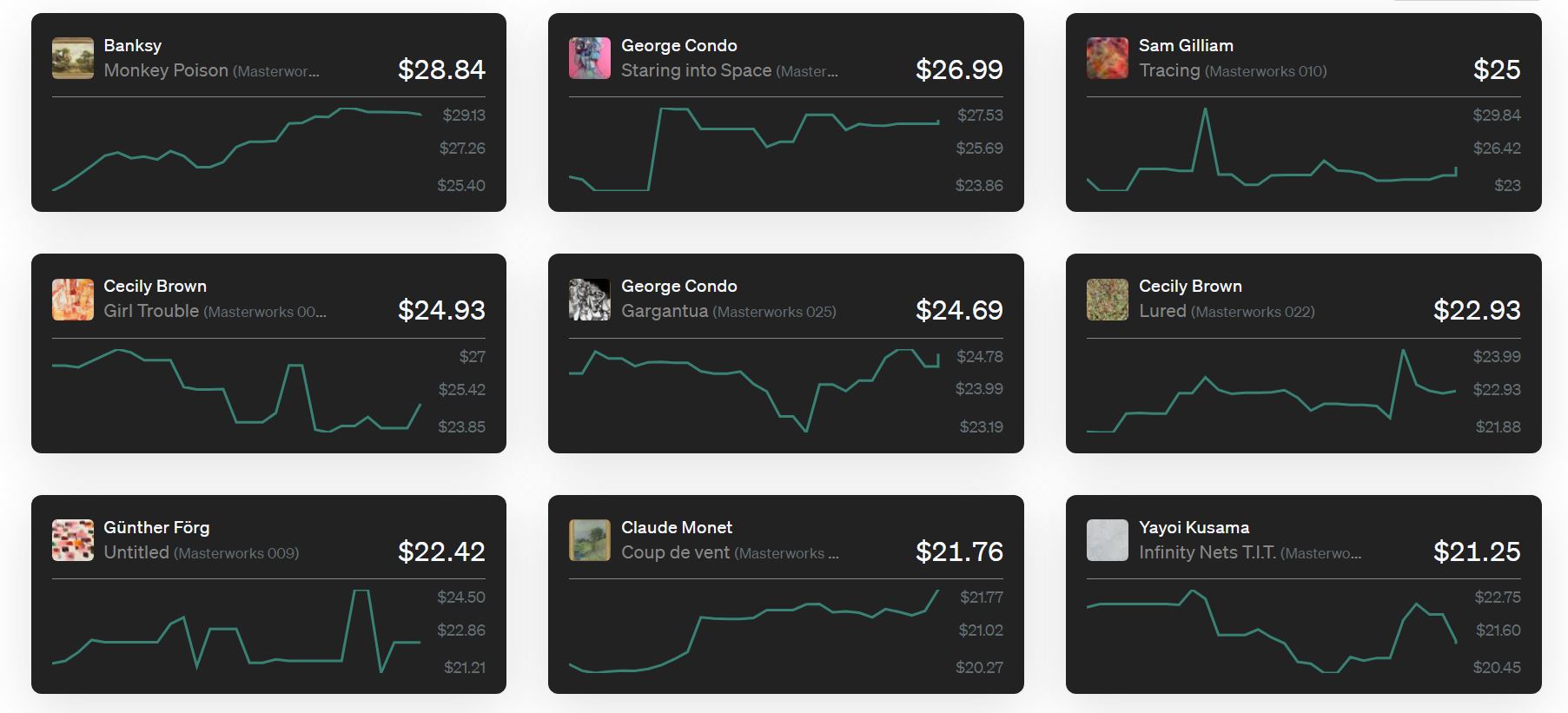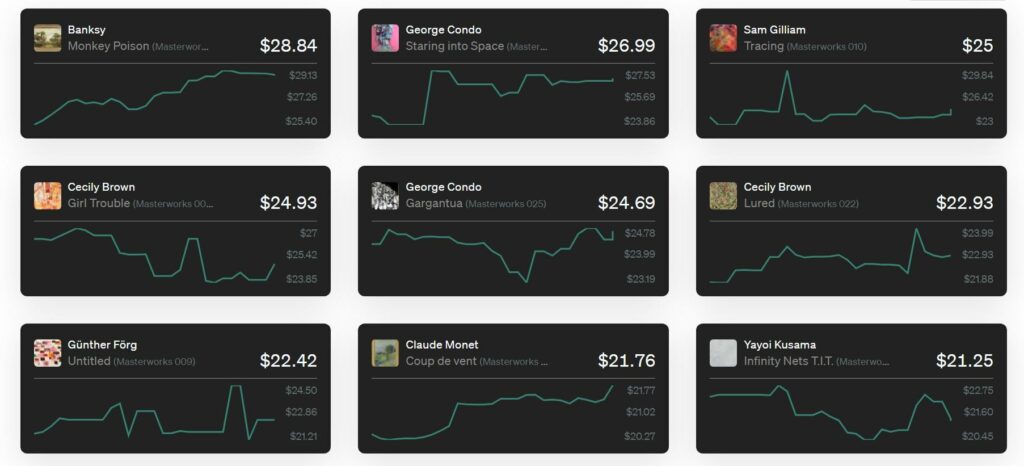 Masterworks Fees and Minimum Investments
Investing with Masterworks comes with 2 types of fees. First, there is a management fee of 1.5% per year. This fee is paid from the equity in your account. Thus you will not incur an out-of-pocket expense. This fees covers the following:
Professional storage
Insurance
Administrative costs
Regulatory filings
Annual appraisals
The second fee comes from a profit sharing model. Masterworks is incentivized to sell a painting at the maximum price as they take a 20% cut of the profits. The remaining profits are distributed to the shareholders through the number of shares they own.
When you invest with Masterworks, you will start with a $1,000 transfer. You can invest as you desire, but there is a $1,000 transfer. Minimum investments vary by individual offerings. Investing through the secondary market typically has smaller minimums than original offerings.
What are the Risks?
Investing in art whether through Masterworks or elsewhere certainly comes with a degree of risk just like any other investment. For those interested in Masterworks, it is important to understand the risks involved. In fact, Masterworks is completely transparent about the risks involved and shares them with investors upfront.
The platform itself recognizes that their business model is new and unproven. Additionally, artwork doesn't create value over time, so in order to earn a return, the value of the piece of art must appreciate. And when there is appreciation, Masterworks does take a cut of profits and charge yearly fees, thus the returns will be diminished.
Other risks that Masterworks mentions directly on their site include the following:
No market exists for the shares and paintings are highly illiquid, so you must be prepared to hold your investment for an indefinite period.
Each Issuer owns a single painting and this lack of diversification magnifies risk.
Your ability to trade or sell your shares is highly uncertain.
Paintings may be sold at a loss.
Investing in art is subject to numerous risks, including (i) claims with respect to authenticity or provenance, (ii) physical damage, (iii) legal challenges to ownership, (iv) market risks, (v) economic risks and (vi) fraud.
Issuers are totally reliant on Masterworks.
Masterworks has potential conflicts of interest.
Timing of sale of a painting is uncertain
This is not to say that you should not invest in artwork, rather it is important to understand the risks of any investment before investing.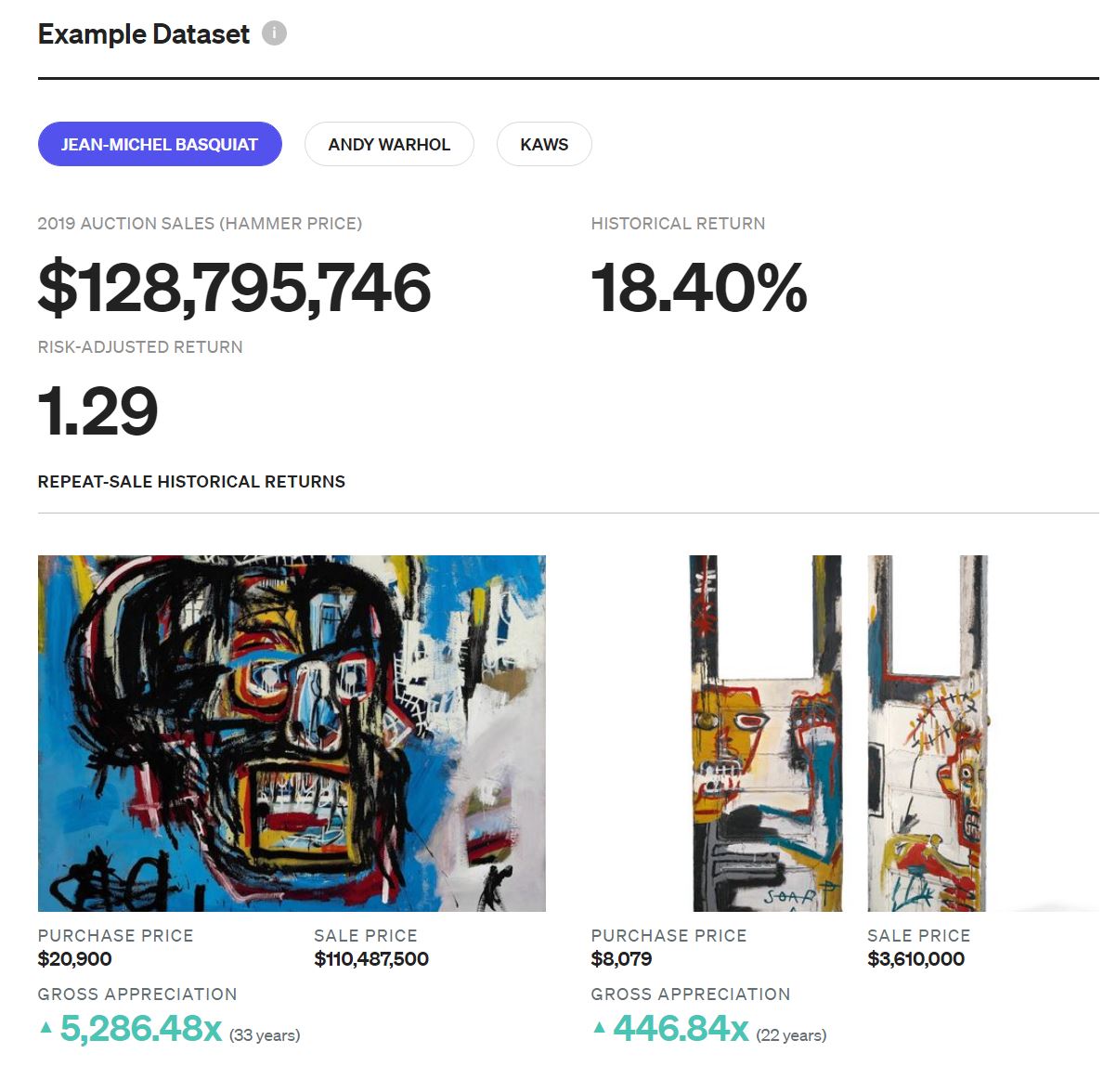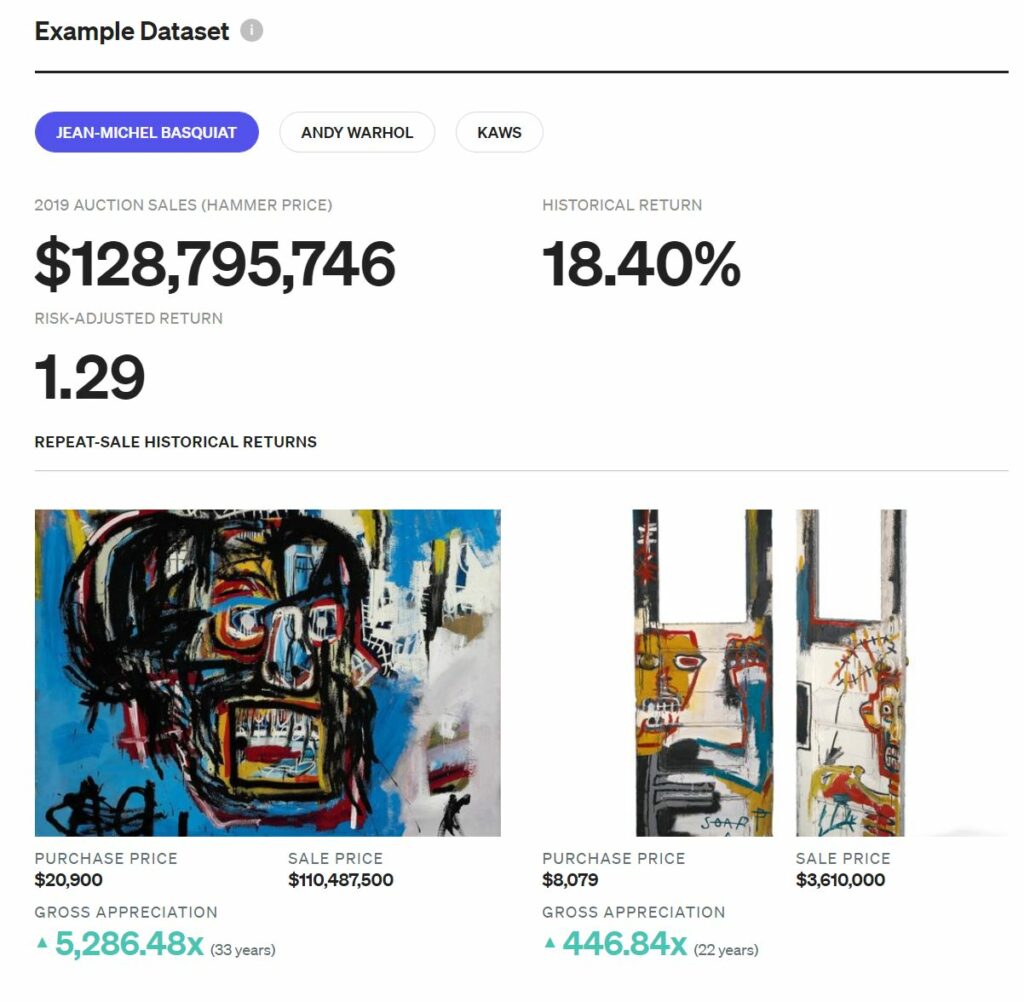 How to Get Started
Signing up is actually not as simple as you might think. In order to get started, you will need to request access through their online application. This application starts with a simple form online but does feature a short phone call later in the process.
They currently have a waitlist of investors seeking membership, so if you are interested, it may be best to request an invitation to the platform sooner than later.
Masterworks Customer Support
On the website, Masterworks explains that any questions about signup or the process can be answered by emailing their customer support email: [email protected]
They also have a customer support phone number listed on their site.
Masterworks Review: Closing Thoughts
Masterworks is a unique investing platform that offers investors a way to participate in the appreciation of iconic artwork. Typically, investing in artwork would require purchasing a piece of art outright, which could cost a significant amount of money. Masterworks has changed that and created a platform that invites all investors to diversify their portfolio with artwork.
The process is simple enough to understand. Masterworks identifies trends and top artists and purchases artwork they believe will appreciate over time. They then register this piece of art with the SEC and offer shares to investors. After a holding period of 3-10 years, the artwork is sold. Any appreciation is then shared among the shareholders.
Masterworks does offer investors access to a secondary market to liquidate their holdings sooner if desired. However, there is no guarantee that another investor will be available to purchase your shares.
Investing in artwork is attractive to many as there is a low correlation to the stock market. However, there are a few risks to understand about this type of investment. Outside of this platform, there are no real markets for these shares. Meaning investors should be prepared to hold the investment for the entire term. There is also no guarantee that a piece of art will actually appreciate.
If you are interested in diversifying your portfolio with a piece of artwork, Masterworks could be the solution for you. Be sure to read through their website and understand the risks involved before creating an account.
Best Free Stock Promotion