Last year, the average YouTube user watched 23.1 hours of content per month.
What if you could get paid for all those hours of content consumption?
I'm gonna be testing a brand new strategy for making money watching videos that's never been done before.
So I spent a few hours strategizing, and here's what I came up with.
Keep on reading, or feel free to watch my YouTube video on this topic below.
Don't forget to grab your free stock worth up to $200 from Robinhood today!
About the Author
Ryan Scribner is the author of From Side Hustle To Main Hustle To Millionaire - a practical guidebook on launching your own side hustle. He is recognized as a Top 100 Money Expert by GoBankingRates.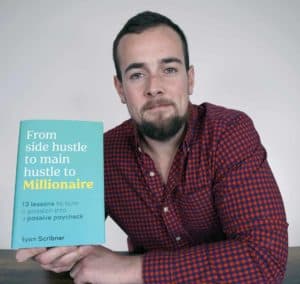 Ryan runs a successful YouTube channel focused on money and investing, which he started in 2016. He also owns a portfolio of digital business, all earning passive recurring revenues.
Now, Ryan teaches others how to create additional income streams.
My Strategy
First, we're gonna look at the best selling products on Amazon to find a new, trendy product.
Next, I'm gonna be sourcing clips of people using the product from YouTube Creative Commons.
After that, I'll be generating video scripts using ChatGPT and turning them into audio narrations using AI.
Then I'll be posting 10 Instagram Reels and 10 YouTube shorts on brand new pages.
But each of these videos will be watermarked with a URL that redirects to my Amazon Affiliate link.
So in theory, if any of these pieces of content do well, we should get a bunch of commissions.
Let's get started now.
1. Trending Products
If you search for trending products on Amazon, this gives you a list of the current best selling products.
After looking through these products, I'm gonna go with this Rosemary & Mint Oil hair and scalp treatment.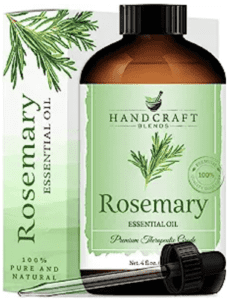 Now that we have our product, let's head over to YouTube.
2. YouTube Creative Commons
YouTube has this handy feature that lets you filter searches for Creative Commons licensed content. This gives other people permission to use your work.
So, these videos can be downloaded and repurposed.
In the YouTube search bar, we're gonna type in "rosemary oil hair" and click search.
Then, click on Filter and change this to Creative Commons.
From here, simply watch YouTube videos and see which ones have good clips to source vertical content from.
There's a few sites for downloading YouTube videos, and they're all pretty sketchy.
So please use caution on these sites.
3. ChatGPT + Murf.ai
So now we have our video content sourced, but we don't have a narration or a script.
So we're gonna be using ChatGPT and Murf.ai to write 10 vertical scripts and then create AI voice narrations.
I asked ChatGPT to write me 10 facts about Rosemary oil, and it returned these.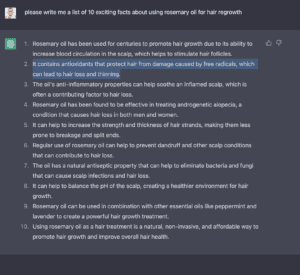 Then, I copy/pasted these into Murf.ai one by one, generating my narrations and downloading them.
4. iMovie
From here, I'm gonna take all of this into iMovie to turn these into reels, and I have a really cool trick.
You can actually edit your vertical videos in iMovie sideways by simply rotating and cropping horizontal videos.
(Watch my YouTube video for a visual tutorial of this!)
So by dragging our narration and video clips onto the timeline, we now have a sideways vertical video.
5. Affiliate Link
But there's one very important step I wanna take, and that's watermarking all our videos with a URL that redirects to the affiliate.
You see, the biggest problem with vertical content is getting people to use your link. If you mention it in the video, you'll get shadow banned.
And most people aren't gonna go find it in your bio. So let me show you a very unique trick for this.
You can buy a simple Google Domain for $12, and redirect that domain to your affiliate link - right from Google domains.
So I went ahead and picked up the domain BestRosemaryOil.com for $12.
Over on Amazon, I simply grab my affiliate link for the Rosemary oil and head over to Google Domains where I can simply Forward the traffic to my affiliate link.
5A. Double Redirect
Now I'm taking one additional step, which is double redirecting the traffic.
The traffic from BestRosemaryOil.com is going to be redirected to ryanoscribner.com/rosemaryoil.
Then, I'll be using PrettyLinks to redirect that traffic to the affiliate link. And this all happens in milliseconds.
By doing this, I'll be able to see how many clicks the redirect gets on my ryanoscribner site.
6. Watermark
Now that we have our affiliate redirect set up, we need to make a watermark for our videos. I'm gonna do this in Photoshop, but you could use Canva if you don't have a subscription.
I saved my watermark as a sideways PNG, so now I can simply bring it in over the top of all my vertical videos in iMovie.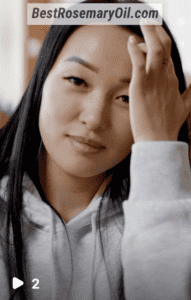 So just like that, we have a fully AI generated vertical video from repurposed YouTube and Pexels content.
I'll do this 9 more times, and then we're ready to start posting.
7. Posting
For this experiment, I'll be using two brand new pages:
I'm gonna post 10 Reels on a new Instagram page and upload 10 YouTube shorts on a new channel.
I'll be testing different tags on each, related to natural hair care, baldness and other key topics.
Now in my Instagram bio, I am adding a link to my affiliate redirect site. But I think the watermark is gonna generate the most clicks.
Results
Starting off with the Instagram Page, we ended up getting a total of 39 views and 2 likes on the content.
But it was one video in particular that did well, garnering 32 views.
I was hoping for a little bit more action here, but I can't really complain.
Next, let's check the YouTube channel.
YT Shorts
Well guys, we ended up getting a big surprise here.
As soon as I logged on, I noticed VidIQ was showing 1.6k views on this channel over the last 48 hours.

The very first YouTube Short I posted ended up getting 1,562 views, 30 likes and got me 9 subscribers.
And while this is exciting, the other 9 videos got absolutely zero views. So I'm not sure what to call this, maybe luck.
But views alone do not translate to revenue in this case. So did we actually make money or not?
Site Clicks
Well the first thing I wanna check is how many clicks our Amazon Affiliate link got.
Because if we didn't get any clicks, we probably would have no sales.
I can see in PrettyLinks that this link got 32 clicks yesterday, and 31 clicks so far today.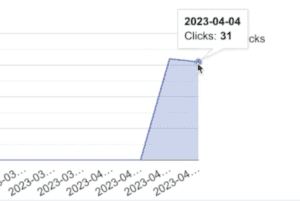 With that, we can figure out our conversion.
Our content got a total of 1,594 views across the platforms and generated 63 clicks.
So that's a click through rate of just about 4% - which is pretty high actually.
If it scaled like this from here, 4 out of every 100 people who watch would visit your site.
But just like views, clicks alone don't always translate to earnings.
So let's jump into my Amazon Affiliate dashboard now.
Amazon Affiliate Earnings
We ended up selling 1 Bottle of Rosemary Oil at $22.95. But I made a huge oversight at the very beginning when I picked our trending Amazon product.
You see, Health & Household is a 1% commission category, and it's also often low ticket products.
So yes, we made $0.23 from this experiment.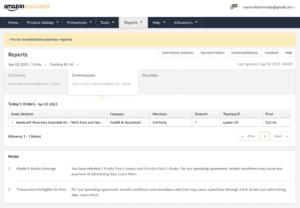 I did generate two other sales on Amazon yesterday, and it's possible these came from the clicks to that link.
I earned a 4% commission on a $39 radio, and a 3% commission on a $100 mattress frame.
These are higher commission, higher ticket categories.
So if I did this again, I'd be a lot more strategic with choosing my product based on the commission categories.
Wrap Up
So overall, no, this isn't a very good way to make money - at least not with this particular trending product.
If you're looking to start a side hustle that actually makes money, I wrote a book about the entire side hustle journey that's available at Barnes & Noble and on Amazon.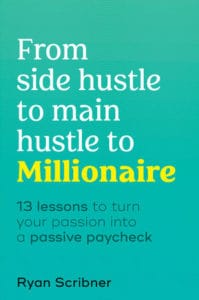 It covers all phases of the side hustle journey, and you get access to a members only discord where you can ask me questions along the way.
And you can grab a copy in person at most Barnes and Noble stores across the United states, or it's right on Amazon.
So grab a copy today and let's get started on your side hustle journey together!