Believe it or not, most online stock trading brokerages offer sign up incentives these days. From free stocks to free cash, brokerages and investment platforms are willing to give you an incentive for doing business with them.
Moomoo is an online stock, option, and ETF trading platform. The platform is currently offering a free stock incentive to users based on how much they deposit. 
Moomoo Free Stock Promo
For each new user that opens an investing account and makes a deposit, they will receive up to 5 free stocks! Act now, the promotion ends on January 31, 2022. The qualifications for the free stocks are highlighted below:
Open a brokerage account and get 1 free stock, worth between $3 and $3,500
Make any deposit into your new account and receive 1 free stock worth between $9 and $3,500
Deposit a total of $2,000 into your new account and receive 3 additional stocks worth between $9 and $3,500
This offer is only valid to those who are US residents with a SSN and are at least 18 years old.
Moomoo states that you have a 1 in 250 chance of getting a share of Tesla, Netflix, or Apple.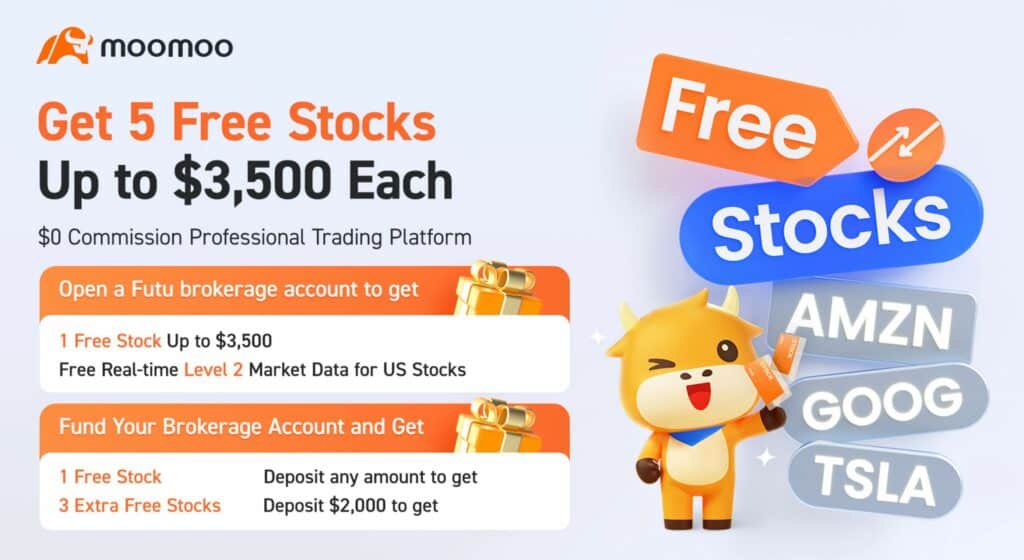 Best Free Stock Promotions
What is MOOMOO?
Moomoo is an advanced trading platform that offers commission-free trading on stocks, options, and ETFs. Based in Silicon Valley in California, Moomoo Inc. is a wholly-owned subsidiary of Futu Holdings Ltd. Moomoo's parent company, Futu, is a recognized FinTech Unicorn and Asia's top-ranked online broker, providing one-stop online investing services. This is an online broker-dealer registered and regulated by the Financial Industry Regulatory Authority (FINRA) and the Securities Exchange Commission (SEC).
The designers of the platform are on a mission to provide investors with an intuitive and powerful investing platform by using the most up-to-date technology. At the same time, Moomoo offers a creative and highly customizable experience for users.
Many platforms allow you to buy and trade stocks, options, and ETFs without having to pay commissions. However, Moomoo makes it easy for you to get free real-time quotes, graphical financial analysis, and press releases on the go.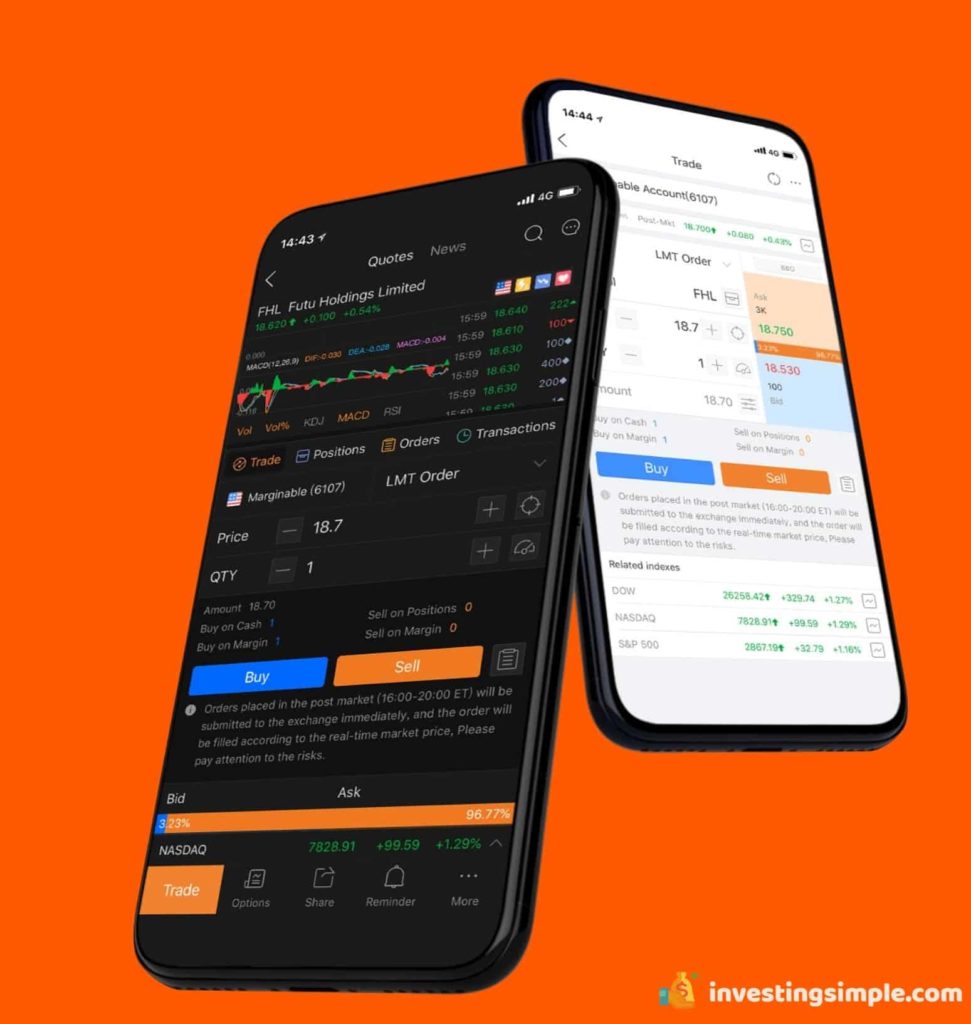 Moomoo App Top Features
With so many different online trading platforms available today, it may be difficult to choose one that works best for you. Here are some of the top features the Moomoo investment platform offers:
Commission-free $0 fee trading for stocks, options, and ETFs. Free trading for options is relatively unique to Moomoo as most platforms still charge small commissions for options trading.
Free real-time data level 2 data access at no charge. This is another unique feature from Moomoo, as most platforms charge fees for real-time data access.
Paper trading to test out trading strategies. This feature gives beginner investors the opportunity to test out strategies before risking real cash.
Margin borrowing and short selling are permitted on the Moomoo platform. Check the Moomoo website for the most updated margin interest rates.
Enhanced market data and research tools. Users can access 3rd party agency ratings, updated market news, and smart reminders.
Social media component to communicate with other traders and share trading strategies.
Detailed Financial Analysis including income statement and other financial reports in app
Check out our full review of Moomoo.
How to Get Moomoo Free Stock
Using this link download the Moomoo application for iOS or Android. Users must use our link in order to earn your free stocks.
Sign up by registering a new Moomoo account and fill out your information to get approved.
Once your account is approved, make a deposit of $2000 or more to qualify for 3 free Stocks worth up to $3,500!
Users must be 18 years old and living in the United States to qualify for the Moomoo free stock incentive.