In the world of investing, it is common to hear a phrase such as the following: "Invest only in things you understand." For many, this has meant the avoidance of options. Stock options, generally considered as advanced trading, offer investors a way to increase their buying power, gain access to greater potential returns, and engage in a few additional trading strategies beyond traditional stock trading.
When trading options, investors want to ensure they are using a secure platform that they can trust. Is Moomoo a good place to trade options? How can you get started trading options with Moomoo? In this article, we will answer those questions and offer a complete Moomoo options review.
Moomoo Options Review
Pricing

Research Tools and Data

Customer Service

Simplicity

Option Types
Summary
Trading options can be a complex and difficult topic to understand for many investors. With this in mind, you should not trade options if you don't understand how they work.
For those that want to trade options, Moomoo is a great platform to do so. With commission-free trades and advanced research tools, investors will find everything they need to get started.
Creating an account with Moomoo is quick and easy. They also have a customer support phone number and email to help you along the way.
Pros
Commission-Free
Advanced Research Tools
Easy to Use Platform
Customer Support Phone Number
Cons
Limited Number of Assets
Cannot Trade Options with Instant Deposits
Moomoo Options: Highlights
Simple to use platform
Moomoo has a customer support phone number, which is atypical of new trading platforms
Access to both mobile and desktop version
Trading Options are completely commission-free and have no additional fees
Strong sign up incentive with 4 free stocks
Access to some international markets in addition to US market
Advanced research tools and charting
Access to community of investors with ability to comment and discuss securities within platform
What Is Moomoo?
Moomoo, launched in early 2018, is a commission-free trading platform. It was designed to be a one-stop-shop for investors. With free access to level 2 market data and real time quotes, investors using Moomoo often feel more equipped to make informed decisions.
Since the launch of Robinhood in 2013, investors have seen a proliferation of new trading apps. Many investors have a similar complaint regarding new trading platforms. While many of the new platforms offer a simple and easy to use platform, they are just that, simple. Investors wanted a place with advanced charting and research tools all in one place.
Moomoo may feel overwhelming to new and novice investors with its vast number of tools and resources. For intermediate and advanced traders, Moomoo offers investors excellent resources and the ability to customize views for advanced insights.
The platform does offer a web/desktop version and a mobile app. For a relatively new trading platform, they also offer excellent customer service with a phone number and email.
To learn more about Moomoo, check out our complete Moomoo Review.
What Are Options?
Stock options give investors the right, but not the obligation, to buy or sell a security at a specified price.
Options are considered derivative securities because they derive their value from an underlying asset. The actual derivative is a contract between two or more parties.
These contracts are usually made up of  100 shares of an underlying asset. An options contract will have an expiration date and something called a strike price, which is the specified price at which a security can be bought or sold at or before the expiration date. The buyer of an option will pay the seller a premium for the rights associated with an options contract.
There are two types of stock options; calls and puts.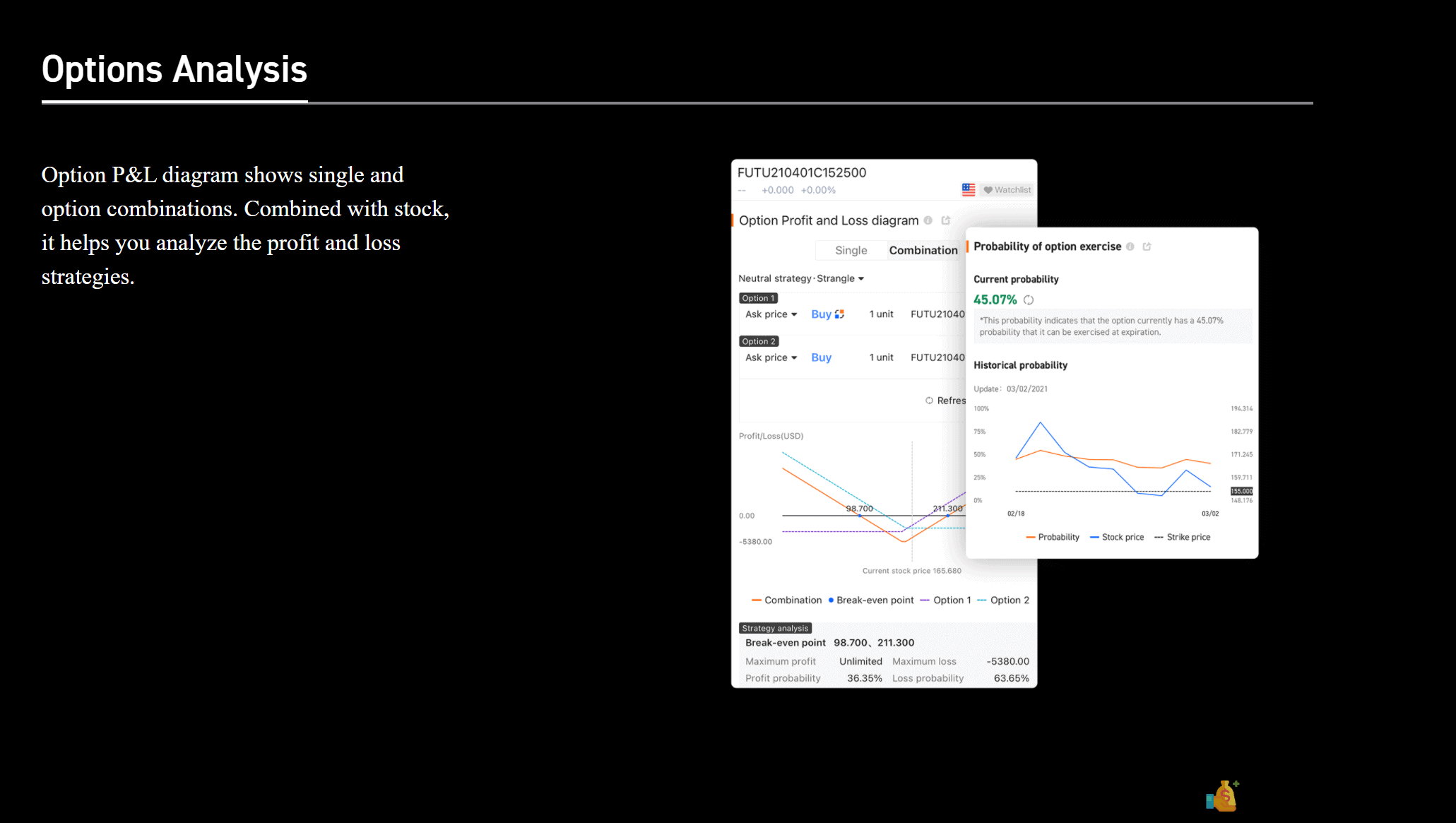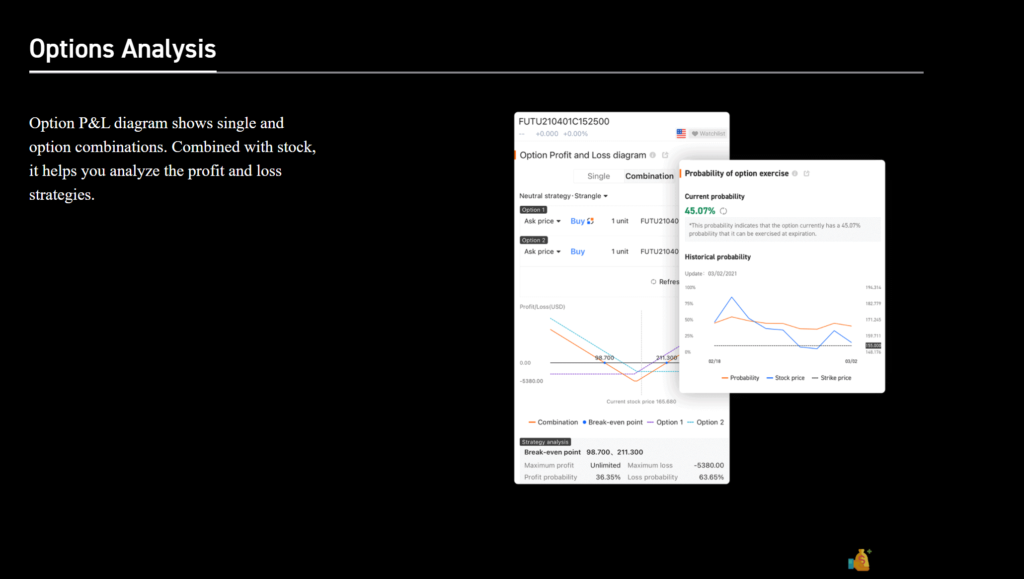 What is a Call Option?
Call options give an investor the right to purchase a security at a specific price. This means that a buyer of the call option is bullish that a stock will rise above a specified price by a certain date.
If you buy a call and the stock price goes above the "strike price" you will be "in the money".
Let's look at an example of a call option in action. (This is for educational purposes only and does not serve as financial advice.)
Suppose that Apple shares are currently trading for $100 per share. You own 100 shares and want to sell a call option. As the seller of the call option, you believe it would be unlikely for the price of the shares to rise above $108.00 in the next month.
You notice among the available call options for Apple that there's a $108.00 call trading at $0.30 per contract. You decide to sell one call option and collect the $30 premium ($0.30 x 100 shares).
If the price of the shares rises above $108.00, the buyer of the options contract will then exercise the option and you will be forced to deliver the 100 shares of Apple at $108.00 per share. You still generated a profit of $8.00 per share plus the premium you collected for selling the contract. If the stock doesn't rise above $108.00, you keep your original shares and the $30 premium as the contract expired worthless.
The buyer of this call option believes the price of the shares will rise above $108.00 before the expiration date. Suppose the share price indeed rose to $115.00. The buyer will then exercise the option and own 100 shares at $108.00 each. This buyer can then continue to hold the shares or sell and profit $7.00 per share (current market price of $115.00 less the strike price of $108.00.)
What is a Put Option?
A put option gives an investor the right, but not the obligation, to sell a security at a specific price. If an investor purchases a put option they are bearish that a stock is going to fall below a certain price by a particular date.
Let's look at an example put option.
Suppose Twitter stock is currently trading at $25.00 per share. Assume you wanted to sell a put on the shares at a $20.00 strike price with a $0.40 premium on 100 shares ($40.00 premium). Since you are the seller of the put option, you will receive the $40.00 premium, which is the maximum profit you can make on the trade.
The buyer of this put option believes the share price will fall below the $20.00 strike price. Assume the price per share falls to $15.00 before the expiration date. In this instance, the buyer of the put will exercise the option and sell the stock at the $20.00 strike price, resulting in a profit of $5.00 per share.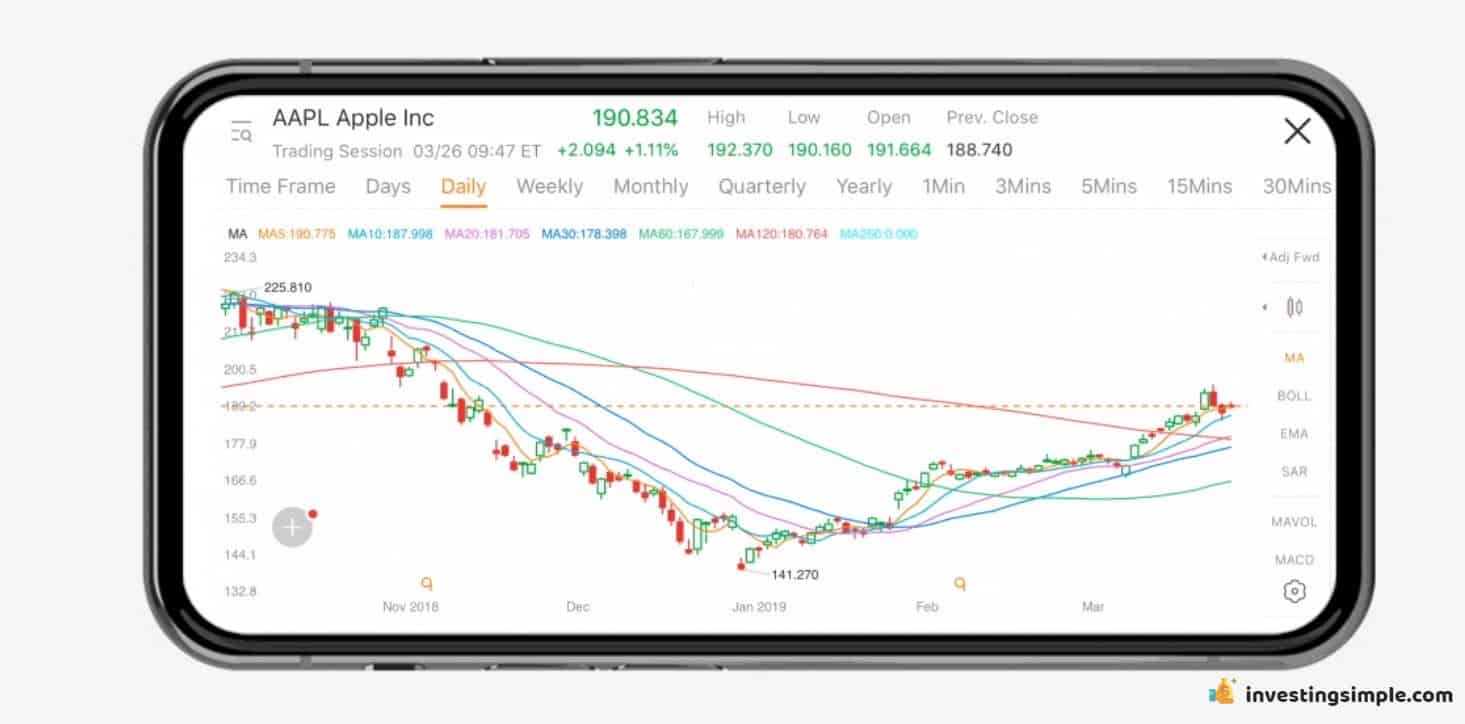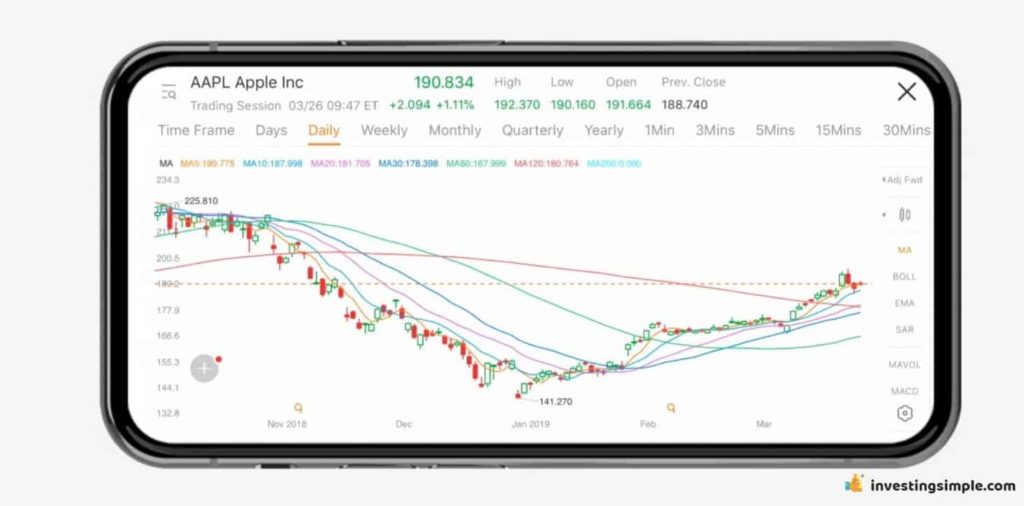 How To Trade Options With Moomoo
Trading options with Moomoo is actually pretty simple.
First, you have to make an account with them. Creating an account with Moomoo only takes a matter of minutes all from your phone.
Once you have an account, you will have the ability to view available options. Within the platform, you will select "Quotes" and then choose a stock you are interested in. After making your selection, you will choose "Options."
Within the options chain, or a listing of all option contracts for a given security, you will see all types currently available. You can browse the various options available or you can select to view calls or puts only.
For each contract, you will see the strike, bid, ask, and price. For example, at the time of writing this article, Apple stock was trading at $134. A call option with a strike price of $131 was available for a price of $6.25. The bid was $6.20 and the ask was $6.30. The bid and the ask indicate the maximum and minimum price a buyer and seller is willing to buy and sell the contract.
Once you select a certain options contract, you will be able to see the same information as well as the expiration date, volume and turnover.
Within the contract, you can also engage with the community of other investors within the app to discuss the selected security.
Placing An Order On Moomoo
When making an options trade on Moomoo, you will need to decide whether you are buying or selling and whether you are looking at puts or calls.
You will also need to pay attention to the strike price, expiration date, and the cost of the options contract.
In order to start trading options on Moomoo, you will need to have settled funds within the platform. Moomoo does not allow options trading with instant deposits.
Trading options follow the same method as trading stocks. First select the order type and input the quantity and price (depending on your order type). Finally, you will simply click buy or sell.


Benefits of Options On Moomoo
Moomoo offers a few different features which make trading options on its platform simple.
Zero Commissions
Moomoo is a commission-free trading platform. Just like with stocks, you can trade options on Moomoo commission-free.
No Contract Fees
Some brokerages charge you additional fees for your options contracts. This is not the case with Moomoo as they offer you contracts completely free of any fees.
The contract itself is not free as purchasing the right to buy or sell an option requires a premium. The benefit with Moomoo is that they do not charge any additional fees on top of standard SEC and FINRA fees.
Real Time Quotes
Many trading platforms have delayed quotes, meaning the share price is not fully updated. With Moomoo, you can be positive that the shown market price is current.
Moomoo Options Review: Final Thoughts
Options trading is not for everyone. They can be especially risky for someone who does not understand how they work. Options have the potential for both greater returns and greater losses as options use leverage. Before getting started with options, it is a great idea to research the topic and understand how it works.
Trading options can be quite lucrative for investors as options provide investors ways to make money in any market scenario. Additionally, with leveraged money, investors can potentially make more than with traditional stock trading.
If you do want to trade options, Moomoo is a great resource as it offers zero commissions and advanced information all within the app.
Best Free Stock Promotions