So at this point, we've all read 'Rich Dad Poor Dad,' or are at least familiar with the cashflow quadrants.
The problem being, is that most side hustles out there will put you in the S category, or Self Employed.
You'll make money while side hustling, but not while you're home asleep for example. Basically, you own a job instead of - or in addition to - working a job.
What you really want is a side hustle that puts you in the B category, or Business Owner.
This is where you own a passive, money-making machine.
Instead of owning a job, you own an operation that makes money 24/7/365.
So we'll be covering 5 side hustles that will put you in this Business Owner quadrant, not the Self Employed one.
This could enable you to make money from anywhere in the world, even from the beach!
Keep on reading for a rundown of each side hustle idea, or watch my YouTube video on this topic below.
Don't forget to grab your free stock worth up to $200 from Robinhood today!
About the Author
Ryan Scribner is the author of From Side Hustle To Main Hustle To Millionaire - a practical guidebook on launching your own side hustle. He is recognized as a Top 100 Money Expert by GoBankingRates.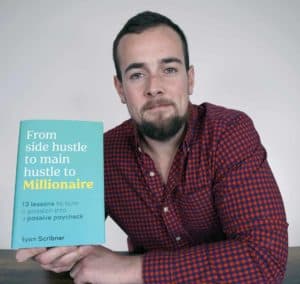 Ryan runs a successful YouTube channel focused on money and investing, which he started in 2016. He also owns a portfolio of digital business, all earning passive recurring revenues.
Now, Ryan teaches others how to create additional income streams.
5. Remote Pet Liaison Service
For this first hustle, we'll be using Google Trends to find the "high income pet cities" across the US. These are affluent areas with lots of interest in pet related services.
But just to be clear, you won't be the one doing the grooming or anything like that. In fact, you don't even have to live in the city you choose.
Search for "dog walker" in Google Trends now.
Scroll down to the Map of the US and then we're gonna switch this to Metro.
Just like that, we have a map of these high income pet loving cities. The darker the blue, the better.

Your goal here is to offer a remote Pet Liaison service in one of these cities.
So instead of having the pet owner handle the communication and logistics with all the different groups, they solely communicate with you. Then, you handle all communication with the pet services.
I'd personally start out with a $19/mo service that includes appointment scheduling and vet record management.
Since most people have two pets, that's $38 per paying client.
But this is just one way to make money from this business. Rich Dad Poor Dad also taught the importance of multiple income streams, so here's another way to make money with this business.
Affiliate/Referral Marketing
As you grow your roster of clients, you'll undoubtedly have pet owners asking you for recommendations on Groomers, Photographers, Dog Walkers etc.
Well, simply get to know the people providing these services in your target market and set up a referral program.
For example, maybe the Groomer gives you 10% of the grooming bill for the clients you directly refer.
And it could be as simple as asking them for a coupon code to share with your customers. Keep in mind, you will need to disclose this referral relationship with your clients.
Let's say you started this business and got 1 customer a week. In one year, you'd have 52 customers paying you $38/mo on average, or $1,976 in MRR.
And let's say 20% of them use your Grooming coupon, or 10 customers.
Well 4 grooming appointments per year at an average cost of $100 means you'd generate $4,000 of business for that groomer. If you earned a 10% commission, that's an additional $400/year.
Repeat this process with all of the pet services in that city, and create multiple passive income streams.
The last component is referral marketing.
You should offer each of your existing customers 1 free month of service per customer they refer to you.
4. Land Hacking
Mark Twain once said "Buy land, they're not making it anymore."
So the average cost of an acre of land in the United States is about $12,000. But depending on the location and amenities, it could cost more.
When it comes to land hacking, there's a few tiers that each have different costs and earnings potential. Let's go from low to high.
Tier 1: Campsite Rentals
Starting off as cheap as possible, you can put cleared land on HipCamp. All you need is access to the sites from the road. It will be a strict carry in, carry out policy.
This will cost you almost nothing, aside from the cost of the land.
You might need to have the land groomed with a Brush Hog a few times a year, but that won't cost much.
Tent sites fetch $10 to $30 a night on HipCamp. Let's say you made 3 of them on your land and charged $20 a night.
Now your occupancy rate is going to vary based on your area. But you can use the site AirDNA to see free short term rental data in your area. Typically, the areas with high occupancy will have higher bookings on HipCamp too.
Let's say you have a 40% occupancy rate across your 3 campsites.
In a 30 day month, that would be 12 days booked per site - or 36 nights booked. At $20 each, you'd be looking at $720 a month.
But this is the lowest-earning scenario.
Tier 2: Vintage Camper Rentals
If you have a bit more to invest, you can make a lot more from your land. Let's say instead of doing tent sites, you did three vintage campers that you put on Airbnb.
At this point, you'd need to bring power to the land and set up a crusher run driveway. And you may want to pour concrete pads for the campers.
So let's say the infrastructure needed costs you $10,000 and the three campers cost you an additional $10,000.
What would the earnings potential be?
On the low end, these will book on Airbnb for $97 a night.
If you had the same 40% occupancy rate across the 3 sites, you'd be looking at $3,492 in Monthly Recurring Revenue.
Tier 3: Tiny Cabin Rentals
But what if you want to earn even more?
Well if you're on a buildable lot, your best bet is tiny homes that are around 400 square feet.
But if you don't have a buildable lot, you can usually get around this with tiny cabins.
This cabin kit will run you about $7,000 after taxes and delivery. But just look at what you'll have afterwards.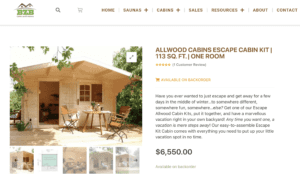 You could easily turn this into a bedroom and rent this out on Airbnb. And you don't need plumbing, as long as you clearly list that there's no water or toilet.
As a side note, an outhouse is a good solution to this problem.
And you could have a well dug in most areas if that is allowed, giving you water.
So let's say each cabin ends up costing you $10,000 after assembly costs.
These will rent for $125 nightly, on average. At the same 40% occupancy rate as before, the trio of cabins would be bringing in $4,500 monthly.
How To Retire From A Land Hack
But how can you retire off an acre of land?
Especially with inflation.
Well one of the many benefits of real estate is the built in inflation protection. During times of high inflation, the cost of both buying and renting real estate goes up.
And this is the case with short term rentals too.
So you could simply invest about $50,000 into a land hack, and generate over a thousand dollars weekly.
Then, you can slowly increase your rates to keep up with inflation.
3. Blue Ocean Affiliate Product Reviews
Niche product review videos can be a very lucrative opportunity, if you're able to find the blue oceans.
You see, most niche's out there are extremely competitive, making them a red ocean.
What you're looking for is a product people buy on Amazon that they also do research about prior to purchase.
And then, of course, you want to find a blue ocean niche.
Examples of the red oceans include tech reviews and make up reviews.
Example 1: Audible Review
So this video I did reviewing Audible in 2019 has been a passive money machine for years.

In 2022, it made me $2,581 in Amazon Affiliate bounties from 453 referrals. But it also made ad revenue too - a total of $636.68 in 2022.
That means this video earned me an average of $8.82 a day for all of 2022 - from a piece of content that's over 3 years old.
Example 2: Blink Camera Review
Ok, one more example so you know this isn't just luck.
I did a review of the Blink Cameras in August of 2022.
Alright, so how much has this video earned me so far in 2023?
In YouTube Ad Revenue, a total of $372.50.
In terms of commissions earned on Blink Cameras, we're looking at $119.96 earned so far.
So this video has earned me an average of $8.35 every single day so far this year.
Watch my Full Video for earnings screenshots from YouTube and Amazon Associates.
How To Get Started With Amazon Associates
Now if you're looking to take action on this, which you should, here's what I'd recommend doing:
Start out with the goal of creating 10 YouTube video reviews on products you already own.
And what you do is simply watch the top ranking video right now, and figure out how you could improve upon it. Usually, it's just by adding more information.
Once you have 10 videos done, apply for the Amazon Associates Program.
Then, you'll be able to link to the products and earn commissions.
Here's a few of my personal recommendations to get started: vacuum cleaners, kitchen appliances, outdoor gear, grills and furniture.
Your goal is to build a portfolio of these videos, all earning you a few dollars a day.
And you may need to redo your best earning videos every 6 months to a year, as these are often the most competitive.
2. Niche Social Media Marketing Agency
I got the idea for this next side hustle while I was listening to music videos on YouTube the other day.
While I was cooking, the next song came on and I started paying attention. And it took me a few seconds to realize I was actually listening to an ad for Nationwide.
It's really creative marketing, as it plays in between songs that sound similar. And this could easily be replicated for literally any business out there.
So here's how you could turn this idea into a niche social media marketing agency model:
Start off by creating your own website that educates potential clients about your "music marketing" service.
Then, you're going to reach out to businesses in your area. Once you land your first client, head over to Voices.com where you can hire a musical artist for the project.
Now this next part is very important. You'll want to sign an agreement with your talent that makes you the owner of the content and the copyright holder. Because you're actually going to license the ad to your client instead of simply handing it over to them.
If you give them the ad your agency creates, they could run with it on their own and cut you out of the deal.
If you license it to them on a 3, 6 or 12 month term, you are in complete control.
So with this model, you have a minimum of two income streams:
The first is the monthly rate you get paid for managing the ad campaign and sending reports. Your client pays the ad spend directly.
And the second way you get paid is the licensing fee paid for using the ad you created.
Example
Let's say you had a local insurance company interested in your service. I'd personally charge $997 a month to manage the ad campaign with a 6 month minimum contract.
Then let's say you spend about $1,000 hiring out the songwriting process where the final product is a video of the artist singing the jingle.
After signing the right agreements with your talent, you could then license that to your client.
I'd personally charge $2,500 for 3 months, $4,500 for 6 months and $8,000 for 12 months.
Then, rinse and repeat this strategy, using your first client as a case study for your agency.
1. $0 Web Design
This last idea is another fully digital hustle to build a roster of clients paying you a passive monthly subscription payment. And that is, offering a $0 web design business.
You see, when it comes to earning a monthly recurring payment, the B2B play is the holy grail.
That is because business owners are likely to keep paying for the service so long as they remain in business.
What you'll be offering is a free website design, but it's gonna come with a 6 month contract at $99 per month. And this fee is paid to you for the ongoing hosting, backups, domain cost and 1 monthly update via email.
The $0 web design is really a marketing strategy to get tons of leads.
They are really paying for it over the course of those 6 months, but if your customers are happy, many will keep the service.
As far as the actual web design, you can do it yourself by learning WordPress, or you could hire this out to someone else. You can also host multiple websites under one web host account through many providers, so your actual monthly cost won't be much.
I'd personally recommend offering these three different tiers to get started:
Tier 1 is $99 a month, and this gets you a free website design, website backups, hosting, a domain and 1 update monthly by email.
Tier 2 is $199 a month, and this gets you everything listed above as well as 1 targeted SEO article a month. You could write it yourself, leverage AI or hire it out.
And Tier 3 would be $299 a month, including everything mentioned so far - as well as 1 email per month to the email list you help them create. Once again, you could outsource content or do it yourself.
From here, you simply grow your roster of clients and think of other tiers - all offering more services to your clients.
And it could simply be more of the same thing, such as emails or blog posts.
Final Thoughts
Above all else, what I have to stress with all of these business models is that you need to focus on the long term earnings potential.
Imagine if you just kept on growing and scaling any of the ideas on this list.
You could be a millionaire within 5 years, earning tens of thousands in passive recurring revenue monthly.
For the 1% who are ready to take their side hustle journey a bit more seriously, I wrote a book about side hustles.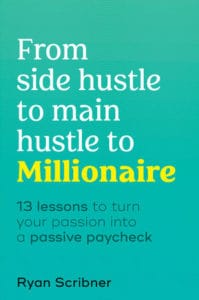 It covers all phases of the side hustle journey, and you get access to a members only discord where you can ask me questions along the way.
And you can grab a copy in person at most Barnes and Noble stores across the United states, or it's right on Amazon.
So grab a copy today and let's get started on your side hustle journey together!