The term 'investing' has long meant stocks and bonds. Most investors find that their portfolios are made up of stocks, bonds, and in some cases, real estate investments like a rental property.
Alternative investments, however, have been rising in popularity as of late. The term alternative investments really refers to any investment outside of stocks and bonds. This includes investments like private credit, art, wine, precious metals, cryptocurrency, commercial real estate and more. 
Today, the ability to invest in some of these alternative investments has never been easier. 
The appeal of alternative investments is most commonly diversification. Most investors know they ought to diversify their stock portfolio among companies across multiple sectors. This helps reduce the risk should a particular company or particular sector face a downturn. Now, many financial experts also recommend diversifying across multiple asset classes. 
Alternative investments provide investors with an additional layer of diversification as they are not highly correlated with the stock market. Some alternative investments, like private credit, can also feature steady returns with lower volatility.  
In this article, we dive deeper into private credit. Specifically, we provide a complete Percent review, which is a company dedicated to making private credit easier to access. Let's get started!
What Is Percent?

Percent was founded in 2018, formerly known as Cadence. In 2021, the company rebranded under the name Percent. 
The company was founded on the belief that alternative investments, such as private credit, should be more transparent and accessible by everyday investors. 
Percent focuses on bringing private credit deals to accredited investors. As of March 31, 2023, they have successfully funded just under 400 structured products while raising over $771 million dollars for their borrowers. Their track record speaks for itself. As of March 31, 2023, the company has achieved a 15.94% current weighted average APY for investors. Of the funded deals, 341 have reached maturity and have been completely repaid with a 1.95% loss rate. The company has paid over $27 million dollars in interest payments to investors. 
What is Private Credit?
Private credit is an asset class of non-bank loans or debt financing. It is common for small businesses, startups, and more mature companies to seek out private credit when they cannot get access to regular debt instruments. 
As an asset class, private credit is roughly a $7 trillion market. Access to these investments has typically been reserved for institutional investors. Now, with Percent, this market is open to accredited investors. 
Private credit has long been a coveted investment due to its low correlation to the stock market. Even when the market is down, private credit, especially those that are asset-backed, may  provide predictable, stable returns. 
Another reason why investors like private credit is because it is typically a shorter term investment. With Percent, the average deal has a maturity date of around 9 months. With most alternative investments such as farmland or wine, the investment time horizon is 5+ years. 
How Does Percent Work?
With Percent, individuals can sign up for a free account and begin browsing deals. 
Before participating in an investment offering, you will need to fund your account. You can do so through an ACH deposit by linking a bank account or wire. In order to fund your account, you will need to verify accredited investor status first. 
Each deal presented to investors undergoes due diligence and risk management by underwriters on the Percent platform. This process often includes a detailed review of the borrower and their ability to pay back a loan. 
Each offering comes with extensive details that the investor can review. This includes risks and mitigants, asset exposure, borrower information, and more. 
Offering Example
If you decide that you want to invest in a particular deal, then you request participation in the deal. This request includes your desired investment amount, minimum investment amount, and desired return. 
For example, in the investment opportunity below, the projected APY is 15% to 19% with a minimum investment of $500 over a 9 month period. The borrower in this deal is looking for a private loan of $20 million. 
Suppose you request to invest $10,000. Your requested investment amount will be filled as best as possible, but there may be times of excess demand where this will not be possible. In this case, the minimum investment request can be used to ensure an investment is made at an acceptable amount.And finally, you can put in your desired APY. Because this deal's projected APY is 15% to 19%, you could select an APY in that range. Selecting a higher APY could impact the likelihood of you receiving an allocation of the deal should it be oversubscribed. 
Many deals are funded quickly and have excess demand. Because of that, Percent may not be able to let all investors participate. 
Once a deal matures, the full principal will be added back to your account balance, along with interest you earned, according to the deal's payment terms. From there, investors can either roll the funds into another deal or start a withdrawal.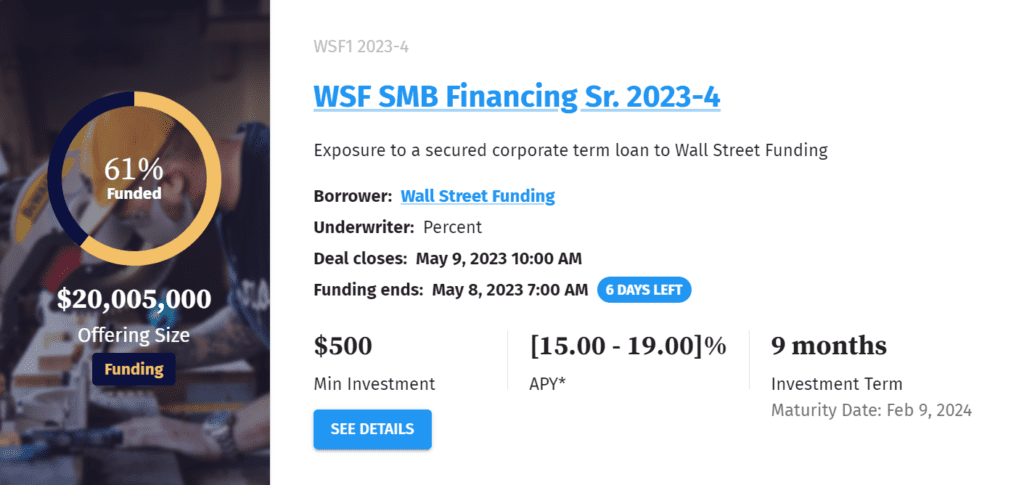 What Are The Fees and Minimum Investment?
For investors, there are no fees to use the platform as of April 2023. This is not common among investment platforms today. However, Percent does charge a 1% management fee for its blended notes product, which offers exposure to multiple eligible deals on the platform through a single investment. 
In the future, Percent will begin charging fees on its individual notes charging 10% of the stated interest rate, collected from distributions. 
Additionally, Percent also has a low minimum of just $500, which further reduces the barrier to entry. 
Who is Eligible?
At this time, the platform is open to accredited investors with a U.S. bank account. 
Why Invest With Percent?
Investing with Percent gives investors the unique opportunity to invest in debt instruments. Unlike other investments that are susceptible to market fluctuations, private credit shares a low correlation to the stock market. 
This can provide investors with a steady and consistent return. 
Additionally, Percent does all the upfront legwork to find and vet deals. Investors then have the ability to browse and find deals that make sense for them. 
Two of the best parts? No current fees on individual notes and low minimums. 
And finally, most investments have a long term holding requirement. With Percent and private credit, the average deal is structured as a 9 month holding period. 
Is Percent A Safe Platform?
Investing is all about growing wealth. Paramount to that goal is managing risk. Investments on Percent are high risk, but the company supports investors' due diligence and risk management, with access to underlying documentation provided by borrowers and underwriters. 
With Percent, all non-invested deposits are FDIC insured up to $250,000. Funds deposited into the Percent platform are held with partner banks. 
Percent also uses Special Purpose Vehicles (SPVs) to offer an additional layer of security. These SPVs are bankruptcy-remote legal entities that are solely created to service every investment on our platform. If Percent were forced to suspend its operations, a third party administrator has been lined up to continue servicing an investment until the opportunity matures and the principal and distributions are paid.
Pros
Access to private credit

High degree of transparency

Low minimum of $500

Low average holding period of 9 months
Cons
Available to accredited investors only at this time

Deals have high demand and thus may be oversubscribed resulting in an investor not being able to participate or have their allocation downsized to their minimum preferred investment amount
Percent Review: Final Thoughts
Investing for the future is actually pretty simple today. Online platforms have made the process far simpler than in years past. In fact, today, investors may have more difficulty choosing an investment due to the wide array of options. 
For investors looking for opportunities outside of traditional investments like stocks and bonds, Percent may be the answer. 
Alternative investments have long been reserved for institutional investors. Today, they are becoming increasingly more accessible. Percent is an online platform focused on making alternative investing easier. 
Percent sources private credit deals with high degree of transparency, short hold times, and low minimums.
To learn more, be sure to check out their website! Signing up for an account is quick and easy. Before ever funding your account, you can browse deals to see if the platform makes sense to you.