There are plenty of investing apps out there offering commission-free trading and ways to buy fractional shares. But how many make it a social experience?
Whether you're a newb to investing or have been in the game for a few years, it always helps to talk strategy, compare notes, and glean insight from your peers (or even your role models!)
Conversely, you can offer hopefully helpful advice to other fledgling investors who are on the fence when it comes to taking the plunge.
Public is a mobile phone brokerage app that's been around a while but was recently renamed. Formerly known as Matador, it was founded in 2019 but rebranded two years later.
The new name fits the platform, since it sets out to bring investing to the masses, not hold it secretively among only the elite upper echelon. Because when it comes right down to it, sharing collective experiences benefits all investors, large and small.
Here's our full review of Public.
What Is Public?
Public is a mobile app-based brokerage platform offering people the avenue to buy and sell shares with zero commissions on their end.
They offer fractional investing, a trendy term also known as micro-investing. This means you can buy small amounts of a stock or ETF without paying the minimum price for a single share. Instead, you buy a piece of one share.
Public calls these micro-shares "slices," and like cake or pie they are neither too large nor too small: they can be just right for you.
By slicing stock shares into smaller units, Public makes them less daunting to purchase and also easier on the wallet. Instead of paying by the share, you pay by the dollar.
Public App
Pricing

Beginner Friendly

Account Types

Sign Up Incentive

Social Investing

Research/Data Tools
Summary
Public is a great commission free brokerage app for beginners. The app is very simple, and the fractional stock slices make it so anyone can invest. It aims to make investing a social experience, with a built in investing community. If you sign up with them, you get a free $5 stock slice too!
Pros
Free $5 stock slice when you sign up
No trading commissions
Social investing
Choose from 30+ themes or individual stocks
Cons
Limited asset selection
No retirement accounts
Limited research tools
Community Investing
As an investor (even with only one slice!) with Public, the door is open to you to engage with other traders to see what's working for them, and what isn't.
Public calls this a community of investors, and there is no particular demographic. Some are just starting out, dipping their toes in the water with a few conservative trades. Others may be risk-takers juggling a diverse portfolio. And others could be people actually working in the industry that are considered to be experts.
You can jump in on a discussion, direct message people, or build a group chat of your own. However you assemble your community, you can follow other traders and watch the financial maneuvers they are making.
Convos may focus on how a particular stock is performing, risk strategies or even the weather forecast! Generally, however, you should probably focus your comments on the stock market.
Since these chats were designed with investors in mind, you can even embed charts and graphs into your discussion.
Beginner Friendly Investing
Public's mobile platform is truly made for beginners.
It is visually simple to understand. You can look at your account balances, investments and watchlists with the tap of a button.
There's practically no learning curve when it comes to getting used to Public's mobile platform. You can also take a look at who on your feed owns or watches the stock, as well as earnings data and stats like dividend yield, market cap and volume.


What's Your Groove?
When you are ready to start micro-investing with Public, you can choose from either preloaded themes or picking individual stocks that look like good bets to you.
The themes may be a good way to start out.
Public themes are carefully crafted lists designed to let you discover new companies and support those with missions in line with your own. In other words, here's your chance to make a difference in the world.
There are more than 30 different themes ranging from environmentally sound initiatives to companies owned by women.
Here is a sampling of themes:
Self-driving Cars: Includes companies such as Uber, Intel, IBM, Google and Micron Technology.
Alternative/Green Power: Features companies including First Solar, Canadian Solar, Next Era Energy, Brookfield Renewable Partners.
Meatless Revolution: Includes companies such as Beyond Meat, Hain Celestial, Conagra, United Natural Foods and Ingredion.
Recycle, Reuse and Reduce: Federal Signal, Clean Harbors, Waste Connections, Republic Services.
In The Water: Such as New York Water, Aqua America and Advanced Drainage Systems.
Customer Service
Public has a customer support team available to guide you through any additional questions you may have. This support comes at no charge to you. However, with just two brick-and-mortar locations (Copenhagen and NY), it can be difficult to access a live person.
Some of the info you may be looking for can be found in the educational articles and FAQs on the website.
The FAQ section is a primer on how to use the platform efficiently, detailing the ins-and-outs of topics like funding, spreads, tracking results, transferring a current account over to Public and understanding a variety of company profiles.
There's also an education center, with a plethora of articles on topics pertaining to the stock market as a whole. You can glean inside info on more advanced topics, all explained in ways the average Joe can understand, rather than being overwhelmed by technical jargon.
The Public watchlist is a great way to track companies that catch your eye and see the latest news about them, how they're trading and how they are anticipated to trend in the near future.
Free Stocks
When you open a Public account on the mobile app, they will give you $5 worth of any one stock.
Also, people who invite friends that open accounts will qualify for additional free (fractional) shares of stocks valued at up to $50. Bonus: You get to pick the stock for your buddy.
Accounts can generally be created by any U.S. resident over the age of 18.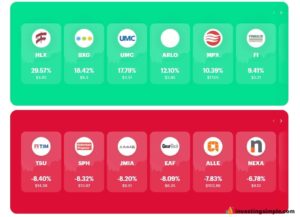 How Do They Make Money?
Since they are not making money on commissions, how does Public stay afloat?
Securities Lending
There are some people whose investment strategy includes shorting stock.
Short selling simply means that someone will borrow stock in order to sell it at the current market price, with the goal of buying it back at a lower price and returning the borrowed shares to the lender.
The Public clearing house is connected to a network of these types of investors and can lend out stock to them to short, which generates revenue for them. Also, Public's clearing house is allowed to lend your securities to other correspondents, and they earn money on that through lending rebates.
Interest on Cash Balances
Public earns interest on uninvested cash balances. The current interest rate as set by the Federal Reserve is 0.2%.
Smart Order Routing
They also make money through smart order routing.
Its clearing firm directs investor's orders to order routing destinations, and on certain transactions, Public receives a rebate. However, it is important to note the clearing firm must always seek the best price for your order, regardless of any potential rebate.
No Subscription Fees
Currently, Public does not have any paid-for premium features, but company literature states new products are underway as they continue to move the platform forward, and some of these could carry a subscription fee.
What's In, What's Not
Public brokerage app offers trading in these investing venues:
The following assets are not yet available:
Options
Futures
Forex
Bonds
Cryptocurrencies
Public Pros
Fractional investing
Social networking built in
Zero trade commissions
Free $5 stock slice when you sign up
Public Cons
Limited investment options
No vehicles for retirement savings
Best for small investors or people just starting out
Public wants people to know they can get a slice of the investment pie without breaking the bank (or selling all their stuff on e-Bay).
You don't need more than a couple bucks.  You can buy micro-shares, chit-chat with other investors and put your money where your mouth is by investing in companies whose ethics and goals mirror your own. It's a solid start to your investing future.