Well, it's true that the only two certainties in life are death and taxes. When it comes to taxes, unfortunately, the Public App is no exception.
Public, the brokerage account that has popularized social media investing wants you to be prepared to pay up whenever Uncle Sam comes knocking. That's why Public has provided ample amounts of education and a capital gains tax calculator to help you estimate your tax burden.
While Public is known for its user-friendly interface and social media themed-trading, understanding your tax liability after jumping into investing can be a bit tricky.
Let's dive in and discover exactly how you'll pay taxes after trading on Public.
Offer valid for U.S. residents 18+ and subject to account approval. See Public.com/disclosures/.
What is the Public App?
Public, as mentioned above, makes a name for itself in the crowded investing space by focusing on social media. The company acts like a Facebook or Instagram feed showing recent stock moves made by other users. Investors can like and comment on the moves made by others and even create private chat groups to hash out new investment ideas and tell investing war stories.
Account Features
Public provides an innovative platform and offers commission-free trading and no account minimums.
While there are standard fees that are charged by governing bodies such as the SEC, the Public App will never charge you a dime for using their platform.
In addition, new users have nothing to fear as there are no account minimums and yes, there are fractional shares. This means that no matter how much or how little money a user has saved up, they can invest like the big dogs and buy shares of practically whoever they want.
Public offers +5,000 stocks and ETFs that are available for its large and growing user base. While this app is easy to use, some more skilled and advanced traders might shy away because of the lack of company information. Public does offer trends and company history, but no technical analyses or in-depth studies.
For an in depth review, be sure to check out our full Public Review.
Public App Taxes Explained
Just like with every brokerage firms, yes, even the expensive ones, users are required to file taxes based on their activity on the platform.
Before signing up to trade on the platform, users will provide their personal information such as name, address, and social security number. This allows Public to keep records and report back to governing agencies.
Once a calendar year has concluded, Public will provide each investor a statement on how their investments performed. Within these documents are simple calculations that show how much you gained or lost in the prior year.
According to the IRS, you will be responsible to pay capital gains tax on your gains and not on your losses. It will be the responsibility of you, the user, to report these numbers to the IRS when you file your personal taxes.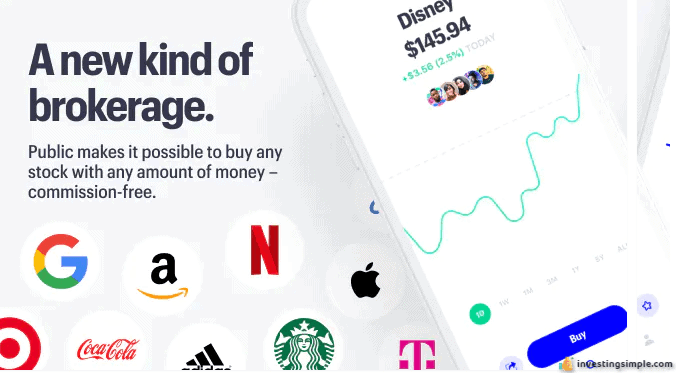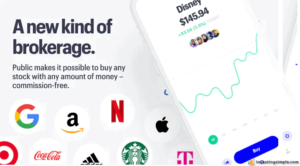 Capital Gains or Losses
The formula to calculate what your total capital gains or losses is fairly straightforward. Simply take the price at which you sold the stock and subtract from it the price at which you purchased the stock. If that remaining number is positive, then you will owe capital gains tax. If that number is negative, then you might be able to benefit from that loss against your tax burden.
Now, the actual amount you may owe is a little more difficult. That's because of two variations of capital gains, short-term, and long-term.
Short-Term Capital Gains
If you are involved in day trading, swing trading, or frequent moves in the stock market, you are most likely subject to short-term capital gains. This refers to any profit you make from buying and selling a stock within one year.
As governing bodies favor long-term investing, short-term capital gains taxes are usually at a higher percent than long-term. This higher percentage is simply the same as your ordinary income tax rate. So, if you bring home a significant salary, you will need to remember your revenue made from short-term capital gains will be taxed just like additional income from your job.
Long-Term Capital Gains
Long-term capital gains taxes are much more favorable for investors and are absolutely preferred to short-term taxes. The reason for this is simple. The IRS wants to incentivize investors to buy and hold as opposed to getting in and out quickly.
Long-term capital gains taxes are the opposite of short-term. You are taxed on any increase to your portfolio made after a sale of a stock that you have owned for more than a year. The long-term capital gains tax rate is either 0%, 15%, or 20% as of 2020, depending on your overall total income.
Capital Losses
Though always a bitter pill to swallow, there is a silver lining when you incur a capital loss. A capital loss happens when the price you sold a stock at is lower than the price you purchased it at. Simply put, you lost money.
The amount of money you lost on that stock, however, could play to your benefit if you are expecting a heavy tax burden.
Currently, you may deduct up to $3,000 worth of capital losses from your income or your capital gains. If your losses are greater than $3,000 (fingers crossed they aren't) then you can carry forward the remaining losses toward future years.
While we never recommend losing money on an investment, we will say that the ability to deduct your losses from your income makes losing money feel somewhat better.
Conclusion: Public Taxes
Public is an impressive app built around what we all love, social media. But just like with every other brokerage firm, you are required to pay taxes on your gains. If you do expect some tax liability, be sure to give the capital gains tax calculator a whirl on Public's website. It is a great resource if you are looking to get ahead of the game on your taxes.
As a simple reminder, it is your responsibility to file the correct amount of taxes owed to the IRS come tax time. Do not put this off. Public has made it easy to do and will provide you guidance along the way.
Best Free Stock Promotions