Investing In Crowdfunded Real Estate Platforms
Investing Simple is affiliated with Fundrise and Realty Mogul. This relationship does not influence our opinion of these platforms.
Gone are the days when venturing into real estate meant scouring MLS listings, driving by properties, comparing mortgage rates and saving every dollar you can for a down payment. Now, you can invest in real estate projects available at your fingertips through crowdfunded real estate platforms!
As it turns out, being part of the crowd can be a good thing when it comes to real estate investment. There are so many reasons to love the notion of crowdfunding. But first, if you've been living under a rock and haven't heard of it, here's an overview.
What Is Crowdfunding?
Back in the day, buying into the real estate market was an exercise in which one person – or a couple – plunked down large sums of money. Crowdfunding is the polar opposite: it's large numbers of people laying out small sums of money.
Crowdfunding is the use of small amounts of capital from a large number of individuals to finance a new business venture. In this case, that new business venture is in real estate.
Crowdfunding makes use of the easy accessibility of vast networks of people through social media sites like Facebook and Twitter, as well as crowdfunding websites. That's right. You can shop for real estate deals from the comfort of your own couch.
It's imperative for crowdfunding platforms to be run by experts who've done their homework. The ventures offered are thoroughly researched and given stamps of approval from real estate gurus, so any of the projects you choose to buy into are far from a shot in the dark. Beyond that, these crowdfunded real estate platforms are required to file with the SEC on a regular basis, ensuring investors are protected.
Crowdfunding is a way for business owners to raise money, not by asking one investor for a huge investment, but by reaching out to a large pool of investors who each contribute a small amount of money. A key difference between crowdfunding and more traditional methods of raising money, is in the platform used, as crowdfunding is usually done online.
Along with crowdfunding websites, business owners turn to social media platforms such as Facebook or Twitter to market their ventures directly to wider audiences of interested investors, whether that means they have $500 or $50,000 (or more) to throw into the pot.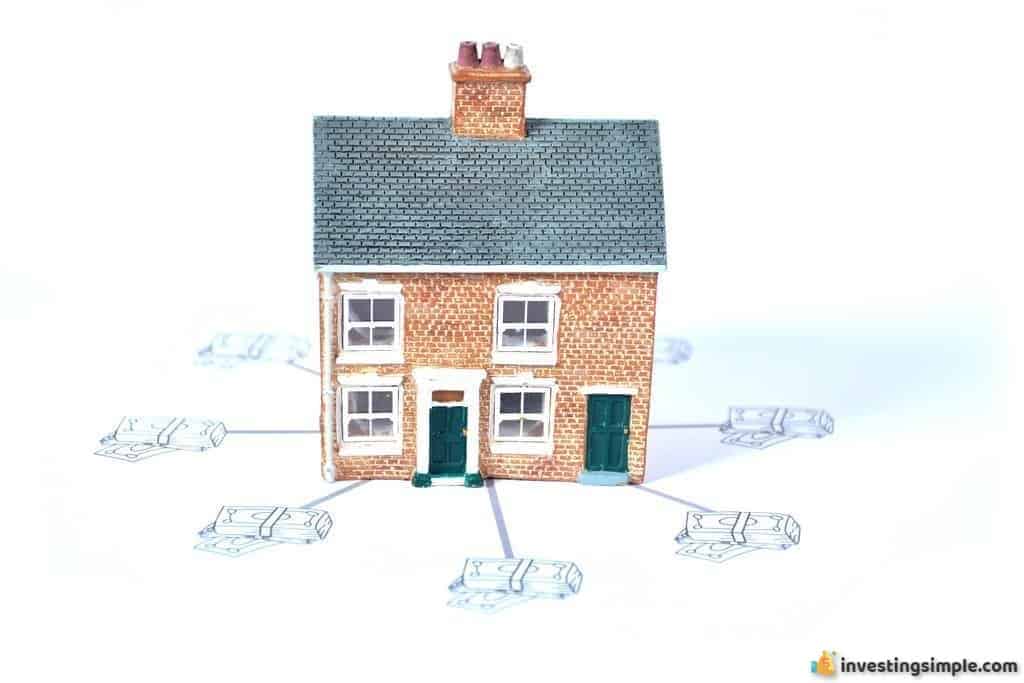 Real Estate Crowdfunding
Real estate investors have adopted crowdfunding as an alternative to more traditional means of financing investments. For example, large developers are using crowdfunding platforms to solicit investments from groups of investors, while small business owners have launched campaigns to raise funds for smaller investment deals.
It's investing 101 to know you need a diverse portfolio to better your return on investments. Experts know people have to find a way to expand their portfolio beyond the stock market. In the past, this has often meant buying a home, or becoming a landlord, through a private real estate venture.
Hence, the need to look at realty sites, go to open houses, and pay realtor's fees. The problem is, not everyone wants to be a landlord or a property owner. The only other way to get access to real estate for many was investing in a REIT or real estate investment trust. This is essentially real estate portfolios that are broken up into shares that trade on the major stock exchanges.
Here's the problem with a REIT; they typically trade on public exchanges. As a result, they are almost directly correlated with the overall stock market. When markets go up, so do the REITs. When markets go down, guess what, so do the REITs! This essentially defeats the purpose of diversification.
Private Real Estate Investing
Historically, the private real estate market has been out of reach by the small-time investors who don't have pockets deep enough to pull out hundreds of thousands to put into a deal. But with its potential for high returns, a consistent flow of passive income, and the myriad array of tax advantages, more and more young people have been looking to become property owners.
Not only do you NOT need to be rolling in money to buy into real estate through crowdfunding; you also don't need to be an expert in real estate management. You certainly don't need to hire a property manager either! The projects are run by teams of experts. Your only task is checking your earnings statements, and deciding which project you wish to buy into next.
Some platforms allow you to pick and choose projects to invest in, which is a more active approach to this type of investment. Other platforms offer a passive investing approach. They build portfolios around certain investment objectives. For example, you could find a growth or income oriented portfolio being offered.
Active investors are empowered with an open-ended opportunity to analyze each potential deal and make up their own minds about whether to invest or move on to another opportunity. Oh, the joy of online shopping! Passive investors let the real estate experts do the leg work for them.
If you can invest in a proven asset class over the long term without having to deal with all the hassles of owning property, that's a big win in any book.
Investing In Real Estate
Real estate investing is a strategic way to diversify your portfolio while creating a secondary income stream. But historically, participating in private real estate deals was all about who you knew….real estate crowdfunding has changed things in a big way.
Real estate crowdfunding involves the pooling of funds by multiple investors in a real estate project. There are two main investment types to choose from:
1. Equity Investments
Investors make investments in commercial or residential properties and in exchange, they hold an equity stake in the property. Each investor shares in a portion of the rental income the property generates. Most of the returns through equity investments are recognized through asset appreciation. The idea is to buy a real estate property in a hot market, make upgrades and flip it!
2. Debt Investments
This is investing in a mortgage loan associated with a particular property. As the loan is repaid, the investor receives a share of the interest. Real estate assets that provide cash flow are purchased, and in some cases improvements are made. After that, returns are realized through interest payments to the investors.
Between the two, equity investments offer the potential for bigger returns because the profitability of debt investments is limited by the loan's interest rate. On the other hand, equity investments are riskier and they typically require a longer holding period. Most investors like to have a blend of debt and equity investments within their real estate investment portfolio.
Advantages Of Crowdfunded Real Estate Investing
Compared to buying and managing a rental property, real estate crowdfunding offers clear advantages, including:
Increased information at your finger tips. Both Fundrise and Realty Mogul thoroughly research each deal beforehand so that investors have as much information as possible to aid in decision-making.
Accessibility. Traditionally, investing in private real estate mean bringing tens of thousands of dollars to the table to participate. With real estate crowdfunding, the bar is much lower.
Diversification. Between debt and equity investments in both commercial and residential properties, small-time investors can get a leg up on an entirely new asset class.
Tax benefits. Real estate crowdfunding allows investors to benefit from certain tax breaks, such as depreciation, that normally apply to owning an investment property.
Fundrise Crowdfunding Platform
One of the most visible crowdfunding U.S. real estate venues is Fundrise.
Founded in 2010, Fundrise was the first simple, low-cost real estate investment platform. Now, whether you're starting with $500 or $5 million, you can invest your money according to your goals. Yes, you read that right; the starter portfolio in Fundrise gets you into the game with a $500 investment.
You can read our Fundrise review here!
The cumulative funds have been used to invest in real estate crowdfunded projects including everything from commercial office space to multi-family condominium complexes across the country. Fundrise offers a passive approach to investing in crowdfunded real estate. There are four main portfolios to choose from.
Here are some benefits of investing with Fundrise:
Company investors launch fund deals with their own capital, showing commitment and confidence in their deals.
Low minimum investment compared to up to $10,000 for other platforms.
One of the longest track records in the industry.
It is visible and successful, with over $50 million raised so far.
They are scrupulous in reviewing and locating high-quality deals. In fact, they only approve about 2 percent of deals that come their way.
Allows novice investors to diversify into commercial real estate deals previously only dreamed about by everyday investors.
Click here to invest with Fundrise!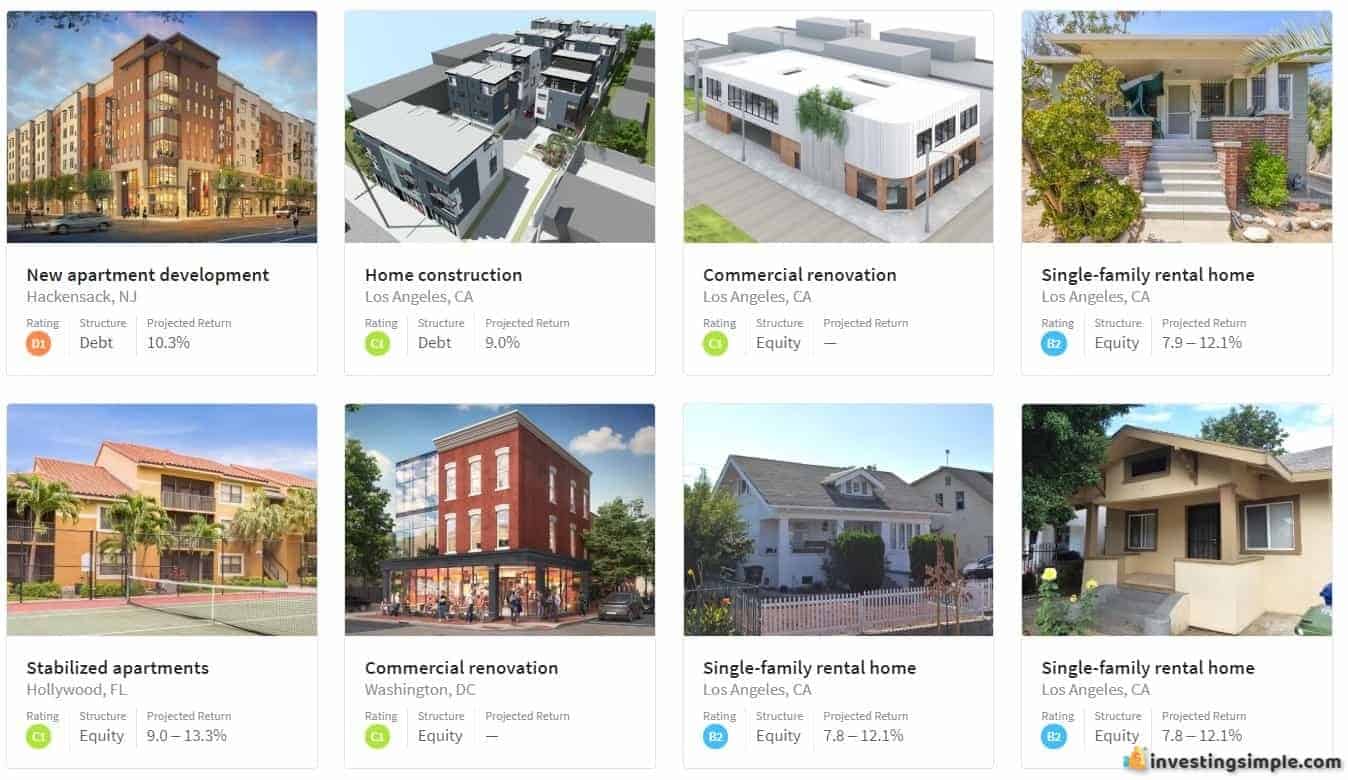 Realty Mogul Crowdfunding Platform
Founded in 2013, Realty Mogul is praised at being transparent with their deal flow data, even including a detailed statistics section on their website.
Realty Mogul enables investors to participate in a wide range of real estate investments across the country, many of which are commercial deals that are often times in the tens of millions of dollars range and traditionally out of reach for the average investor.
Realty Mogul is one of the largest real estate crowdfunding platforms today with over $500 million raised on its platform since its founding in 2012 from most accredited investors.
Both Realty Mogul and Fundrise experts do their homework before opportunities become available to investors. The opportunity needs to look like a home run before it becomes available. Realty Mogul's platform allows investors to thoroughly analyze a deal with the research provided. An investor can view pictures, videos, and even ask the sponsors questions before making an investment.
Here is our comparison review between Fundrise vs Realty Mogul.
As with every new venture, there are certain caveats, and we don't encourage you to rush in without doing your own homework.
Click here to invest with Realty Mogul!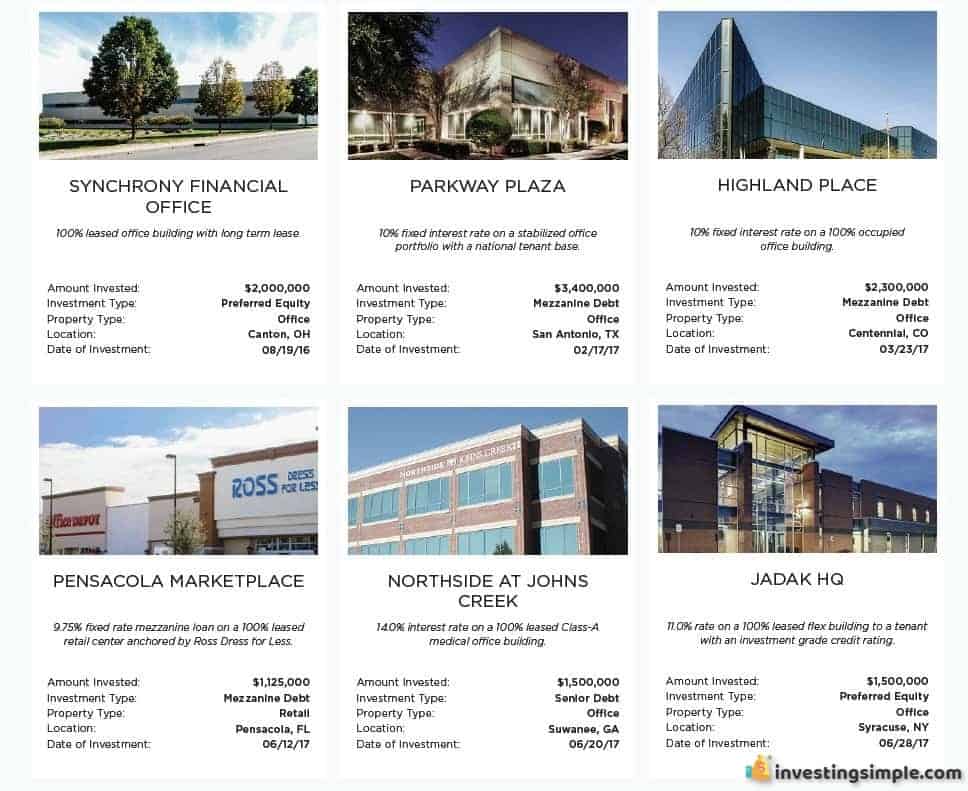 Crowdfunded Real Estate Investing For Beginner's
As with any new venture, investors should perform their own due diligence. Here are some valuable tips for making sure that your real estate crowdfunding venture turns out to be a wise choice, not a big flop.
1. Choose your platform wisely.
Every real estate crowdfunding platform is different and some may be a better fit for your needs than others. Researching the various platforms to identify their strengths and weaknesses is an important first step for investors. Some platforms are for active investors, as they allow you to select individual projects to invest in. Others are more passive, offering a number of prebuilt portfolios.
2. Keep an eye on liquidity.
Real estate has very different liquidity schedules as well as unique return profiles for every single individual investment. Understanding how long you stand to be locked into a deal is paramount when making investment decisions. Fundrise, for example, recommends that you have a minimum 5 year time horizon with your investment. If you are not looking to tie your cash up for that long, this is not the investment for you.
3. Don't overlook risk.
Investing in real estate is a good way to diversify your holdings, but it also expands your risk as well. Weighing the potential returns against the projected risk can help you determine what's the best choice for your financial goals. As good as the returns have been for some of these crowdfunded real estate platforms, it has been in a short period of time. We don't have a lot of operating history to go off of here.