There is nothing more important than securing an additional income stream before a recession.
And there are some side hustles out there that actually blossom during a recession. That makes this, quite literally, the perfect time to start one of these.
Let's dive into 4 side hustles you can start now that have the potential to make you $100,000 or more in the upcoming recession.
Keep reading below, or check out my YouTube video.
Don't forget to grab your free stock worth up to $200 from Robinhood today!
About the Author
Ryan Scribner is the author of From Side Hustle To Main Hustle To Millionaire - a practical guidebook on launching your own side hustle. He is recognized as a Top 100 Money Expert by GoBankingRates.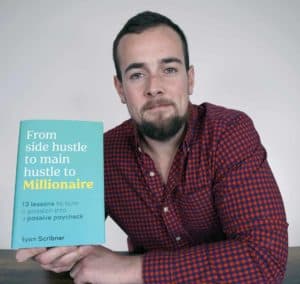 Ryan runs a successful YouTube channel focused on money and investing, which he started in 2016. He also owns a portfolio of digital business, all earning passive recurring revenues.
Now, Ryan teaches others how to create additional income streams.
1. Home Staging
Before rates went through the roof, houses were selling lightning fast.
Now, it often takes months of marketing and showings to get an offer. This is especially true in high-end luxury markets.
There are hundreds of thousands of people sitting on listings right now, scared about the future uncertainty.
So let me tell you about how the home staging hustle works.
There's usually two options:
The first option is to pay an upfront cost for the home staging, and then the furniture is removed after the sale. The cost here ranges from about $3,000 to $5,500.
The second option is to pay the home stager an upfront fee, and then a monthly rate until the house is sold. This is usually about $1,000 upfront and then around $500 a month ongoing.
But how do you get the money to start this business? From your first client!
The good news is, you only need to buy your staging furniture once - then you can use it forever.
So if you wanna start this side hustle, reach out to home sellers in your area with empty homes for sale. Then, offer a home staging service for about $2,500.
Once you get your first paying client, you can purchase your staging furniture as well as insurance and anything else you might need.
2. Flip Luxury Goods
Now if you don't wanna move furniture around all day, this next side hustle may be for you.
During the pandemic, most Americans received stimulus checks - and a vast majority spent them.
However, now that times are getting tough, a lot of people are unloading the jewelry, handbags, shoes or watches that were purchased.
So this side hustle involves focusing on one niche product within the luxury goods market and then flipping or reselling these items.
Let's say you have someone who has a Louis Vuitton handbag and they need to make rent by the end of the week. While they could list it on eBay and get top dollar, they won't be able to get the money in time.
Someone like that might be totally open to selling that handbag at 15 to 30% below market value, simply because of the urgency. You could then sell it for market value on eBay, and make a nice profit even after fees.
If done correctly, you can make about a 20% return per flip. And the higher the dollar value of the item, the higher the profit.
Now I do have to mention, you need to be extremely careful with counterfeit goods and things like that.
Because buying one fake Rolex could put you under. That's why you need to pick one specific niche and know it like the back of your hand.
3. Towing
During a strong economy, tow truck drivers spend most of their time taking care of cars in ditches, flat tires and things like that.
However, in a bad economy, they often switch gears into repossessions. That is because there are millions of people who are behind on their vehicle payments.
If you want to get started in the repo business, the first thing you need to do is look into your State's laws surrounding repossessions. In most cases, there's permits and licenses that are needed. There's also insurance requirements too.
From here, you'll need a tow truck - and you have two options:
You can buy one outright for around $50,000 to $100,000.
Or, you could rent one for your business.
But how much money is there to be made in repossessions?
For an involuntary repo, where you basically show up and take the vehicle, these pay $400 to $500 or more per vehicle.
Most repo men grab about 4 to 5 vehicles a week, but in a recession, that could be much higher.
4. Buy A Business
Assets like stocks and real estate have come down in value from the pandemic highs. The exact same thing is true for businesses.
If you're looking for a digital business, you can find listings on sites like Empire Flippers, Flippa and more.
LoopNet and BizBuySell are marketplaces for real world businesses.
If you're already established with a business, a recession can be a great time to buy out your competition and expand cheaply.
What I would recommend doing is making offers on these businesses that you think could legitimately insult the seller. I'm talking serious low ball offers.
If you make 10 offers like this, all you need is 1 person to say yes - and you could get the deal of a lifetime on a business.
With all that being said, please take time to do thorough due diligence, use an escrow agent and hire an attorney for the transaction if you do this.
Lastly, don't buy a business you don't know how to operate, as that's a recipe for disaster.
Final Thoughts
In order to quit your job, what you need to do is replace your income.
It's difficult to do this solely relying on investments like stocks, but far easier with a side hustle or business.
So if you have a lot of time on your hands, get started with building a passive income side hustle that will eventually replace your income in a few years.
For the 1% who are ready to take their side hustle journey a bit more seriously, I wrote a book about side hustles.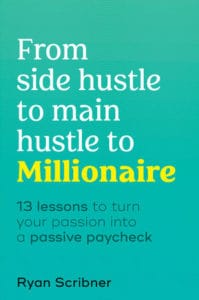 It covers all phases of the side hustle journey, and you get access to a members only discord where you can ask me questions along the way.
And you can grab a copy in person at most Barnes and Noble stores across the United states, or it's right on Amazon.
So grab a copy today and let's get started on your side hustle journey together!