There can be plenty of questions that go through your head when tax season approaches. We have done the research for you in regards to understanding the intersection of Robinhood and your taxes.
Robinhood Tax Forms
The document you will receive from Robinhood is called a 1099 form. This reports various income streams you receive outside of your salary. With Robinhood in particular, this 1099 will report on your stock and ETF investments throughout the previous year.
Robinhood specifically issues a consolidated 1099. This means it will include the information typically found on a 1099-DIV, 1099-MISC, 1099-INT, and 1099-B.
When Will Tax Forms Be Available?
The earliest that your 1099 forms will be available from Robinhood is the second week of February. You may receive two separate forms if you win both stocks and crypto. This is because Robinhood Financial and Robinhood Crypto are separate companies. 
If your form needs to be corrected or amended in any way this year, then you can expect your revised documents to be available by the end of March. 
How To Download Your Tax Documents
To download larger documents, it is best to use Robinhood's web browser. All you need to do is log in to your account through the attached link and you will have access. You can then choose to download your documents or send them to an email account.
You have the option to view your documents in the app as well. Before doing this, make sure you have the most updated version of the app. The steps to do so are as follows:
IOS
Go to your account through the bottom right icon

Go to

Statements & History

Click

Tax Documents

Click on the document you would like to export

Tap

Export

Choose the email app to then send to your preferred email address
Android
Go to your account profile 

Go to

Statements & History

Go to

Tax Documents

Click on the document you would like to export

Click

Open

to see in your PDF viewer OR choose

Share

to send in a message or email
Common Robinhood Tax Questions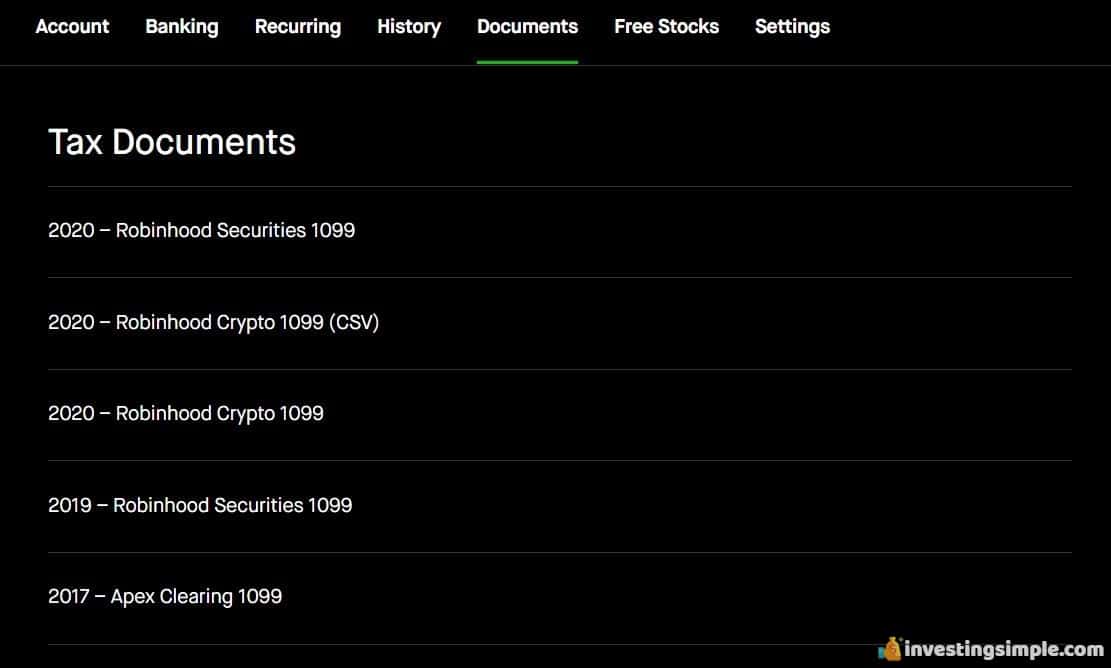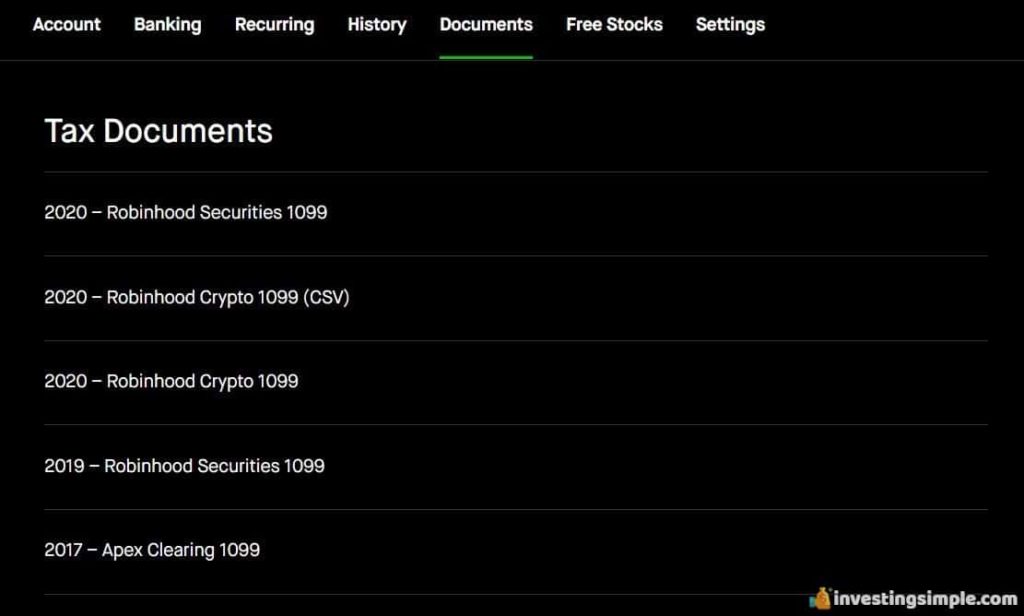 Why Don't I Receive A Paper Copy Of My Forms?
Robinhood will not send you a paper copy of your forms, but they will send you an email when they are available for you to view online. You can then download them and print them out if you prefer to have them on paper.
Not sending paper tax forms is one of the key areas where Robinhood cuts down on costs and keeps the platform free to use.
Why Didn't I Receive A 1099 From Robinhood?
You will only receive a form from Robinhood if you meet at least one of the following criteria.
Dividend proceeds exceed $10
Referral stock grant value exceeds $600
You have sold a position
If you do not meet one of these requirements, Robinhood will not send you a 1099. However, you will still be required to report any income you receive from Robinhood whether they send you a 1099 or not.
Why Am I Getting An Error When Trying To Access My Robinhood Tax Documents?
Here is a list of troubleshooting actions you can take if you're having issues viewing your tax documents.
Log in and out of the application
Uninstall then reinstall the application
Clearing other running apps
Making sure you have the most up to date version of the application
If you are still having trouble, you can send a service request listing the document you would like to receive. In this request, include your date of birth and the last four digits of your social security number to verify your information.
If you have any more questions regarding Robinhood this tax season, your best bet is to reach out to Robinhood customer service.
Best Free Stock Promotions