Robinhood vs Acorns 2020
Robinhood and Acorns are revolutionizing the way the world thinks about investing. While both are unique and different in their own ways, they both strive to achieve one common goal. That is, to break down the barriers of entry to the market by offering cheap and efficient services. 
Robinhood is a commission free stock trading app that allows you to trade stocks, ETFs, options and crypto.
Acorns is designed to make investing as easy as possible with the spare change round up model, however they do charge a fee.
In this article, I will be comparing the online broker's Robinhood vs Acorns by their features so you can assess which is the right one for you.
Acorns vs Robinhood: Summary
Both services offer low-cost ways for individuals to invest their money.

Robinhood is 100% commission free with no monthly subscription cost (except for Gold).
Acorns charges anywhere from $1 to $3 per month.

Robinhood is made for the individual looking to choose their investments.

Acorns is made for the hands-off investor that wants to stay diversified in all industries and profit off of overall market performance.

With Acorns, you can only invest in 1 of 5 portfolios. No individual stocks.

Acorns offers their services for a fee, but clients should expect this due to the service of automation such as automatic reinvestment of round-ups.

Robinhood Gold offers research and margin, but costs $5 per month.

Both offer easy to use application-based services that are beginner-friendly.

Overall, it comes down to personal preference as to which brokerage service will fit for you.

Robinhood is geared towards beginner investors who want to pick and choose their investments.
Acorns is for those who are bad at saving money and investing, who do not want to choose investments on their own.
If you use our link below, you will get a free stock from Robinhood!
| Feature | Robinhood | Acorns |
| --- | --- | --- |
| Minimum Balance | $0 | $5 |
| Fees | None | $1/Mo To $3/Mo Subscription |
| Trading Commissions | None | None |
| Assets | Stocks, ETFs, Options, Cryptocurrencie | ETFs (5 Portfolios Only) |
| Individual Stock Investing | Yes | No |
| Retirement Accounts | No | Yes |
| Fractional Shares | Yes | Yes |
| Round Up Investing | No | Yes |
| Best For | Beginners, Fee Sensitive Investors | Forgetful Investors, Bad Savers |
What Is Robinhood?


Forget about imagining it; it's already here. The free trading app Robinhood opens doors for beginning investors, or any savvy investors for that matter, looking to get their feet into the game without paying trading commissions.
About ten years ago, two friends and roommates (and aspiring finance wizards) at Stanford University launched Robinhood. Following graduation, they headed to New York City, where they had great success building two finance companies selling trading software to hedge funds.
Along the way, as they gained familiarity with the system in the world of finance, they realized that big Wall Street firms pay effectively nothing to trade stocks, while most Americans must pay up to $10 for every trade.
They made it their mission to find a way to give everyone – yes, even people without significant wealth – access to getting into the financial markets. Two years later, they headed back to Cali and founded Robinhood, a company that leverages technology to encourage everyone to participate in the larger financial system.
Opening An Account
It's startlingly simple to open a Robinhood account right on your smartphone (or online). Just plug in a few answers, like your contact info and how you'll fund your account, and in less than an hour, approval notification will be sent to you by Robinhood. Then it's onto the next step: launching your soon to be stellar investments.
Don't have the cash to open a sizeable account? No worries. Robinhood doesn't have a purchase minimum. This means investors can get started right away. Of course, to invest, you'll need enough to purchase the investment you have your eye on. But you can start small, then gain momentum as you go along and become more confident and acquire more know-how.
Get A Free Stock!
If you sign up with this link, you will get a free stock worth $2.50-$200. 
How They Make Money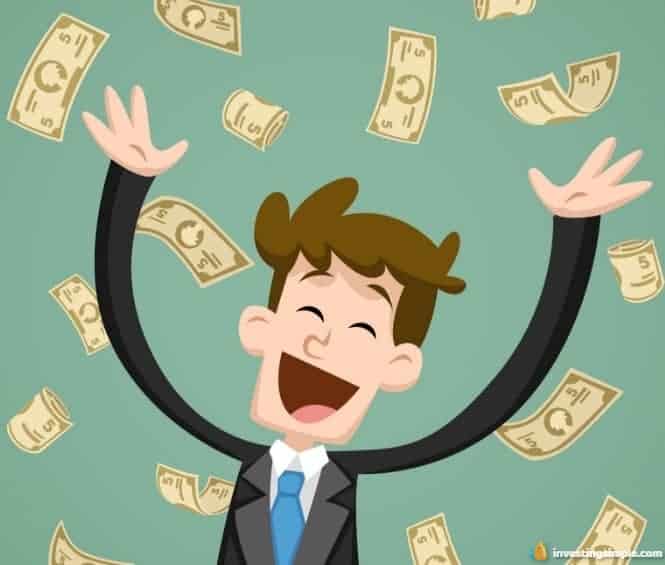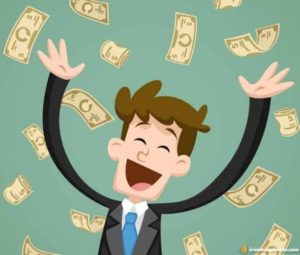 How, you may ask, does Robinhood make any money?
Good question. According to the site, they generate revenue from Robinhood Gold, its margin trading service, which starts at $5 a month; interest from customer cash and stocks, much like a bank collects interest on cash deposits; and rebates from market makers and trading venues
Robinhood Gold gives investors who can tolerate more risk the ability to trade on margin, which is also known as borrowed money. You must opt into the service, which has a flat monthly fee based on margin (Robinhood refers to this as buying power) as well as your account size. If you're new to investing and wary of risk, we say skip this option for now until you're familiar with all the ins-and-outs.
There are a few other ways that Robinhood makes money, but it is a little bit more complicated. You can rest easy knowing that they are making money by providing this useful service to investors.
Robinhood Features
Zero-Commissions 
Robinhood offers zero-commissions on stocks, options, ETFs, and crypto. This has led to countless other brokerages following suit and eliminating pesky trading commissions.
Fractional Shares ($1 Per Fractional Share)
This feature is currently being rolled out to select users, but will be available to everyone at some point.
Robinhood clients can buy fractional shares of companies that make it easier to afford some of the higher-priced stocks. 
An example of this may be Amazon. Amazon is currently trading at over $2,000 per share. If a client funds his or her account with only $1,000 and wants to buy Amazon, they won't be able to do this on traditional brokerage accounts. 
On Robinhood, those who have the fractional shares feature can now buy shares of stocks like Amazon in $1 increments. This makes it easier to have a well diversified portfolio with a lesser amount of money. This feature makes them very competitive with M1 Finance who also offers fractional investing. 
Cash Management 
Robinhood offers a special feature for clients who open brokerage accounts. Any money sitting idle earns a decent APY. This makes the Robinhood account double as a savings account, helping to bolster annual returns. This is a great option for your emergency fund which you want to keep in a liquid savings account. 
Robinhood Gold
On top of the zero-commission benefits of a normal Robinhood account, members of Robinhood Gold will have access to several high-quality research reports and also margin trading. This comes at a monthly fee starting at $5 per month. The more margin you take on, the higher the monthly subscription. 
In a margin account, Robinhood matches you dollar for dollar and loans you money to invest while collecting interest.
Documents & Taxes
Robinhood sources all of its important documents and tax forms directly on its website and app. This goes for stocks, options, crypto, ETFs, all of the important forms and documents you need will be at your fingertips.
However, it is important to understand that no paper tax forms or statements will be mailed to you. Everything is handled electronically in order to save money.
Depositing Money 
Deposits can be made directly on the mobile app or through Robinhood's website. You can transfer up to $50,000 per business day into the normal Robinhood account. Robinhood allows for $1,000 of instant deposits and after that will take 3-5 business days to process requests. There are no extra charges or fees for this. 
This means that you can start investing your first $1,000 immediately before the bank transfer is complete!
Beginner Friendly App/Desktop Platform
It is only fair to add a section about Robinhood's application due to its simple and clean nature. From personal experience, Robinhood's app makes it perfect for the beginner investor. Robinhood has made it the goal to lower the barriers associated with investing and make it easy for everyone. Their user friendly platform does exactly that. 
Customer Support 
Robinhood's customer service number can be found on their website and operates during market hours (9:30 AM - 4:00 PM EST Monday - Friday) when the market is open. Other than that, Robinhood's extensive FAQ page is the most convenient and easiest way for clients' questions to be answered. 
Robinhood Fees
Robinhood Gold 
Starting at $5 per month, Robinhood Gold offers access to research reports, margin trading, level II data, and making larger deposits with quicker access to funds. 
Margin Fees 
Margin is only available in Robinhood Gold and $1,000 of it is supplied monthly with the $5 fee. To borrow more, clients must pay 5% yearly interest. This interest is calculated daily and contingent on the end of the day margin used.
This interest is accumulated every day and billed at the end of the month. This bill can be found in the Gold Billing section of the Account overview. 
Robinhood Pros
Zero-Commission trades on stocks, ETFs, crypto and options.

Cash Management account allows idle money to gain meaningful interest.

Easy to access tax documents and important information regarding account.

Easy to open up a brokerage account.

Stock referral program with a chance to win a $200 stock with the link below.

Offers access to cryptocurrency including Bitcoin and Ethereum.

Very simple app to use and beginner-friendly.

Instant access to $1,000 upon deposit.
Fractional shares available for many users.
Dividend reinvestment allows you to earn compound interest.
Robinhood Cons
Customer support is only available in market hours.

Margin trading only available to Gold members.

Limited access to educational materials.

Limited access to research reports without Gold membership.

No technical trading platform to perform analysis.
Where Robinhood Falls Short
Critics of the Robinhood app say it's not a full-service venue. For example, there aren't advanced trading tools, ways to gain more knowledge about investing or a full range of investment options. You won't be able to open an IRA, or trade mutual funds or bonds.
Many online stock apps offer up-to-the-minute education and valuable advice in much the same way a stockbroker would do. So do your homework ahead of time. The most successful Robinhood users do the research and are clear in where they want their money invested. Trades can be executed in a flash, as Robinhood handles market orders, stop orders, limit orders and stop-limit orders.
But enhanced info for users is in the works at Robinhood, as they now offer analyst ratings from an independent investment research company. You can also scour lists of the top movers and earnings calendars.
Want to know how another fledgling (or more advanced) investors are doing? You can take a peek at the most popular purchases, as well as how many got in on the deal and how much each investor paid per individual share.
Getting Started With Robinhood
Once you're ready to go, you won't be bogged down by account verifications. Robinhood uses instant verification with many major banks. Bank transfers of up to $1,000 are available immediately for investing, and the same goes for profits of up to $1,000 from selling stocks. Deposits larger than $1,000 will take around five business days to process.
Want to invest in a schedule? You can set up automatic deposits out of your bank account weekly, biweekly, monthly or quarterly.
What Is Acorns?
Acorns aims to look out for the financial best interests of the up and coming generations of investors, harnessing the strength and empowering step of micro-investing. 
Acorns invests your spare change into a robo-advised equity portfolio to help clients grow their wealth. Depending on the client's investment style and time horizon, Acorns will tailor a portfolio that fits the individual's goals.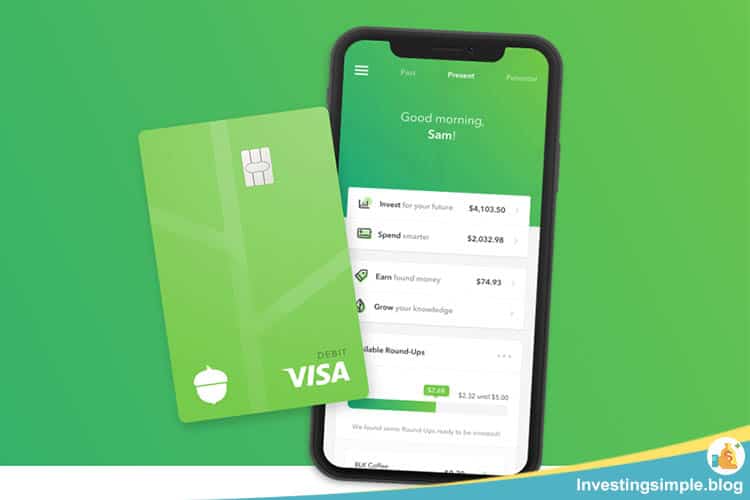 How much does it cost to sign on? There's a monthly fee of just $1 for Acorns Core, the basic platform. Other offerings are slightly more each month.
Acorns Core facilitates micro-investing of as little as one cent. Buy something for 99 cents, and Acorns will round it up to $1, with that extra coin tossed into your investment account.
This spare change comes from any purchases made from a linked debit or credit card or even your PayPal wallet.
Read our in-depth Acorns Review here.
Acorns Features
What Is In An Acorns Portfolio?
Acorns automatically invests money into different ETFs (Exchange Traded Funds), to create well-diversified portfolios for investors. These different ETFs track various assets including stocks, bonds, and real estate. More money is allocated to different sectors and asset classes contingent on the client's risk tolerance. 
There are just 5 different portfolios ranging from conservative to aggressive. There are no individual stocks.
Who Makes The Portfolios? 
The portfolios were developed with the help of the Nobel Price winning economist, Dr. Harry Markowitz. The underlying distributors of these ETFs are reliable companies such as Vanguard and Blackrock. 
Automatic Everything
Acorns will make automatic investments daily, weekly, and even monthly. There are many different settings and features that allow clients to fund their portfolios. One of the more unique ways is through Acorns Roundup. 
This service rounds-up to the next dollar on any purchases made and automatically invests the money into your well-diversified portfolio of choice. This allows clients to be continuously investing as they spend which will help put them on track for their future. 
Customer Service 
Acorns offers customer service through its "Acorns Help" section on its website and app. Here, you can submit a question, provide a phone number, and customer support will get back to you as soon as the report can be processed. 
Acorns' application is clean and easy-to-use. Clients can leverage its simplicity to easily navigate their portfolios and the different features and setting that Acorns allows. 
Acorns Grow 
The Acorns Grow section of their website and app provides up-to-date news and articles surrounding different ways to make money and providing unbiased articles relating to the markets. 
Earn Found Money 
Found Money partners available through Acorns allow clients to automatically earn bonus investment cash by spending at certain businesses. Spend, save, and invest. A simple process that Acorns is striving for through this feature. 
Acorns Fees 
Acorns now offers two services which are Lite and Personal.
Lite is $1 per month and comes only with the taxable brokerage account. No retirement or checking.
Personal is $3 per month and comes with the taxable brokerage account as well as the retirement and checking accounts.
Acorns Pros 
Highly automated so perfect for the beginner investor that wants to remain hands-off.

Invest spare change with ease.

Lots of educational resources to look through to help clients learn.

Automatic daily, weekly, or monthly funding schedule available.

Earn bonus investments by spending at certain stores and businesses through Found Money.

Select a portfolio that works for you and satisfies your risk tolerance.
Acorns Cons
$1 fixed fee for lite and $3 fixed fee monthly for personal may sound low but significantly cut into investment returns for small accounts.

Unable to choose specific stocks or investments.

High automation can be looked at as a negative for some.

Lack of access to fundamental investment research.
The Verdict: Acorns vs Robinhood
Both Robinhood and Acorns offer cutting-edge opportunities to get into the game of investing. Robinhood puts you in the driver seat. It is 100% up to you to decide what you invest in. There are no prebuilt portfolios and no investment guidance of any kind. That being said, Robinhood is completely free while Acorns charges a small monthly fee of $1 to $3 depending on the plan you choose. While this may not sound like a lot, these fees do add up, especially for small accounts.

Robinhood does not offer retirement accounts, while Acorns offers them through Acorns Later.

There are also ways to accelerate your investments through Acorns Earn, similar to a cash back program. Robinhood does not offer anything like this. Acorns automatically round up your purchases and invest the spare change. There is no guesswork involved, and it is impossible to forget about it. With Robinhood, it is up to you to budget your money and contribute to your account on a weekly or monthly basis. If you have trouble budgeting and saving money, Acorns was designed for you.
Key Differences
Both Acorns and Robinhood have a $0 minimum fee.

With Robinhood, you can buy individual stocks or ETFs. Acorns, on the other hand, gives you the option to choose from 5 portfolios based on your risk tolerance. These portfolios are curated and monitored by dozens of financial experts.

It comes down to whether you want to be in charge or not. If you want to build a portfolio from scratch and pay zero fees, Robinhood allows you to do exactly that. If you are looking for some hand-holding for a small fee, or you are bad at saving money, Acorns was designed for you.

Keep Reading: