If you are looking to start investing in the stock market and meeting your financial goals, the first step is to find the right broker. And of the many to choose from, two of the hottest on the market now are Robinhood and Personal Capital.
Robinhood is commission free stock trading app that aims to be the most beginner friendly brokerage out there.
Personal Capital offers free tools for managing your money as well as a robo-advisor for high net worth clients.
Both have unique features, fees, pros, and cons that make each different in their own ways. We will look at Robinhood vs Personal Capital side by side so you can see which one is a better fit for you!
Summary: Personal Capital vs Robinhood
What Is Robinhood?
Robinhood's mission is to democratize the investing industry for all.
And, by cutting things like trading commissions completely out of its business model, it is able to live up to its word. Despite maintaining a low-cost structure, the broker also offers an array of features that help to simplify the investment process.
Let's take a look at some of them now!
Robinhood Features
As mentioned, Robinhood has an extensive array of top-quality features.
Because the broker has been around since 2013, it has had almost eight years to refine its platform to make it a premier choice for those searching for an online broker.
Robinhood Mobile App
Robinhood's app is one of the most notable features of the broker. Because of its ease of access and simplicity, Robinhood's app has found its way to #15 on the app store! It can also be found on the Google Play store for those who do not use apple products.
Track returns, place trades, maintain a watchlist, and so much more on the Robinhood app!
Zero-Commissions
Speaking of placing trades, how much does that cost on Robinhood? It may be hard to believe, but $0!
That's right, Robinhood offers no extra commission if you are looking to place a buy or sell on the extensive array of stocks that it offers. And in regard to options, the same holds.
No commissions on options contracts either! 
Free Stock Referral Program
When opening a Robinhood account, you will be granted a free stock! This stock can range between $2.50 and $250, and is automatically rewarded to the account holder when an account is opened. Not a bad deal!
The program gets even better when you are granted a referral code. All Robinhood users are given a referral code to invite friends to join Robinhood. When you refer a friend, both accounts will be granted a free stock!
Best Free Stock Promotions
Robinhood Fractional Shares
A very interesting and relatively new feature of Robinhood is its fractional shares initiative.
Instead of buying full shares of companies, Robinhood allows its users to buy partial shares.
Looking to buy an expensive $100 stock and only have $20 to invest? No problem! You can buy 20% of the stock and be entitled to its underlying returns!
Robinhood Fees
If you use the basic Robinhood account, there are no commissions and no fees.
They do, however, offer Robinhood Gold for a fee.
Robinhood Gold
Robinhood Gold comes in at a price of $5 per month and grants users access to margin trading and stock research.
While margin trading does come with several risks, if you are interested in buying stocks on borrowed money, you will need to pay the $5 monthly premium.
If research is something that you value heavily, and research is very important in the stock selection process, the $5 per month will let you access Robinhood's research.
This also gives you access to Level II market data and larger instant deposits. The $5 per month does not include your margin interest.
Margin Fees
There are fees associated with taking out margin on Robinhood. After signing up for Robinhood Gold which is necessary to access margin on Robinhood, your first $1,000 of borrowed money can be used with no extra cost.
After the initial $1,000, however, there is a 5% daily margin fee for borrowed money. 
Robinhood Pros
Robinhood Cons
What Is Personal Capital?
In short, Personal Capital is an online Financial Advisor and Wealth Management service.
The service is very different from Robinhood in the way that its features are geared toward the passive investor.
Personal Capital Features
Personal Capital has many features that will help to advise you and manage your finances. Its features focus mainly on automation, which is what Personal Capital was built on.
Building a well-diversified portfolio for you and getting advice from top financial advisors are both priorities to Personal Capital.
How Personal Capital Manages Your Money
Personal Capital, as mentioned, uses automation to manage your money.
First, you will select the plan that correlates with the assets you want Personal Capital to manage.
Next, you answer questions about your goals, time horizon, risk tolerance, etc.
Personal Capital designs a well-balanced portfolio that works for you.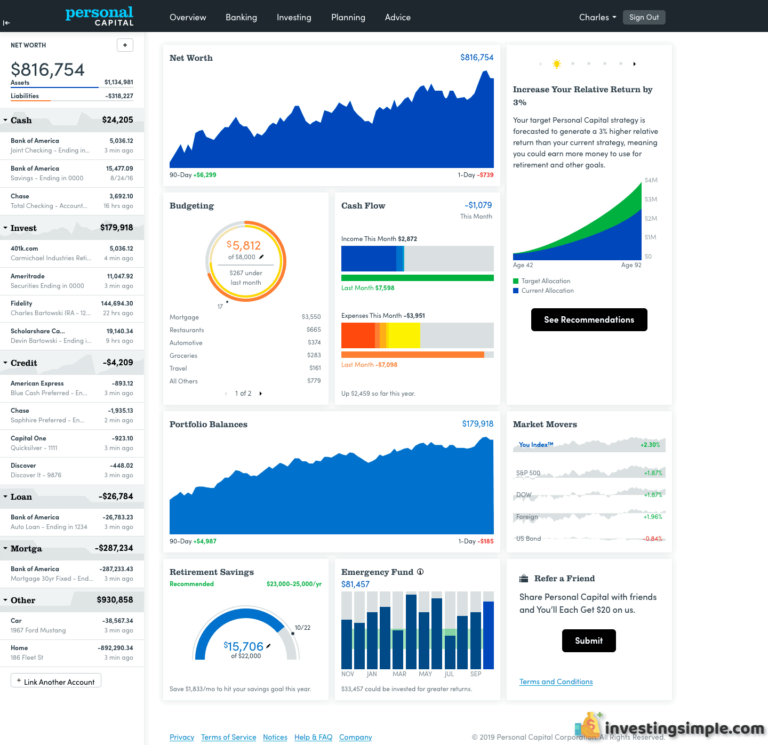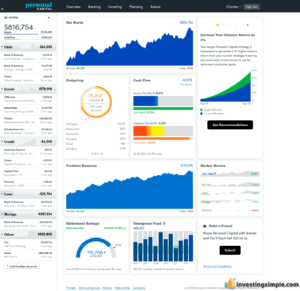 Smart Weighting
Under Personal Capital's Wealth Management plan is its Smart Weighting feature.
Smart Weighting in a portfolio is designed to allocate and weigh different sectors in your portfolio to manage the risk of your portfolio. For example, if your goals align with a more aggressive portfolio, Personal Capital's Smart Weighting feature may allocate more of your portfolio to the technology sector due to its higher volatility and returns.
This is just one example, but the principal to take away is that Personal Capital weighs all portfolios differently, and it uses its Smart Weighting feature to do this!
Personal Capital Fees
Personal Capital maintains a low fee-based structure, however there is an annual assets-under-management fee that you should be aware of depending on the Personal Capital account you are planning on opening.
Annual AUM Fee
The annual Assets-Under-Management Fee, which is a % of the total assets that Personal Capital is managing for you, is variable based on the type of account you open.
The minimum amount to open up an account with Personal Capital is $100K and scales to $10M+.
The annual fees that you should expect Personal Capital to charge range from 0.89% (for the smallest account type) down to 0.49% (for the largest account type).
Because there is an inverse scaling of account size to % fee, the larger your account is, the less you should expect to pay in annual fees! This is definitely something to think about especially if you fall on the lower end of the account minimum spectrum.
Personal Capital Pros
Personal Capital Cons
The Final Verdict: Robinhood vs Personal Capital
Overall, Robinhood and Personal Capital are both well-regarded online brokers with different goals.
On one end, Robinhood is more geared to the investor that is looking to make their own trades and have control over their portfolio.
Personal Capital, on the other hand, is geared more toward the investor that is looking for a highly automated service to create a portfolio for them.
The $100,000 minimum to invest with Personal Capital makes this truly out of reach for most investors. Robinhood is looking to open their doors to all by offering $0 minimums.