TD Ameritrade and Robinhood are both well-established and powerful players in the retail investing space. But just which one is right for you? Depending on investing goals, this answer could vary for most. However, either platform is a solid starting point for beginners though one is better suited for advanced traders.
In this article, we will provide an in-depth comparison of Robinhood and TD Ameritrade.
We will be covering the similarities, differences, and pros and cons between each of these brokerages.
Robinhood vs TD Ameritrade: The Basics
Robinhood was the pioneer in commission-free trading. The platform is simple and easy to use, allowing beginners to start trading with few barriers. The clean and crisp product design appeals to both long- and short-term investors but the lack of a retirement offering or detailed technical analyses means it's best for casual traders.
TD Ameritrade tailors its experience to active traders. The tools and resources give day traders and long-term investors everything they need to succeed. This platform has been in business for decades which makes it a trusted brand. However, this also means that the platform has occasionally been slow to adapt to change.
Both apps allow users to trade stocks, ETFs, and options commission-free. However, each app has a specific target niche and attracts users to their platforms for very different reasons.
Robinhood vs TD Ameritrade: Summary
Both platforms reject the idea of account minimums or trading commissions
TD Ameritrade offers mutual funds while Robinhood does not
Both are good for beginners but TD Ameritrade is more suited for active trading
TD Ameritrade offers retirement accounts but Robinhood does not
TD Ameritrade has physical branches where you can visit and schedule an appointment with a professional
Paper trading (stock market simulation) is popular on TD Ameritrade but not available on Robinhood
Robinhood and TD Ameritrade both allow fractional shares
Investors can earn free stock on Robinhood but not TD Ameritrade
TD Ameritrade doesn't have a signup bonus
You can trade crypto with Robinhood
TD Ameritrade has a lot more tradable assets than Robinhood
What Is Robinhood?
Robinhood is a simple and beginner-friendly investing app without minimum account balances or commissions.
This platform launched over eight years ago in 2013 and pioneered democratized investing. Robinhood's credo is based on accessible trading for all, regardless of their account size.
This brokerage is famous for a clean and simple user interface. Many love Robinhood because its trading platform contains a sufficient amount of data for the average investor without many of the confusing indicators necessary for more advanced trading.
Robinhood Features
This brokerage platform strives to provide the most when it comes to commission-free trading, fractional shares, a high-yield savings account, and much more.
No Account Minimums/Commissions
Though Robinhood was the first, it has certainly not been the last to offer commission-free trades with no account minimum. Almost all investing platforms now allow users to begin investing with no minimums. Before Robinhood, users could easily be expected to pay upwards of $10 per trade. Now, trades are virtually free on most platforms.
Robinhood lets investors trade stocks, ETFs, options, and crypto with no commissions.
If you are interested in margin investing, there is an account minimum of $2,000. This type of account will allow you to borrow additional funds from Robinhood for a fee.
Robinhood Gold
Users who are seeking more utility from Robinhood should consider Robinhood Gold. It comes at $5/month but without it, users will need to wait upwards of 3 business days for their funds to settle from the bank. However, all users get up to $1,000 settled instantly for investing. 
With Robinhood Gold, users can access cash instantly, review level II market data, utilize margin investing, and study professional research from Morningstar on 1,700+ stocks. 
Investors that are on the fence can choose to take advantage of a free 30-day trial of Robinhood Gold when they sign up.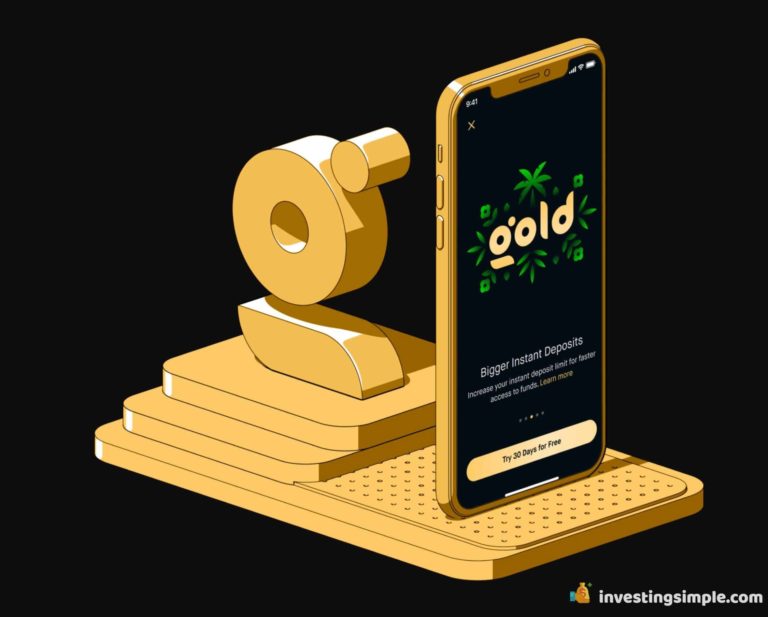 High-Interest Savings Account
In addition to making money through investing, Robinhood also offers a high-interest savings account. With interest rates at an all-time low, this might not be the place to park your cash if you are looking for growth, but could still be a great option for risk-averse investors. Keeping your uninvested cash working for you is a must and the savings account offered by Robinhood allows investors to do just that.
Users that store their money with Robinhood also have access to an optional debit card and 75,000 ATMs where you can withdraw your cash for free.
Fractional Shares
One of the many great advantages of trading with Robinhood is the ability to purchase fractional shares. This allows investors to purchase in dollar amounts and not in whole share quantities. With this feature, you will be able to purchase shares of stocks and ETFs in $1 increments.
Fractional shares are particularly useful for newer investors that want to buy expensive stocks like Berkshire Hathaway A Shares. Without fractional shares, it would currently take over $400,000 just to buy one share!


Cryptocurrency
Robinhood allows users to trade several of the most popular cryptocurrencies 100% commission-free. These coins include Bitcoin, Ethereum, and even Dogecoin among several others.
Note that Robinhood Crypto is not a part of Robinhood Financial LLC. As such, cryptocurrencies are held in a different account that is not regulated by FINRA or insured by the FDIC.
Here's our full review of Robinhood crypto.
IPO Trading
Robinhood just recently announced the ability for its users to purchase shares at the IPO price. Robinhood makes it clear that investors are not participating in the IPO, but they can schedule a purchase before the stock goes live. Investors can set a limit price so they never have to worry about spending more than they anticipated.
Once the stock officially begins to trade, your order will be executed depending on the available quantity and price.
Robinhood Pros
100% commission-free stock and ETF trading
Access to cryptocurrency
Sleek user interface that is easy to navigate
Fractional shares make it easy to buy the stocks you love
High-yield savings account for excess cash
Get a free stock when you sign up
Robinhood Cons
Limited research & data
Only offers brokerage accounts and not tax-advantaged retirement accounts
Customer service is only reachable online, not over the phone
What Is TD Ameritrade?

TD Ameritrade has been around since 1971 meaning you've most likely heard of this platform. Thanks to a long track record, the company automatically gains a certain level of respect and veneration that comes from learning the system over several decades.
Today TD Ameritrade has over 11 million client accounts and more than $1 trillion under management. With those stats, this company is worth a look.
TD Ameritrade Features
This platform is well-suited for the everyday beginner investor as well as the professional trader. Its free and extensive data, friendly minimums and fees, and variety of tradable securities make this platform truly hard to beat.
Data & Research
Knowledge is power and TD Ameritrade wants its users to have a lot of it. That's why this brokerage gives its users access to several educational resources including in-person learning. TD Ameritrade hosts both virtual and in-person events at their 175+ branches which dot the country. Whether you want to learn online or prefer to meet in person, TD Ameritrade has an option for you.
Numerous webcasts, articles, slideshows, and even a chatbot are available on their website and the company is known for its ability to teach. In fact, stockbrokers.com has ranked TD Ameritrade the #1 brokerage for education for the past eight years in a row.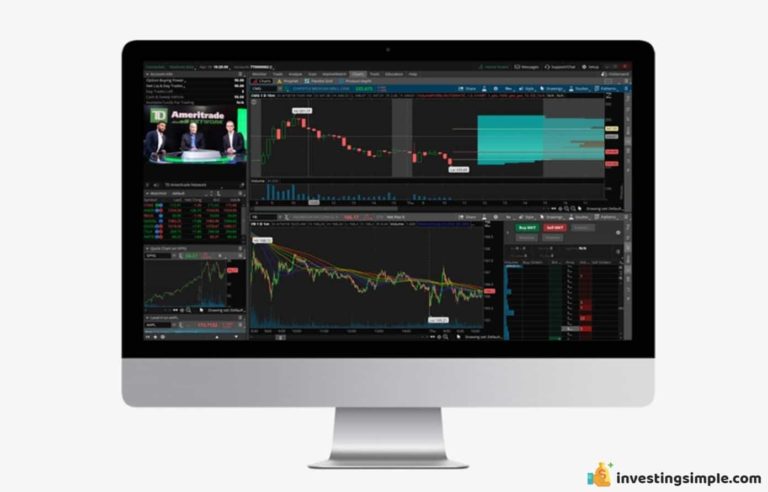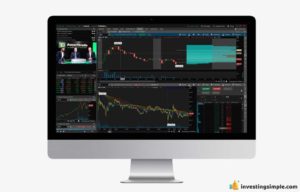 Minimums & Fees
TD Ameritrade slashed all its commissions in later 2019 to stay competitive in an ever-changing environment. Currently, the platform has no trade minimums, $0 data fees, $0 platform fees, and of course, no trading commissions. This has allowed investors without deep pockets to open up accounts and trade without fearing hidden fees or minimums.
The platform also has options trading available. This comes at a price of $0.65 per contract. While it is great to have commission-free trading at your fingertips, know that these are only commission-free if you complete them online. Having a broker assist you with a trade will cost $25.
TD Ameritrade also offers Over-the-Counter (OTC) stocks. These are not available on competing platforms like Robinhood and cost $6.95 per trade.
Multiple Platforms
With TD Ameritrade, you have the choice between four different platforms. Users can choose to trade using the standard web platform, thinkorswim desktop, thinkorswim web, or TD Ameritrade's mobile application. While Robinhood only has the app, TD Ameritrade offers multiple platforms.
Tradable Securities
On TD Ameritrade platforms, you can access stocks, bonds, mutual funds, ETFs, options, futures, forex, foreign ADRs, OTC stocks, and IPOs for qualified accounts. This is many more than is currently available at Robinhood.
In addition, traders with TD Ameritrade have access to over 4,100 mutual funds without a transaction fee. This is one reason that Robinhood has often been criticized. Plus, investors can access 11,000 mutual funds with expense ratios of 0.50% or less, and 10,000+ mutual funds with investment minimums of $100 or less.
TD Ameritrade Pros
No fees or account minimums
Large array of tradable securities
Mutual funds available
Mobile and web-based trading
Great for beginners and active traders
Extensive and free education
Large branch presence (+175)
TD Ameritrade Cons
Mobile and web-based platforms are more complex than competitors
No fractional shares on the platform
$0.65 fee per option contract
TD Ameritrade vs Robinhood: Final Thoughts
It is clear that if you are looking for a platform that can do much more than simply buy and sell stocks, then TD Ameritrade is probably your best bet out of the two. However, if convenience with a crisp and simple platform is key, then Robinhood wins here.
Investors can be successful with both platforms but should choose the brokerage based on their goals. If your goal is to trade in your free time with 'fun money' then Robinhood will better suit your needs. However, if you want to start saving for retirement or diversify your portfolio with bonds and mutual funds, then TD Ameritrade is best.
It is important that you do the research necessary to choose the platform that meets your goals.
Whatever platform you choose, you can try them both for free and make your decision based on experience with each one.
Best Free Stock Promotions