Robinhood is a popular investment platform that allows users to invest in stocks, options, ETFs, and cryptocurrencies.
In addition to its investment offerings, Robinhood also partners with banks to provide its users with banking services. In this article, we'll take a closer look at the banks that Robinhood partners with.
Limited Time: Robinhood 1% Transfer Bonus
If you transfer an existing brokerage account to Robinhood through December 8th, 2023, you can get an Unlimited 1% Transfer Bonus.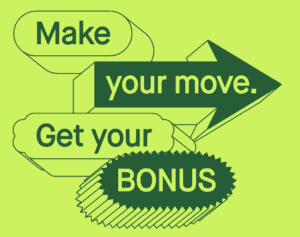 For example, if you transferred a brokerage account worth $50,000 - that would be a bonus of $500.
In addition, Robinhood offers a free stock for new users as well as a 1% IRA match for retirement accounts.
Robinhood Cash Card
The Robinhood Cash Card is a prepaid card issued by Sutton Bank, Member FDIC, pursuant to a license from Mastercard®. This card can be used anywhere Mastercard is accepted and is linked to the user's Robinhood account balance.
The Cash Card does not charge any fees for ATM withdrawals or foreign transactions, and users can earn cashback rewards when they spend at participating merchants.
Brokerage Cash Sweep Program
For its brokerage cash sweep program, Robinhood partners with a separate list of banks.
As of January 31, 2022, the following are Robinhood's FDIC-insured program banks:
Goldman Sachs Bank USA
HSBC Bank USA, N.A.
Wells Fargo Bank, N.A.
Citibank, N.A.
Bank of Baroda
U.S. Bank, N.A.
Bank Of India (to be added on or after May 17, 2023)
Truist Bank (to be added on or after May 17, 2023)
It's important to note that Robinhood may change the network of program banks at any time, and if a change is made, users will be notified in advance.
Deposits made to these program banks will be covered by FDIC insurance up to a total maximum of $1.5 million (this will increase to $2 million on or after June 1, 2023). The FDIC insurance coverage limit at each bank is $250,000, and $2,000 is reserved for accrued interest.
Conclusion
Overall, Robinhood partners with reputable banks that are FDIC-insured, providing users with added security and peace of mind.
Whether users are using the Robinhood Cash Card for everyday purchases or depositing money into their brokerage account, they can rest assured that their funds are safe and insured by the FDIC.
Don't forget to grab your free stock worth up to $200 from Robinhood today!