One of the cornerstones of financial success is passive income.
This is money that flows in without you having to clock into a 9 to 5 job or hustle around looking for side gigs.
Passive income grows without needing a huge output of energy on your part. You will earn money while on vacation. Or sleeping. Or going out to dinner. It's literally making your money do the work for you.
Ask any person who has accumulated wealth how they got there, and it's more than likely they will include owning real estate to the mix of their investments. They are on the right track!
Specifically, we will be looking at an online real estate investment opportunity in this full Roofstock review.
Roofstock
Fees

Property Selection

Accessibility

Minimum Investment

Operating History
Summary
Roofstock has created a convenient online platform for buying and selling single-family real estate investment properties. This is the bread and butter for them, meaning you will not find any commercial properties. This type of investment is rapidly growing with a total value of over $3 Trillion. However, some investment options are limited to accredited investors only.
Pros
Buy entire properties or individual shares
Financing available through Roofstock
In depth research tools
They can connect you with a vetted property manager
Cons
Some investments require you to be accredited status
No commercial real estate, only residential
Roofstock Summary
Minimum Investment: Up to 10% of the property value, as low as $5,000
Account Types: Regular taxable, Self-Directed IRA
Investments: Equity or direct ownership of real estate
Fees: 0.50% Initial setup fee for buyers, sellers pay 3% on the sale price
Accredited Status Required: No, only for "Roofstock One" investments
What Is Roofstock?
Roofstock is an online marketplace for you to get your piece of the pie in the single-family home rental arena. On the flip side of the coin, it also gives you a way to sell without the hassles of listing, giving tours, holding open houses, and haggling over the price.
The technology-based platform gives investors both small and large a way to buy, own and sell single-family investment properties. This includes first-time investors all the way up the ladder to more experienced investors.
Launched in 2014 and headquartered in Oakland, California, Roofstock harnesses the  power of technology to bring together investors and sellers from the single-family rental industry under one roof to buy and sell homes.
By the way, the single-family home rental market is rapidly flourishing and has amassed an incredible $3 trillion in value.
How successful is Roofstock for matching people with properties to buy and sell? To date, it has been the source for $2 billion in transaction volume across more than 70 markets.
It has earned its share of accolades, including the 2019 Best Entrepreneurial Company in America by Entrepreneur magazine and recently made Forbes Fintech 50 most innovative companies list.
What's in it for them? Making an offer is free. If your offer is accepted, Roofstock charges a marketplace fee equal to 0.5% of the contract price or $500, whichever is higher.
Right now, Roofstock offers a marketplace of properties primarily in the eastern and Midwest states, but they are rapidly expanding to cover the whole country.
A Brief History Of Roofstock
Five years ago, Gregor Watson, founder of multiple financial and investment firms and a long-term investor in real estate himself, became frustrated by the clunky, inefficient system for buying and selling investment properties.
Watson teamed up with a man named Gary Beasley, who had a rich knowledge of the real estate industry and had led start-up company ventures relying on new technology.
Later, they asked Rich Ford to give his input on what would become a radically different way to buy and sell profitable single-family houses. Ford's background included decades of capital raising and discovering new ways to invest in the rental market.
They worked in synergy, each bringing their own skills and experience to the table to brainstorm ways to make investing in real estate accessible to people in all walks of life, any time and from any place. Then, they were joined by Silicon Valley's top technical experts and sleuthed out start-up investors who believed in their vision.
That's where the game plan began to surface. The founders wanted to make real estate investing simpler than the antiquated system that was being used. They also set out to make these transactions cost-effective and transparent, meaning the whole process would be clear to investors. There would be no smoke and mirrors.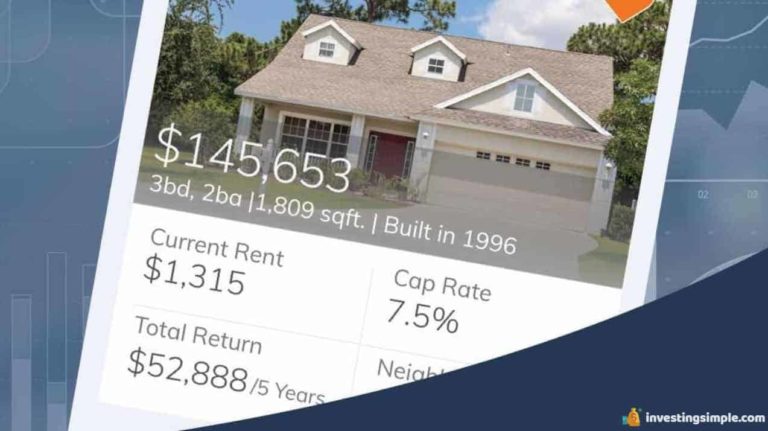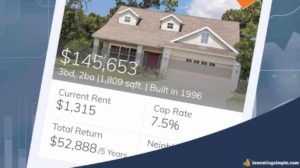 How Does Roofstock Work?
Roofstock was created to do all this footwork for you.
The platform provides users like you with up-to-the-minute, meticulously researched market and neighborhood data so you can be confident you're making a wise choice.
This isn't a one-size-fits-all system. All the research is done with multi-layered filters to pinpoint what you're looking for and weed out what you are not.
Some of the filters you can set in place include:
Minimal repairs
2 to 4 units
Higher yield
Higher appreciation
School district rating
Turnkey
You can view the current Roofstock listings here!
The company gives you all the resources to buy, own and sell real estate, including data analytics, property management services and other tools to guide you.
And you can launch your search, study stats, make offers and close on deals all from the comfort of your couch, because Roofstock is an entirely, 100% online enterprise. This means you don't even have to step a foot into the house, a factor that also gives you a way to buy sites in different states than where you currently live.
If you're shopping around for investment sites, Roofstock has custom filters to tailor your search based on your investing criteria. This means sorting all available sites by:
List price
Average property price on comparable sites
Average rent for the market
Gross yield
Location
Desired return on investment
Neighborhood rating
You can also sign up for alerts and be one of the first to get notified when a matching property becomes available.
Best Real Estate Platforms
Research Tools
Roofstock research will give you tons of info to compare and contrast the sites that catch your eye and meet your price range and the location you prefer.
These include details such as:
Photos, floor plans, a 3-D tour, curb view and pictures of unique features
Quotes for necessities such as property inspection, valuation, title report and how much it will cost for home insurance
Interactive tools to estimate your return on your investment
Cost estimates for keeping the house updated
Current lease, who the tenants are and their history of paying rent
Local school district scores when compared to others


Buying On Roofstock
Roofstock takes care of all the pesky small details like scheduling an inspection and getting a valid title search. In fact, there will be a team for you to work with that will guide you through the entire lengthy process.
You could certainly make an offer at full list price and proceed through checkout. This will take a property off the market so no one else can buy it.
Or, you can roll the dice and make an offer to see if you can get a better price. You will get notified when the seller makes a decision. Some haggling may ensue, but you may kick yourself later for not bargaining with the seller.
Here's some great news: You will begin collecting rental income as soon as you close. Roofstock recommends hiring a property manager to save you the hassle of everyday tasks (see more below).
The platform also provides info and support after you own the site, such as letting you know about appreciation and activities pertinent to your house's value.
Buy A Portion Of A Property
You also have the option to buy a set number of shares of an individual rental home for as low as $5,000. This is a great starting place! You can reinvest your returns in more shares of the site or diversify across several properties.
Roofstock offers this fractional ownership in select properties for you to buy 1/10th of the home's value. If you make this purchase, it includes a property manager for the site to free you from irritating chores like drafting a lease.
In return, Roofstock retains a minimum 10% ownership interest in each fractional property for the first year.
Following an initial 6-month holding period, you can take advantage of liquidity options such as redeeming your shares or buying into more fractional shares.
Financing
One of the largest considerations in buying any property is how you will qualify and arrange for financing.
As you can imagine, Roofstock has financial partners they say can offer preferred rates. But you can also use your own lender.
To start, find a property that fits in your budget. This isn't meant to be your dream home. It works best when you evaluate the facts about the site, not your emotional attachment.
Once you've made a deal, let your lender know you are buying an investment property that you will not live in.
There is also a payment calculator on the site that takes into account the property's price, the amount of your down payment, your credit score, the state where the house is located and your loan terms.
You will likely need to get pre-approved for a loan. This is usually done online. Once you are pre-approved, your offer will be stronger.
Your finance fees will be charged directly by your lender for the loan origination. Roofstock may or may not be given a referral bonus when people use their suggested lenders (they do not disclose this either way).
30-Day Satisfaction Guarantee
Yes, you read that right.
If you're not fully satisfied with a property you buy with Roofstock, you can get a refund within 30 days from the closing. Take it from us, this is a very rare perk!
Shopping Around
Perusing the homes for sale is a fun part of this whole process.
You can look at new photos of the homes and get details including:
Asking price
The year it was built
Total square footage
Number of bedrooms and baths
Current rental value
We took a quick glance at some of the properties listed and found:
With a price tag of $99,500, a 3-bedroom, 1 bathroom, 1948 ranch with 1,144 square feet in Jacksonville, Fla. The anticipated rent was $950
For $425,000, a 5-bedroom, 3 bath Colonial with 2,975 square feet, recently built home in New Lenox, IL. Suggested rental was $3,000
Carrying a price of $125,000, a 3-bedroom, 1-bathroom 1960s bungalow with 972 square feet. The rental value was $1,150
As you can see, there is a wide range of prices and features.
Selling On Roofstock
Or perhaps you're looking to sell a rental property.
Roofstock is the #1 marketplace for both buying and selling investment properties.
There are more than 200,000 potential buyers registered with the platform. Roofstock will charge a 3% commission fee once the deal is sealed.


Why You Should Have A Property Manager
One huge factor of making real estate investment passive income is by having someone handle all the day-to-day challenges.
This is everything from screening potential tenants to collecting rent to finding people to repair a hot water heater in the middle of the night.
Roofstock can set you up with the right property manager for your rental. They will help you select someone, then they will monitor them to make sure they are doing the job right.
And you don't have to shop around, conduct interviews or check references. All Roofstock property managers are assessed for:
Ongoing performance on the job
Necessary license in good standing
Responsiveness and reliability
Charges within the amount Roofstock clients want to pay
Length of time working
Referrals from real estate field
Property managers usually earn a monthly management fee of between 6-10 percent of gross collected rent (if property managers don't collect rent, they don't get paid).
Some property managers also charge a flat fee instead of a percentage of gross collected rent. If you go through Roofstock, you'll likely pay 8 percent or lower since Roofstock is collectively able to negotiate down those fees.
Roofstock Pros
Entirely online process is convenient
Fractional investing
Vetted property managers
Lower than industry property management fees
30-day money back guarantee if you've never seen the property
Wide range of houses for sale as far as price, location and rental income potential
Roofstock Cons
Made for investors looking for single-family homes
Some investments limited to accredited investors
No investments in business/industrial sites
Limited areas for property location – eastern and Midwest parts of the US
Due to proximity, you may not be able to step foot in the property
Long term investment time horizon
There's a lot to like about this online real estate marketplace. It is transparent and easy to navigate.
People have rated customer service as very good. There's a huge range of houses ready to buy and rent. It represents passive income at its finest. Property managers are up and running. You can buy and own a small percentage of the property's value.
Let us know if you've had any experience "raising the roof" with Roofstock.
Why Invest In Real Estate
There's a very long list of reasons why owning property should be part of your plan to grow your money.
Cash Flow
One key factor to keep in mind is that you will have a consistent cash influx that you can count on (unless for some unexpected reason the property sits vacant).
You can pad your budget with this money. Or add to your savings for a new vehicle. Or better yet, invest the income in more real estate purchases!
Appreciation
Another pertinent reason is that appreciation (the value) of your real estate over time historically outpaces the rate of inflation.
Notice that this includes the caveat of it being a long-term investment. Owning real estate is not a "get rich quick" path (in fact, there is NO get rich quick method. If there was, we would share it with you!)
Appreciation includes any improvements you make at the site, from adding a new front porch to installing central air to replacing scuffed flooring. It can also happen when the location of your property spikes in value due to improvements in the neighborhood or city.
There may be a spike in potential renters for a great number of reasons. Among them are having a new business built that calls for new employees, a jump in the area's school district rating, or the addition of a new tourist attraction, like a museum or theater.
When your site becomes more sought after, people may be vying for it and guess what? You can raise the rent!
Tax Benefits
You will also reap tax benefits from property ownership. These let you deduct operating expenses from your gross income. So, if the furnace fails and you need to replace it, you will get a break because it's a necessary expense.
On the flip side, depreciation of the property reduces taxable net income as well.
Keep Reading: