It used to be that you could get a job, work for 30 years, retire and live a decent life.
Today, that path has gone out the window for almost everyone. Pensions are almost non-existent, and job stability has cratered.
Simply put, the average worker isn't incentivized enough to stick it out. And even if they do, they could get rug pulled in a layoff.
So if your ultimate goal is to start a side hustle that allows you to replace the income from your job with passive income, this is the video for you.
Don't forget to grab your free stock worth up to $200 from Robinhood today!
Watch below, or keep on reading to learn more!
About the Author
Ryan Scribner is the author of From Side Hustle To Main Hustle To Millionaire - a practical guidebook on launching your own side hustle. He is recognized as a Top 100 Money Expert by GoBankingRates.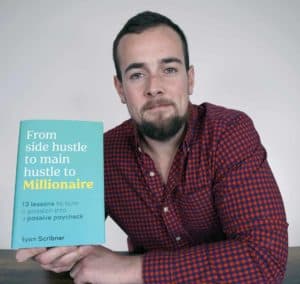 Ryan runs a successful YouTube channel focused on money and investing, which he started in 2016. He also owns a portfolio of digital business, all earning passive recurring revenues.
Now, Ryan teaches others how to create additional income streams.
5. "One-Person" Creator Business
So I've been making videos on my channel for over 6 years now.
And if you asked me if starting a YouTube channel was a good idea, during almost all of those years, I would've said no.
And that's because YouTube was largely a platform that rewarded you for what you did in the past, such as building a massive subscriber or content-base. However, there was a clear shift in the algorithm that took place in mid-2022.
In my case, the portfolio of videos I created over the last half-decade was slowly declining in viewership each month. This was a trend across almost all of YouTube Finance.
However, a select few channels were doing significantly better than anyone else - and these were the high production quality creators. This shift in the algorithm has allowed an entire new wave of creators to have a rapid rise to fame - similar to mine in 2016 when there was no competition.
So how can you join the bandwagon during this disruptive time on YouTube?
Making Good Videos Now
I'm gonna give you a run-down of the entire process for a high quality video today.
Script - Every word you speak should be pre-planned. It took me 6 years to learn this, but I promise you it's essential now.
Equipment - High quality audio is the most important factor, as new phone cameras are often good enough for YouTube with appropriate lighting.
Concept - Your videos have to be something really special, not generic or recycled.
Visuals - B Roll and Images should be used as visual explainers.
Editing - CapCut is solid, but paid software is always gonna be better.
But there's one final crucial component, and that is music and sound effects.
What separates a good video from a bad one is usually exactly this.
Epidemic Sound
Back in December, I started using Epidemic Sound to source high-quality audio tracks and sound effects for my videos.
And I did this to differentiate myself from others in my niche.
It was also important that I didn't receive any copyright strikes, or use the same generic YouTube audio library tracks like everyone else.
So the very last step of my editing process - and my personal favorite - is sourcing my music and sound effects from Epidemic Sound.
Simply visit the website and search for whatever you're looking for.
Or, you can visit the Discover tab for recommendations based on your Channel. Then, simply play the tracks and see which ones you like.
You can also click and see other recommended tracks based on one you previously selected with the Find Similar feature. This makes it easy to find like-kind tracks for your content.

Click Here to start your Free 30 Day Trial of Epidemic Sound!
4. Purchase ATM Route
So everyone knows that ATMs are the ultimate passive income hustle.
You can buy a machine for under $4,000 used and start printing money. All you have to do is fill it back up with cash.
However, there's one major hurdle faced with this business, and that's finding places to put machines. This led me to thinking about whether or not it was possible to buy an existing ATM business.
I did some research, and that answer is a Yes. I found a site ATMBrokerage.com that sells both ATM Machines and ATM Routes. These Routes are the businesses for sale - or clusters of fully operational machines in a given location.
The crazy thing is, some of these are offered pretty cheap. Here's a listing in Southern Washington for a 3 ATM Route.
The ask price is $21,000 and the machines did $700 in average monthly profit in 2022.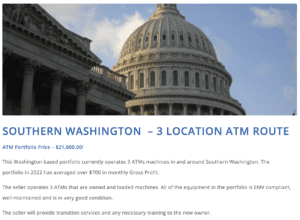 Over the course of a year, that's a total profit of $8,400 - or a cash on cash return of 40%.
Then, you could reinvest those into other Routes for sale in your area, or simply buy more machines and grow your existing ATM Route.
3. Create A Niche Service Business
This next idea sounds a lot harder than it is, but it involves learning a process that you can help others with for a fee.
And while you'll start out doing the service yourself, you can document procedures and hire this out easily.
So what are examples of this type of business? Well I've run into three of them firsthand here in South Florida:
I ended up getting a building violation for a metal gate in front of my house, and I learned about a service called a Permit Expeditor. This is someone who knows the ins and outs of local building procedures, and they help you get things done quickly for a fee.
The other service is related to Short Term Rentals. I was talking with a friend of mine who operates a VRBO, and he was explaining the exhaustive amount of paperwork involved with getting a short term rental listed in Florida. He actually used someone who he paid to fill out the applications on his behalf, since the process is such a headache.
Finally, every LLC in the State of Florida is required to file an Annual Report. Just like the last two processes, it's rather cumbersome. The last example is to help business owners with filling out this annual report.
So find a niche service to offer, learn and document the process and get started.
2. Sell Trending Templates
This next side hustle involves using a combination of Google Auto Suggestions and Google Trends to find ideas for digital templates you can sell on Etsy.
Everyone is familiar with the digital goods business now, but very few people know how to find low competition ideas:
You're gonna want to open an incognito window and then navigate to Google.
Then, you're gonna type templates.
From here, you are going to click before the word and start adding the letters of the alphabet.
From here, you're going to go through the alphabet, jotting down any ideas that jump out to you.
Trending Template Examples
I did this myself, so if you wanna take action on this idea, consider the following templates:
Aesthetic notion templates
Canva resume templates
Email Signature templates
Customizable birthday templates
Unique resume templates
You Are Loved templates
And if you end up finding a category that is too Broad, such as Discord templates, you can do additional searches around that such as "discord templates for" generating these results:
Discord Templates for Streamers
Discord Templates for Minecraft Server
Discord Templates for Football
Discord Templates for Goth
From here, you can jump over to Google Trends to see what the traffic looks like for this trend over time.
1. Buy An App
Apps are one of the holy grails out there for earning passive income. The problem being is that it's unbelievably expensive to launch your own app today.
According to Velvetech, app development costs range from $10,000 to $500,000 - just to get started.
But similar to the ATM idea, what if you could simply buy an app that's already making money? Surprisingly, you can buy a cash flowing app for a lot less than the cost of developing one from scratch.
Over on Flippa, I found a few app listings that seemed rather intriguing to me.
And before you go out and buy an app, you should learn how the industry works and what goes into maintaining an app.
Final Thoughts
In order to quit your job, what you need to do is replace your income.
It's difficult to do this solely relying on investments like stocks, but far easier with a side hustle or business.
So if you have a lot of time on your hands, get started with building a passive income side hustle that will eventually replace your income in a few years.
For the 1% who are ready to take their side hustle journey a bit more seriously, I wrote a book about side hustles.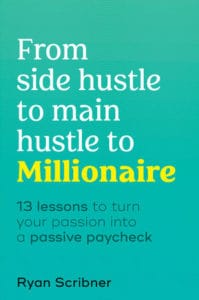 It covers all phases of the side hustle journey, and you get access to a members only discord where you can ask me questions along the way.
And you can grab a copy in person at most Barnes and Noble stores across the United states, or it's right on Amazon.
So grab a copy today and let's get started on your side hustle journey together!