If you've been in the investment game for a while, it might not come as a surprise that socially responsible investing (SRI) is growing in popularity. For several years, financial gain was the only thing investors cared about. However, as modern-day research continues to warn about the negative effects of pollution, addictive substances, and other damaging trends, some investors are shifting their mindset.
At its core, SRI has two main goals:
Invest in companies that provide good financial gain
Invest in corporations whose actions provide more good than bad for the world
While these two goals do not necessarily go hand-in-hand, some investors feel it is a fair tradeoff. Many now aim to have a moderate performing stock coupled with a clear conscience.
Although SRI is a worthy goal, before investing it is important to consider the financial outlook of a company. It is possible to find high-performing and socially responsible companies, and M1 Finance has made our job easy.
M1 Finance for Socially Responsible Investing
The popular Pies approach from M1 Finance is a great resource for investors. This tool allows investors to create custom ETFs by selecting a handful of companies at the same time. M1 Finance allows investors to go about this in two different ways. They can create their own portfolio, or simply use the expert-produced Pies from M1 Finance.
Expert Pies on M1 Finance
For investors who are less confident in their ability pick stocks, M1 Finance makes it easy by offering Expert Pies. These Pies are professionally designed to allow for optimum investing in a certain category.
On M1 Finance, these categories include:
General Investing
Plan for Retirement
Responsible Investing
Income Earners
Hedge Fund Followers
Just Stocks & Bonds
Other Strategies
These Expert Pies are great for investors who are targeting specific goals or metrics. For example, the Income Earners Pie is geared toward companies that produce heavy dividends for investors.


Responsible Investing Expert Pies
The Expert Pies that will receive the bulk of our attention today is the Responsible Investing Expert Pies. These Pies on M1 Finance are professionally created by NuShares and focus on international and domestic companies seeking to do good in the world.
NuShares Domestic Responsible Investing
The first SRI Pie from M1 Finance is the NuShares Domestic Responsible Investing Pie. This Expert Pie consists of U.S.-based companies that are striving for both profits and the greater good. Diversified across five different holdings, this Pie rewards American ingenuity while also rewarding companies for helping society at large.
These five holdings are split equally across target funds ranging from large-cap to small-cap equities. Within each of these funds, you can see the top target companies and what percent of the fund is allocated to each.
For example, the Nuveen ESG Large-Cap Growth ETF which acts as one of the five target funds lists Tesla and Microsoft as two of the targets with the largest percentages.
If you were to do an analysis of each of the five target funds within the NuShares Domestic Responsible Investing Pie, you would find similar information regarding the ETFs.
Fees
This Pie has a fee structure that is higher than your average passive index fund because it is actively managed. Although higher, it comes at a modest cost of 0.38%. The moderate fee coupled with a dividend yield of 1.91% makes this Pie a worthy contender if investing in socially responsible domestic corporations is your goal.
Risk
Because this fund is spread out evenly among five different ETFs ranging from large- to small-cap, the level of risk tends to be lower than if it were all invested in one class of stock. The level of risk on this Pie is considered medium. Risk is still present because, after all, you are still investing in stocks which are never guaranteed to provide a return. You can mitigate your risk by diversifying in less volatile assets such as bonds or cash equivalents.
Return
As we all know, past results are not indicative of the future. The one-year return for this Pie is currently sitting at a -14.77% (1/19/21). This is quite a bit lower than the benchmark S&P 500 which returned a whopping 16.3% in 2020 even during an economic recession.
NuShares Worldwide Responsible Investing
If international investing is what you are looking for, then this Pie is set up for you. It is also identical to the Pie mentioned previously except it is focused worldwide and not just on the U.S.
Like the domestic-focused Pie, this is broken up into seven professionally managed ETFs. Five of these remain identical to the five mentioned earlier (ETFs ranging from large- to small-cap). These five make up the portion of the investment that is allocated to the U.S. This allocation accounts for 70% of the portfolio of ETFs.
The other two ETFs are what sets this Pie apart from the domestic-centered Pie. These two ETFs are the Nuveen ESG Emerging Markets Equity ETF and the Nuveen ESG International Developed Markets Equity ETF. Together these hold 30% of the Pie and are focused on nations outside of the U.S.
The latter has as its largest stocks Nestle and Sony while the Emerging Markets Equity ETF has high holdings in TSMC and Alibaba.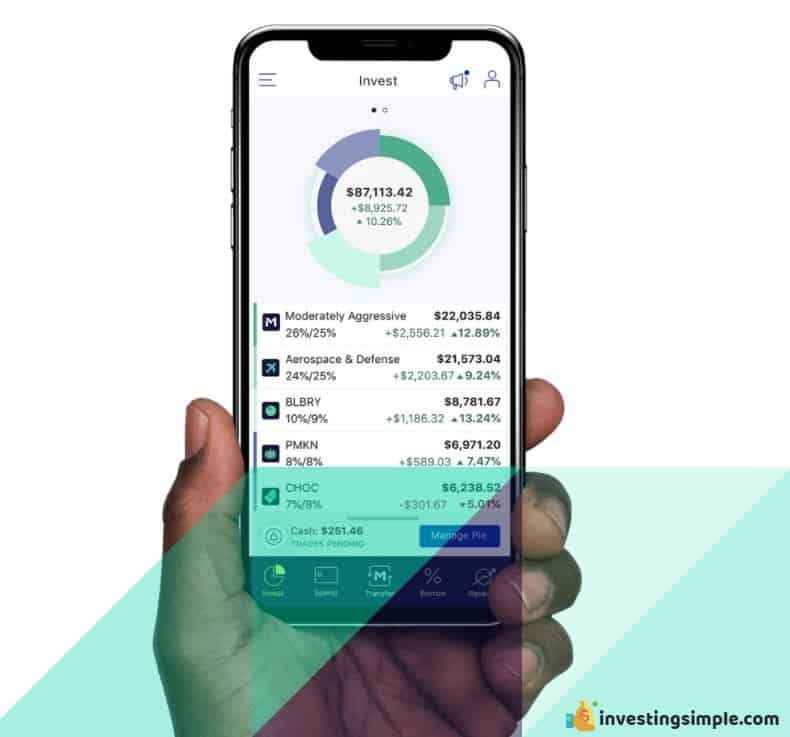 Fees
This Pie comes at an expense ratio of .39% which is 1 basis point higher than the Pie previously discussed. The dividend yield is also slightly less appealing at 1.73%.
Risk
This Pie is considered medium risk despite 15% of the portfolio directed toward companies in emerging markets. The other 15% of internationally focused funds come out of developed companies such as the U.K. and Switzerland.
Return
Over the past year, this Pie has returned -14.68%(1/19/21).
Socially Responsible Investing
While reading the information above which highlights the expert-built Pies for socially responsible investing may seem discouraging, know that low returns do not stick around forever. Because the underlying ETFs are professionally managed, the various companies can be switched out for companies with better-performing stocks. It is also important to recognize that corporations can change their goals regarding social responsibility and be added to the list over time.
Socially responsible investing benefits the investors who focus on returns that are not purely financial. By investing in companies that invest in our communities, you are helping shape the future in a positive manner.
Best Free Stock Promotions