SoFi Invest and Acorns are two popular investing platforms for new-age investors.
Both come with great perks and allow different types of investors to take advantage of the features and benefits, depending on what their goals are. 
These platforms allow investors to take their hands off the steering wheel and let the professionals take over, saving both time and money for investors in the long-run.
However, SoFi gives you the option to get in the drivers seat and pick individual stocks and ETFs. 
Acorns, on the other hand, is fully automated.
In this comparison, we will be looking to see how SoFi vs Acorns compare.
Summary: Acorns vs SoFi Invest
Best Free Stock Promotions
What Is SoFi Invest?
SoFi also known as Social Finance, is an online personal finance company specializing in investing, banking, student loan refinancing, mortgages and personal loans.
However, while these programs benefit a wide variety of people, for the purposes of this article, we will focus on SoFi's investing arm, SoFi Invest. 
SoFi Invest refers to a three-pronged platform for young investors planning their foray into the world of investments. SoFi is a relative newcomer to the investment community, but has already shown its value to its more than 1 million users
As mentioned earlier, SoFi breaks their service down into 3 parts. These three categories are: Active Investing, Automated Investing and Crypto.
By choosing to invest with SoFi, you become part of the SoFi investing community, a group full of perks that are second-to-none. When you join, you get several benefits like career coaching, financial planning advice, a paid referral program, discounts on other SoFi products, and more. 
Active Investing
With Active Investing, you are are free from the account minimums and account fees that inhibit so many people from making the investing leap. In addition, fractional shares called Stock Bits, are another huge benefit to investing with SoFi.
You can invest in dollar amounts instead of numbers of shares.
While SoFi does not have this option available for all blue-chip stocks, it does have 43 of the most popular to choose from. Members can invest a minimum of $1 into companies that they otherwise wouldn't be able to afford. 
SoFi ETFs
In addition to trading individual stocks, SoFi Invest also lets you purchase ETFs. Listed below are the ETF options available for members:
"SoFi Select 500: the 500 largest publicly traded U.S. companies weighted by growth signals. This ETF is fee-free* for at least the first year and is included in SoFi automated investing portfolios.

The SoFi Next 500: Invest in 500 mid-cap U.S. companies weighted by growth signals with the SoFi Next 500 (SFYX). This ETF is included in SoFi

automated investing

portfolios and will be fee-free

for at least the first year.

SoFi 50: Every share of the SoFi 50 (SFYF) has an equal slice of the 50 U.S. companies with the strongest growth signals. This low-fee (0.29%) ETF is a more aggressive fund than the SoFi Select 500 with a greater risk/return potential.

The SoFi Gig Economy: The SoFi Gig Economy ETF (GIGE) is a low-fee (0.59%) way to invest in the high-growth tech companies once they become public."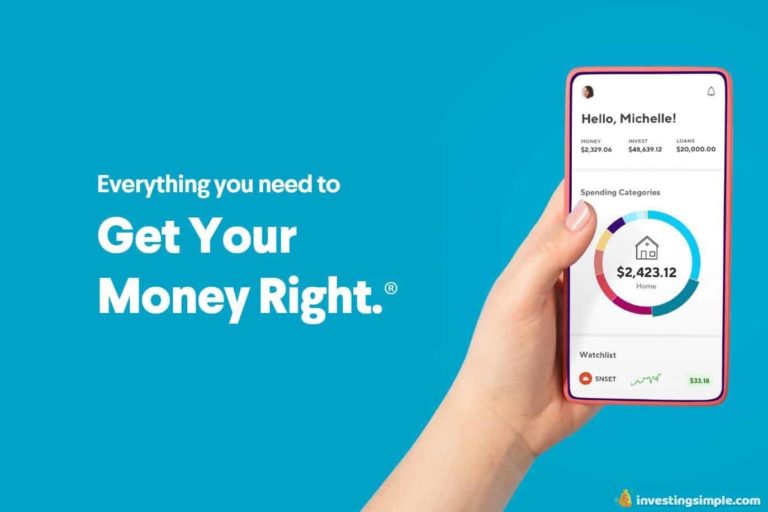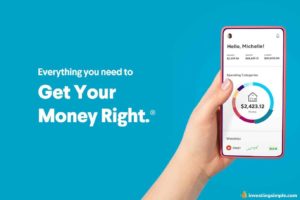 Automated Investing
For people investing for the long-haul of retirement or are saving up for a particular goal, SoFi Automated Investing is a great choice. When you sign up as a member and complete a short questionnaire, SoFi will build and manage a portfolio for you with no management fee. 
Through this option, you can tackle short- and long-term goals and feel confident you will meet them with SoFi's regular rebalancing of your portfolios. Because these portfolios were created with risk tolerance in mind, each one is diversified in order to give you the best path forward to reach your goals. 
There are zero management fees included in the portfolios offered. However, they do come with other expenses ranging from 0.03% to 0.08%, which is fairly low compared to other expense ratios. 
Investors can also save for more common long-term goals like retirement. When you sign up with SoFi Invest, you can set up retirement accounts and choose from a Roth, Traditional, or SEP IRA.
Learn More About SoFi Automated Investing
Crypto
Relatively new to the company is investing in cryptocurrency.
When you complete your first crypto trade of $10 or more, you will automatically get $25 in bitcoin. Unlike the stock market, cryptocurrency is open for trading 24/7. However, unlike trading stocks with SoFi Invest, trading crypto comes with a cost.
A fee of 1.25% will be added to each crypto trade, and all crypto trades have a minimum order size of $10 per purchase and a max of $50,000. In addition, cryptocurrency cannot be transferred to an external wallet.
This is a measure in place to protect the integrity of SoFi's user data. 
SoFi Pros
SoFi Cons
What Is Acorns? 
Acorns is the ultimate tool for people who know they should be saving consistently but lack the time or willpower to make it happen. As a FinTech company, Acorns helps you invest your loose change wisely.
With Acorns, you can choose between three different subscription models to invest in the way that makes the most sense for you.
This robo-investing platform can be a great tool for people that want to invest a little extra on the side, or for those that are serious about investing for retirement.
Acorns Lite ($1/mo)
At $1 per month, you can direct your spare change automatically into an investment portfolio through the feature Acorns Invest.
Then, you can earn cash back through Acorns Found Money. In addition, you have the opportunity to earn bonus investments from over 350 Found Money partners. 
Acorns Invest
Acorns Invest rounds up each of your purchases to the nearest dollar and then invests that extra change into the portfolio you choose.
For example, let's say you just filled up with gas and the total came to $25.56. That remaining $0.44 is charged to your card and is invested into your chosen portfolio. This is called Round-Ups.
Those Round-Ups are then invested into portfolios ranging from conservative to aggressive. There are breakdowns of large cap stocks, small cap stocks, international stocks, real estate stocks, government bonds, and corporate bonds.
As the market moves and adjusts, Acorns will automatically rebalance where your money is allocated so that you can stay on track to reach your goals. Take advantage of the financial advice and articles from financial experts so you can make smart financial decisions
Found Money Partners
Acorns has developed relationships with over 350 brands that will reward you for shopping with them. Similar to cash back, these companies will return some of the money you spend directly into your investment accounts.
Through the Acorns app, you will be able to see some of the cash back deals that merchants are offering.
For example, if Dollar Shave Club is offering a 5% investment if you purchase an item from their product line, they will take 5% of your purchase and give it back to you through Round-Ups.
This is cash back directly to your investment portfolio.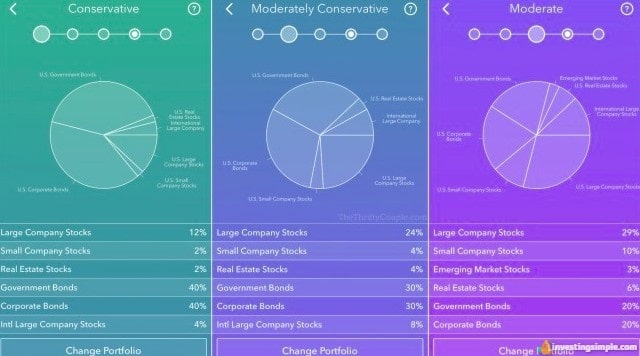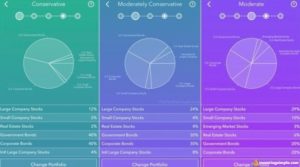 Acorns Personal ($3/mo)
With Acorns Personal, you can unlock all of the other features that Acorns has to offer in addition to receiving the same benefits as Acorns Lite. At $3 a month, Acorns says this is their most popular subscription.
One of the biggest benefits is having access to retirement accounts, which Acorns calls the Acorns Later feature.
Acorns Later
Acorns Later is an IRA (Individual Retirement Account). Based on your age, goals, risk tolerance, and lifestyle, Acorns will help you pick which IRA (Roth, Traditional, or SEP) is right for you. Acorns then helps you select a low-cost portfolio based on the results of your questionnaire and that's it!
There are a few drawbacks to consider however before you jump in with both feet. Unlike Acorns Invest, which rounds up your spare change, contributions to Acorns Later can only be made by one-time or recurring deposits.
There is a one-time minimum deposit of $5, and the monthly fee of $3 that also need to be taken into consideration. Depending on how much money you have in your investment account, $3 per month can be a lot of money.
Consider this: if you have $5,000 in your retirement account, with Acorns Later you will be paying a fee of $36 per year (or 0.72%).
According to Value Penguin, robo-advisor fees vary widely, so be sure to check in on competitors to make sure you're getting the best deal on fees. 
Acorns Spend
Acorns Spend is an online checking account built off Acorns Round-Ups technology. When you buy something with your debit card, you guessed it, Acorns will round up that purchase to the nearest dollar and invest it for you.
With Acorns Spend, you can use digital direct deposits, mobile check deposits, free bank-to-bank transfers, and unlimited free or fee-reimbursed ATMs nationwide. There is no minimum balance, no account fees, and each account is backed by the FDIC up to $250,000.
Acorns Family ($5/mo)
As a bonus, Acorns has added a new option called Acorns Family. With this option, the whole gang can join in with investment accounts for kids known as custodial accounts.
This option also includes all of the benefits of Acorns Personal but with a $5 per month price tag.
Acorns Pros
Round-Ups make sure that you are investing consistently

Different subscription options for different investors

Cash back options through Found Money partners

Family investing options
Acorns Cons
Limited investment portfolios

Relatively expensive robo-adviser fees
Conclusion: Acorns vs SoFi Invest
Both SoFI and Acorns have unique offerings here, and it really comes down to which one is a better fit for you based on your needs.
If your priority is low fees, you can't beat the no commission and no management fee approach SoFi takes. With the addition of Stock Bits, it is easier than ever to get started with investing. If you want a more hands off approach, SoFi offers automated investing tools and a variety of ETFs.
On the other hand, if you are just plain bad at remembering to save or invest, Acorns is quite literally designed for you. By simply rounding up your spare change, it makes the investment process as simple and painless as possible.
If you want to pick and choose your investments, SoFi is the only one that allows you to do this. Acorns simply invests your money in 1 of 5 prebuilt portfolios.
Keep Reading: