I'll never forget the best piece of business advice I ever received.
It was 2016, and I was working on an exhaustive list of steps that were required to get my digital business started.
By the time I hit 15 steps, I wanted to throw up. I was so utterly overwhelmed with this never ending list of things I had to do.
That's when I called my mentor for help.
He told me to get a new piece of paper and start over, this time only writing down the first step.
After that, he told me to complete that step, before putting the next step on my list.
You see, you only need to know how to complete the very next step in front of you in business. That is the secret used to get ahead - learn as you go.
So I'm gonna be walking you through the first 3 major steps today for getting your business off the ground.
I spent 6 years figuring out this process, and then over a year writing about it.
Keep reading to learn about the first step to starting a business, or check out my YouTube video on this topic below.
Don't forget to grab your free stock worth up to $200 from Robinhood today!
About the Author
Ryan Scribner is the author of From Side Hustle To Main Hustle To Millionaire - a practical guidebook on launching your own side hustle. He is recognized as a Top 100 Money Expert by GoBankingRates.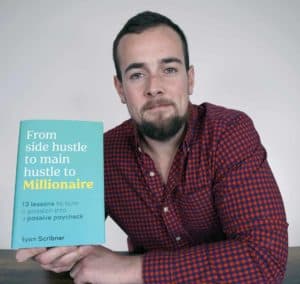 Ryan runs a successful YouTube channel focused on money and investing, which he started in 2016. He also owns a portfolio of digital business, all earning passive recurring revenues.
Now, Ryan teaches others how to create additional income streams.
1. Choosing A Business Opportunity
Picking a business opportunity to pursue is a lot like dating. There's a never ending number of options out there, and if you don't have any idea of what you're looking for, it can be overwhelming and even problematic.
In the same way that it's not a good idea to throw yourself into a crowded bar and go home with a stranger, you shouldn't whimsically pick a business to pursue and go at it.
This process is designed to find the specific criteria you are looking for in a business opportunity, similar to a romantic partner.
And you need to know what you're looking for before putting yourself out there, otherwise everything looks like an opportunity.
Business Characteristics
The first step is to figure out the characteristics you're looking for out of a business. A few examples include digital based, no customer service, location independent, animal lover and get outside.
You can use some of these characteristics, or come up with your own. I'm gonna go with these three characteristics.
First, I want a business that doesn't require early mornings as I personally hate those. So let's write down "time freedom."
Next, I want to be able to work from anywhere in the world, so let's add "location independent" as our second characteristic.
Finally, we're gonna finish off with the characteristic of "recurring revenue" which comes from some type of subscription or membership.
So now we have our criteria, we know what to be looking for. But now, we need to travel back in time to your childhood to talk about our passions.
You see, the only secret I've come across in the business world is that the key to sticking with your new venture is following something you're passionate about.
However, blindly following your passions rarely translates to success.
So, instead, we're gonna find your Profitable Passions.
Finding Your Profitable Passions
So what is a passion?
This is something you find yourself to be endlessly curious about, over long spans of time.
You may have put some of these on the back burner in life for now, but you always find yourself revisiting these things.
If anyone has told you to go follow your passion to make money, that's bad advice.
Instead, following a profitable passion that matches the characteristics you're looking for is key.
But how do you know what passions of yours can make you money, versus just feeding your soul?
Well, it's time for our next worksheet; the Quality Bar.
2. Analyzing The Quality Bar
Before you pursue a given niche in business, you need to know two things:
How profitable is the niche?
How competitive is the niche?
So we're now gonna take your list of passions and analyze the competition - which will tell us a lot. But most importantly, for now, it will show you which of your passions translate to profits and what ones should simply be a pastime.
Once you've mapped out your passions, this quality bar worksheet is designed to help you understand how lucrative and competitive an opportunity is.
The goal is to narrow down your list of passions to the 'Profitable Passions' - ones where there is a clear path to making a decent amount of money.
And then, simply find a profitable passion of yours that lines up with the characteristics you're looking for. Voila!
3. Launching A MVP
This business strategy was popularized by a book called The Lean Startup, and it's how a lot of startups approach a market test.
Your MVP is going to be the most basic representation of a potential solution to a problem.
The purpose is to get quick feedback from the market with as little time invested as possible, as to not become emotionally attached or squander resources.
Now you might plan on having a business that provides multiple solutions to a problem or set of problems. That's totally fine, but you need to start with 1 singular idea.
That's another thing I love about this strategy, it gets you focused on 1 problem and 1 simple solution. No shiny object syndrome here.
And if you have no money, create a virtual presentation about your business to pitch to others.
Final Thoughts
Perhaps one of the best parts about having your own business is the freedom.
For the 1% who are ready to take their business journey a bit more seriously, I wrote a book about side hustles that just came out in January.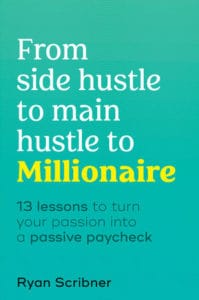 It covers all phases of the side hustle journey, and you get access to a members only discord where you can ask me questions along the way.
And you can grab a copy in person at most Barnes and Noble stores across the United states, or it's right on Amazon.
So grab a copy today and let's get started on your side hustle journey together!