Robinhood is a popular investment app that has gained a lot of attention in recent years for its user-friendly interface and commission-free trading.
If you are new to investing and want to start using Robinhood, there are a few things you should keep in mind to make the most out of your investment journey.
Limited Time: Robinhood 1% Transfer Bonus
If you transfer an existing brokerage account to Robinhood through January 31st 2024, you can get an Unlimited 1% Transfer Bonus.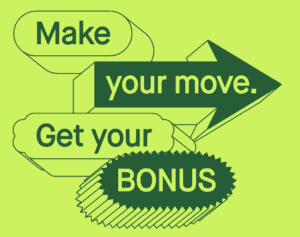 For example, if you transferred a brokerage account worth $50,000 - that would be a bonus of $500.
In addition, Robinhood offers a free stock for new users as well as a 1% IRA match for retirement accounts.
Learn The App
The first step to using Robinhood is to familiarize yourself with the app.
Take some time to explore the app's features and functions, such as how to navigate the platform, how to search for stocks, and how to buy and sell shares. Robinhood offers a wide range of educational resources to help you get started, including articles, videos, and even podcasts.
Pick A Strategy
Once you have familiarized yourself with the app, it is important to learn about investment strategies.
One of the most popular investment strategies for beginners is index fund investing. Index funds are a type of mutual fund or exchange-traded fund (ETF) that tracks a specific market index, such as the S&P 500.
These funds offer a diversified portfolio of stocks, which can help reduce risk and volatility in your investment portfolio.
Dollar Cost Averaging
Another strategy that you should learn about is dollar cost averaging. This is a method of investing where you invest a fixed amount of money at regular intervals, regardless of the stock's price.
This strategy helps to mitigate the impact of market fluctuations and can help you build a more stable investment portfolio over time.
Stocks & Options
While you may be tempted to try stock picking or options trading, it's important to note that most investors lose money with these activities.
Stock picking requires extensive research and analysis, and even then, it's difficult to consistently beat the market.
Options trading involves even more risk and complexity, and is generally best left to experienced investors.
In conclusion, the best way to start using Robinhood is to take the time to familiarize yourself with the app, and then learn about investment strategies such as index fund investing and dollar cost averaging.
While stock picking and options trading may seem exciting, these activities come with significant risks and are generally not recommended for beginners. With the right strategy and a long-term outlook, Robinhood can be a valuable tool for building wealth over time.
Don't forget to grab your free stock worth up to $200 from Robinhood today!